Sharing her fashion secrets with idiva, Alaya F graces their March 2020 cover.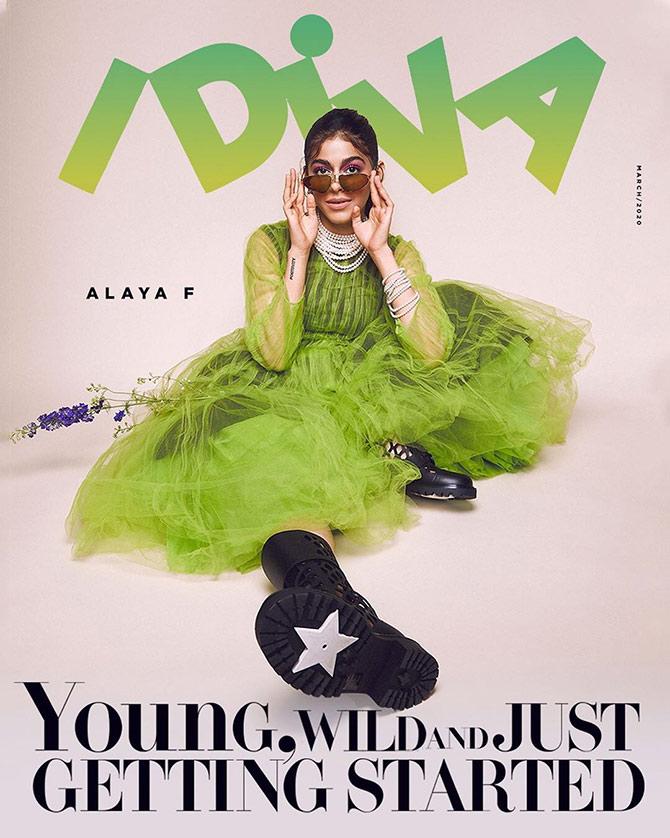 'Young, wild and just getting started!' Meet idiva's March 2020 cover girl Alaya F.
Dressed in a lovely green frilled dress, worn over a black silhouette, the actor completed her look with Dior boots and sunglasses.
Rocking pink eye make up, she styled her green dress with pearls on her neck.
Sharing her fashion secrets with the mag, the actor said, 'I don't invest in my clothes that much.
'I don't buy very expensive things… I'd rather buy like a lot of things in bulk.
'Most of the expensive bags or whatever I own are my mother's that I've stolen or my stepmother's that she doesn't use and I'm like, 'I'll take it!'.
'Even the cheapest is probably free or gifted to me… I don't know, there are so many cheap things.'
She added: 'I think fashion trends are pretty interesting and more than anything, I feel like as long as the people wearing it look comfortable and like they're enjoying it, anyone can pull off anything.
'I'm most comfortable in anything as long as I feel like I'm looking good.'
The cover has been well received by Alaya's fans and followers.
Grandfather Kabir Bedi is all praise for the cover. 'Brilliant Alaya! What a great pic,' he wrote on Instagram.
Rhea Kapoor added, 'You're so cute. I can't take it.'