The undisputed queen of the '90s, Raveena Tandon gets candid in a Verve interview.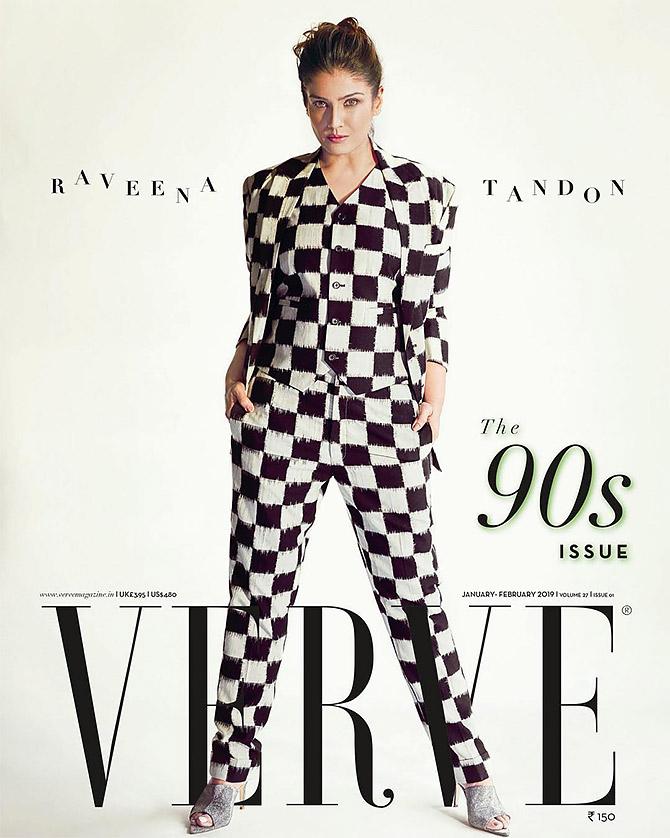 Verve completes 24 years and to celebrate the occasion, the mag featured '90s superstar Raveena Tandon on their cover.
Dressed in a grid printed pantsuit, the actor rounded off her look with silver heels and red lips.
Sharing candid details with the mag, Raveena revealed, 'I never did my eyebrows in most of my early films.'
The actor, who looked super fit and stylish on the cover, added, 'You will remember my hair always looking a bit disheveled. I hadn't even started waxing before I did my first movie.'
'It's been 24 years since Verve was launched, and here we are now, looking back at the decade of the '90s through the sepia lens of nostalgia,' wrote the mag on Instagram as they unveiled the cover.
'In this issue of Verve, we have captured all that was already hip, that changed our lives, our thinking and the way we looked at ourselves.
'And who better to embody it than '90s superstar Raveena Tandon (@officialraveenatandon)?
'With her bindass GIF-worthy moves on the silver screen with the then-ubiquitous screen star Govinda, she shed inhibitions in the '90s and continues to do so, not through the freedom of baring skin, but by simply being herself.'