Amazon's latest Alexa-powered Echo device lets you play music, control smart home devices, set alarms and...make video calls too. But should you buy it at all?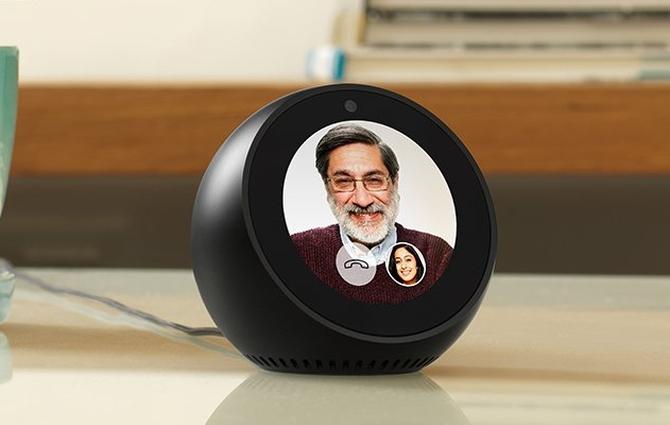 Alexa is an Artificial intelligence (AI) enabled smart voice assistant by Amazon.
With its latest offering -- the Echo Spot -- Amazon takes the smart assistance device one step ahead to compete with Google's Home Mini and Home.
What's new
The previous Echo models -- Echo Dot, Amazon Echo and Echo Plus -- would only allow you to interact with voice. The Echo Spot lets touch interaction with visual feedback.
The visual feedback is not limited to displaying digits. It can also show time, messages, latest news bulletin, weather, video and lot more.
The display feature has enhanced the capabilities of the Echo device.
However, there is one drawback.
Like its predecessors, the Echo Spot needs to be perpetually hooked to power using a power adapter and cable provided in the box. It doesn't come with an inbuilt battery.
Using Wi-Fi you can enable internet, and connect multiple Echo devices to form a network.
You can even use the Echo Spot as a smart desk clock, change clock faces and personalise by choosing different backgrounds.
It carries all the standard features of Echo Dot such as play music, control smart home devices, set alarms and reminders, or ask any queries.
There is also a front camera to make video calls to other connected Echo devices or Alexa app on your supported phone.
Be wary of the sneaky 'Drop In' function -- it lets you connect to the camera of other Echo Spots without it being interacted with.
You could employ this feature to check on your children. But be warned, you do not want it to be misused.
You can play music, watch videos or maybe even a movie, if you really wished to.
Design and Specifications
Echo Spot, you can say, is a hemispherical shaped Echo Dot with display.
It is 3.6 inch tall and 4.1 inch wide with a circular touch screen display scaling 2.5 inch.
Over the screen, there is a camera for video calls.
It has a 1.4 inch speaker with four built in microphones which uses far-field voice recognition.
You'll see three buttons on the top -- two to control volume on either sides. The centre button is multifunctional -- you can use it to mute/un mute microphone or switch on/off the camera.
For those who like their music loud, you can connect the Echo Spot to your music system via a Bluetooth or the provided 3.5 mm audio port on the rear.
To break it down for you, you'll be spending ₹10,499 ( ₹12,999 without discount) merely for the display feature on Echo Spot.
The Echo Dot -- with almost same features -- costs only ₹3,999. What's your pick?