This curved TV has sleek form and premium styling, says Abhik Sen.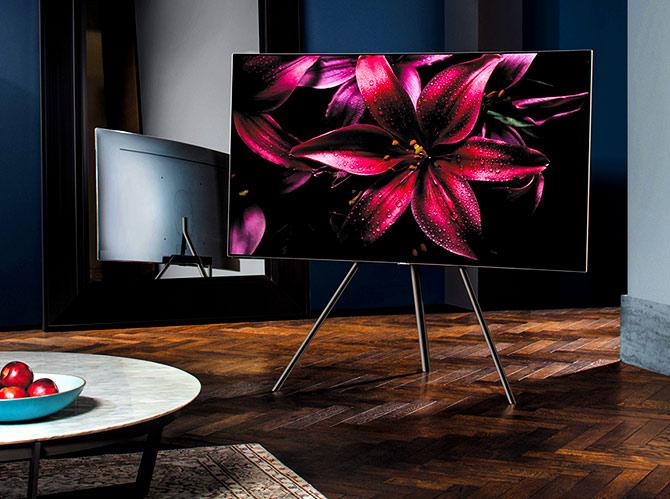 Photographs: Courtesy www.samsung.com/in/
Prometheus isn't my favourite movie. But thanks to the focus on HDR (high dynamic range) by TV manufacturers, I've been watching it many times in the past few years.
Take the latest Samsung QLED TV for instance. While there was nothing new to watch, it was certainly the best screening of Prometheus on the 65-inch Q8C (₹4,70,900).
The curved TV has sleek form and premium styling.
My favourite One Connect box now comes with its own power supply and a practically invisible connection to the TV; but, you'll need two electrical outlets for the TV.
I plugged in an Airtel Internet TV box and the connection wizard identified it quickly and offered to let me use the TV's remote to control it.
The metal remote itself is a work of art with minimum buttons.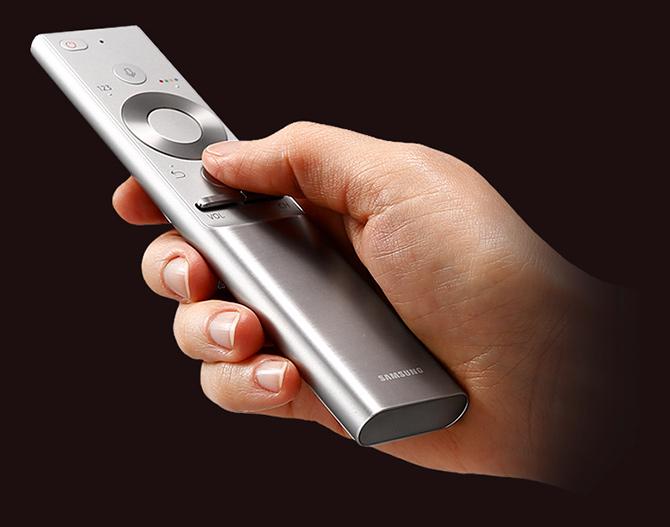 The Q8C runs Tizen OS, and I logged onto Netflix and Amazon Prime for a marathon session of Master of None and Blindspot.
I was impressed with the TV's sound output -- you can actually do without a sound bar or a home theatre system.
A few days later, I was watching a digitally-enhanced Blu-Ray version of Star Wars: Return of the Jedi.
As I followed Luke Skywalker on his intergalactic adventures, I liked the depth of space apparent on the TV.
The low-light scenes were good, till I saw some 'light bands' around a fast-moving light sabre -- the only giveaway of an LED TV.
This TV will suit the decor of most living rooms and be a companion for any movie buff.