This one doesn't need to bank on nostalgia to make sales, says Uttaran Das Gupta.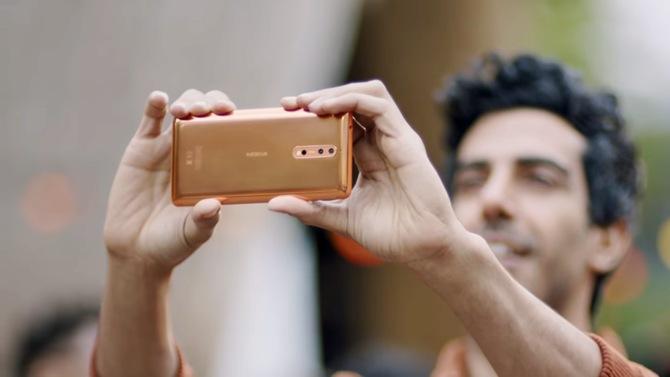 Photograph: Courtesy nokia.com
Nokia's return to the smartphone league has been fuelled by two primary factors: design and nostalgia.
For many of us, older models of Nokia were our first or second phones, and we swore by the machines the Finnish company once produced.
Since its comeback, the devices it has produced -- Nokia 3, Nokia 5 and Nokia 6 -- are solid, but not a patch on their predecessors.
Yet, the power of nostalgia is so strong -- some marketing gurus will call it goodwill -- that these devices, though simple and overpriced, have encountered little difficulty in making their way to our hearts and our pockets.
Not the Nokia 8, though; it's the true flagship device of the legendary phone maker, in design and performance.
Carved out of a single block of series 6000 aluminium, it is elegant -- without being precisely striking.
The matte blue or steel, or the polished blue and copper finish, makes it look better than the competition.
The phone has a 5.3-inch LCD screen, with a resolution of 1,440 x 2,560 pixels.
The screen also has Gorilla Glass G for protection.
It may not match up to Nokia's sturdy devices of yore, but the glass won't crack if you drop it.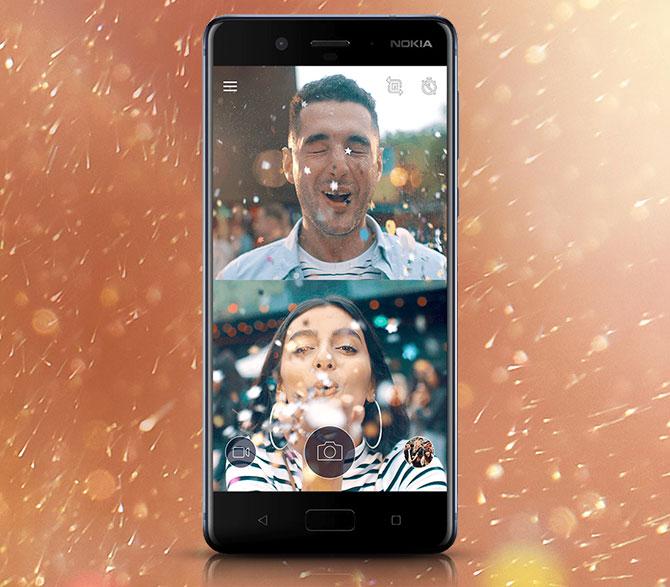 Photograph: Courtesy nokia.com
It's performance as a phone is quite phenomenal.
Powered by a Snapdragon 835 SoC, backed by 4 GB RAM and 6 GB storage, you will also have the option of two 4G SIMs.
The second SIM though would have to be a micro one and you can use only one 4G SIM at a time.
The sound quality is also very good, though the speakers are at the bottom, and you might cover them while watching a video.
The piece de resistance of the phone, however, are the cameras.
Made in partnership with German lens specialist Zeiss, it squeezes in a number of features, in an attempt to make it the best phone camera in the market.
It has the "Bothie" mode, which allows you to capture what's in front of the camera and what's behind at the same time.
Finally, what really swings the vote in favour of Nokia 8 is its battery, which can easily outlast any other device in the same price range.