This budget-friendly smartphone's AI features can also compete with Google Pixel 2, says Ashish Narsale.
Close on the heels of launching its premium AI-enabled Mate 10 series in Germany in October, Chinese smartphone maker Huawei launched a budget-friendly, AI-enabled Honor V10 in China in November. Its global release is tentatively slated for December 5 in London.
The Mate series smartphones, including Mate 10 Pro and Mate 10 Porsche Design, prove Huawei's capabilities and variety in the premium segment.
The Honor V10 -- or the Glory V10 as they call it in China -- is a low-cost phablet modelled after the Huawei Mate 10.
But does the Honor V10 match up?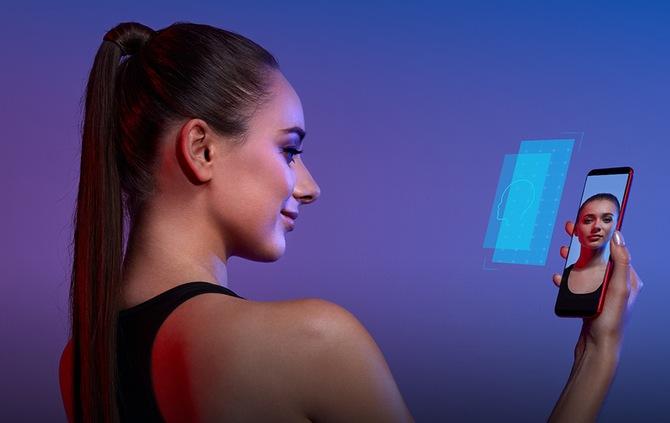 Photograph: Courtesy honor.cn
Body and display
The Honor V10 phablet is 6.18-inch tall and 2.95-inch wide with a display size of 5.99-inch.
The display has 18:9 aspect ratio with screen to body ratio of 78 per cent, which gives the V10 edge-to-edge full screen display and keeps it at par with modern smartphones. The IPS LCD screen displays 1080 x 2160 pixel resolution (Full HD display) and offers pixel density of 403 PPI.
The top thin bezel holds the camera and other sensors, but Huawei has sneaked in a finger print scanner in the bottom bezel, which is a design-howler.
The body is a mix of metal and plastic.
The front aluminium silicate glass rests on a metal frame with metal back cover.
Hardware
The highlight of Honor V10 is its processor -- a 10 nm custom Kirin 970 with 8 core CPU and 12 core GPU, which means high processing power without draining the battery.
In fact, the Kirin 970 processor comes loaded with Mobile AI -- a combination of on-device AI and Cloud AI -- giving the V10 the power to quickly simplify complex AI algorithms with the help of on-board Neural Processing Unit (NPU).
The Honor V10 will be available in China in three variants: 4GB RAM/64GB ROM; 6GB RAM/64GB ROM; and 6GB RAM/128GB ROM.
The phone supports micro SD card up to 256 GB and USB 2.0 Type-C connector with OTG.
Huawei has, thankfully, resisted the temptation of emulating Apple by not fiddling around with the 3.5mm headphone jack for audio output.
Camera
The dual primary camera setup on the rear looks inspired by Minion Kevin's eyes (not my imagination; the company says so).
The Honor V10 has 16 MP colour and 20 MP monochrome sensor with a wide f/1.8 aperture.
Sadly, the camera does not have Optical Image Stabilisation (OIS), which is key to avoiding motion blur and enhancing low-light photography.
The camera heavily relies on AI: it can identify 13 kinds of scenes such as food, plants, flowers, night scene, sunset, text, snow scene, cats, dogs, portraits, stage, beach, and blue sky and adjust the parameters automatically.
The portrait mode bokeh can also be achieved using AI, and the large f/1.8 aperture dual lens with colour and monochrome setup.
The 13 MP front camera meant for selfies couples up with AI for facial recognition and improving your phone's security.
The phone's facial recognition feature is so advanced that even if somebody accesses your phone by stealth or by using the security pin, it hides your personal data by distinguishing the handler's face from yours.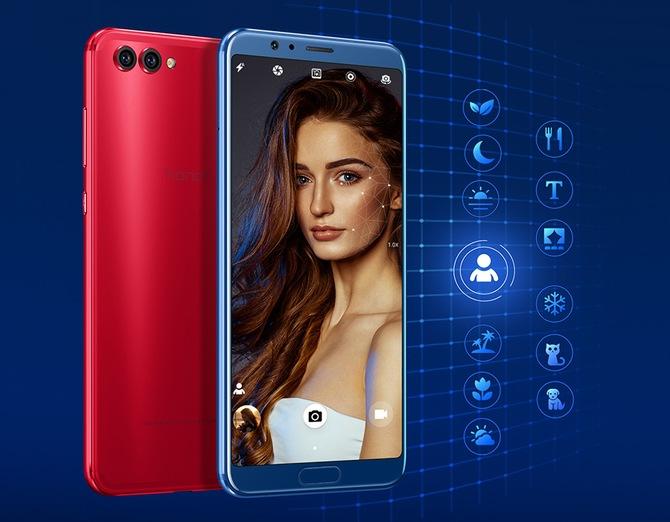 Photograph: Courtesy honor.cn
AI
The AI combined with gyroscope follows your eyesight and avoids automatic screen orientation while reading.
The AI works in conjunction with voice. For example, if you give a command like 'Do not bother me at lunch break, except for Ashish Narsale' to your phone, the phone will not ring unless that person from your contact list calls you.
The AI can even track your movement. For example, it will play a relevant song when you are running and play an equally relevant song when you stop.
The AI, with the help of Microsoft Translation, can read and translate the text when you point the camera at it. It also helps in real time translation of different languages -- a technology found in Google Pixel Buds (Google, why did you embed this feature only in Pixel Buds and not directly into Pixel 2 and Pixel 2 XL?).
Battery
The Honor V10 has 3750 mAh battery which supports Honor SuperCharge; it can charge the phone from 0 to 58 per cent in 30 minutes.
Conclusion
Though the India price is not yet in the public domain, the 4GB RAM/64GB ROM variant is priced at 2699 Yuans (Rs 26,000) and the 6GB RAM/128GB ROM (Rs 34,000) variant is priced at 3499 Yuans in China.
While these features seem too good to be true, the Honor V10 is all set to give a tough challenge to the OnePlus 5T or any other phone in this price range.