It's easily the most portable laptop in the market now, beating Acer, HP, Dell in the segment, says Uttaran Das Gupta.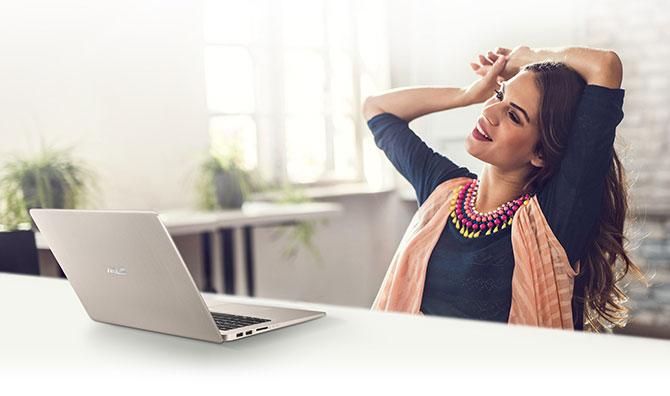 Photograph: Courtesy asus.com
When the box with the Asus VivoBook S15 arrived, I though it must be empty because I had never come across a 15-inch laptop that weighs so little. But this one does, and it is also very affordable.
Besides, with a back-lit keyboard, it looks like a MacBook.
At first sight, it is subtle, smart.
The champagne-coloured chassis is rounded off with a brushed aluminium lid and matte plastic sides.
Weighing only about 1.61 kg, it is easily the most portable laptop in the market now -- beating Acer, HP or Dell models in the segment.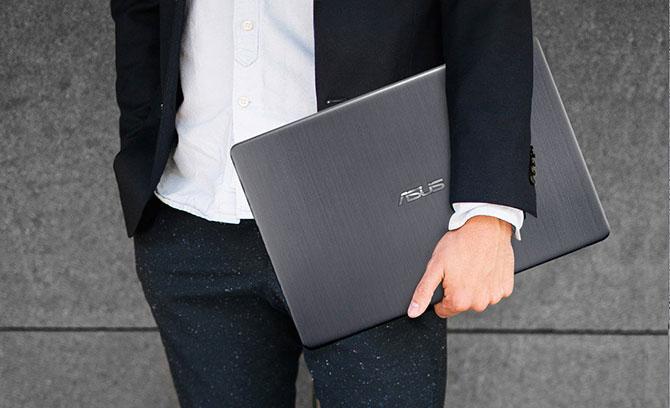 Photograph: Courtesy asus.com
Not that the lightness takes anything away from quality.
The 15.6-inch screen reproduces colours quite vividly.
With a matte finish, the full-HD screen does not have too much reflection, but it does not produce much precision either.
The keyboard and the touch pad are a little disappointing. While typing was comfortable, when I tried playing a racing game with the arrow keys, they would often slip beneath my fingertips, with disastrous results for my score.
The touchpad's performance was better, and it improved with resetting the sensitivity. It also responded accurately to multi-touch gestures.
The built-in fingerprint sensor was good for using Windows Hello. Its performance was very satisfactory.
Even with a dozen or so tabs open, there was no perceptible lag.
Few consumer laptops have multiple storage devices, but this one does: There is a 12GB Solid State Drive for Windows and a 1TB hard drive for other data.
It is a clear winner if you look at the design, the price point and the light weight.
However, my user experience was patchy wing to a number of niggling problems.
In any case, it gives good competition to others in the segment.
If you want a light laptop that you can carry around easily, go for it.