How well do they track your health goals and achievements?
Abhik Sen finds out.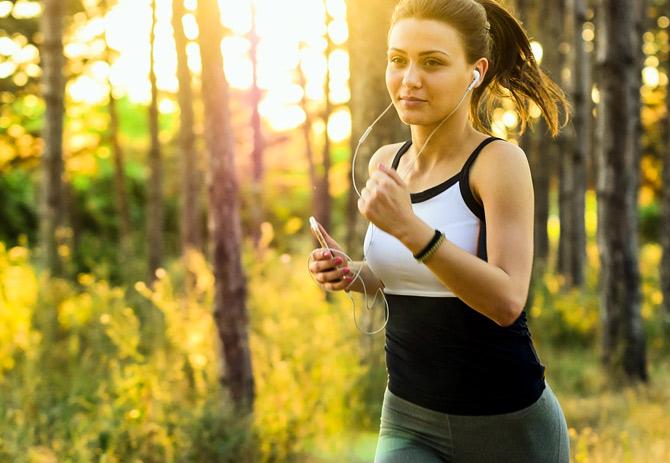 Since I switched to a healthier lifestyle about three years ago, fitness bands have been constant companions.
But among the several bands I have used, only a few were comfortable enough to be worn in bed. The Lenovo HW02 Plus (₹3,299) is one such.
I loved the understated looks of the black review sample as well as the no-nonsense display.
And one doesn't need to change the orientation of the display even if one switches wrists.
The clasp can be a struggle though.
While the band displays the usual stuff such as steps, heartbeat, time and calories, it's quite difficult to read outdoors.
One can access the display by tapping on the band marked by a tiny notch and then swipe through the screens.
And once you sync it with the Lenovo app on your phone, it is presented as a PAI (personal activity intelligence) score, which shows how healthy you are.
And if you sync it with the Lenovo HS10 smart scale (₹4,499), you get access to a whole host of data.
The scale looks nice and the first time I was on it, I thought it was inaccurate.
But after I got my weight checked elsewhere, I could finally say that I had lost weight.
The other parameters, which I found via the app, didn't give me much joy though.
On an early morning jog, I wore the HW02 Plus and a Garmin Vivosmart, which is known to be an accurate reference band.
Well, there was a divergence in the step count, as well as the heart rate. Thus, the Lenovo band might not be for serious runners.
But I did like the wake-up function on the band.
A caveat: one needs to sync the band with the app daily, else you'll lose the data.
The Lenovo HW02 Plus fitness band and HS10 smart scale are for those who want a simple way to track their healthy lifestyles and aren't too bothered about checking their vitals every single minute.