If ever you wanted to shoot adventure documentaries like the guys at National Geographic or Discovery, without buying expensive stuff, then the GoPro Hero5 Session is just made for you, says Ashish Narsale!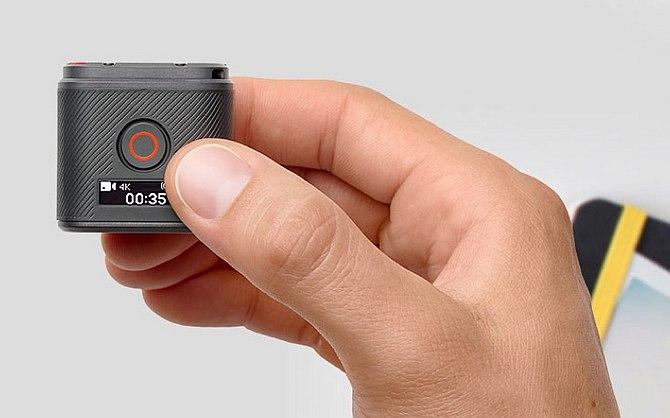 Are you an adventurer, sports enthusiast or an avid traveller? Are you keen to preserve/store/capture your adventures?
If your answer to all these silly questions is yes then GoPro Hero is just made for you.
GoPro Hero comes in three variants to choose from: the GoPro Hero5 Black, GoPro Hero5 Session and GoPro Hero Session.
We were lucky to get the GoPro Hero5 Session for review and here's what we found out!
Design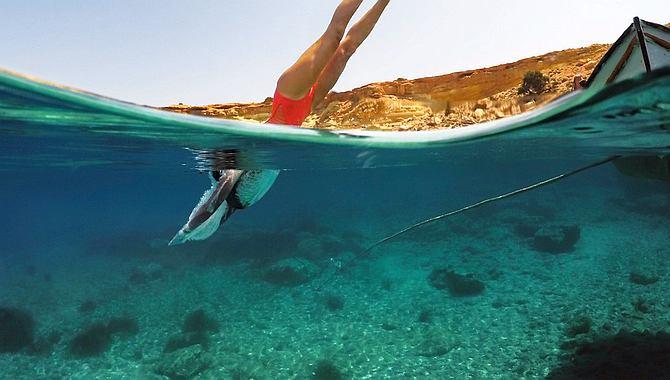 The GoPro Hero5 Session is small, rugged, waterproof and has minimalist design, shaped cute as a cube. To be precise, its dimensions stand at 1.5" x 1.5" x 1.4", the smallest in the GoPro camera range.
The body has rubberised texture with rounded corners. While it is easy to hold, it is not easy to grip.
The GoPro Hero5 Session comes with a standard frame for mount, basically on a clamp.
There are only two buttons, placed ergonomically, for operations, on the top and right side of the device. A big round button on top functions as a shutter button for clicking photos and videos and the same button can be used to flip between different menu options.
A single click shoots photos and a long press (approx 3 sec) starts video recording; that's how easy it is to operate.
The button at the top is less tactile to use and so it takes some time in getting used to short and long presses. There sits a small rectangular button at the rear bottom to access the menu and a small elongated rectangular display on top to show menu options.
The camera is built to be waterproof in order to keep the innards safe even at a depth of about 10 metres (33ft), and you won't need any additional waterproof housing.
The GoPro Hero5 Session's lens is protected by a screw-fitted glass, and is replaceable in case it shatters (please do not try this! ;-)).
A GoPro logo on the right side gives GoPro Hero5 Session's design a nifty look.
Connectivity and operations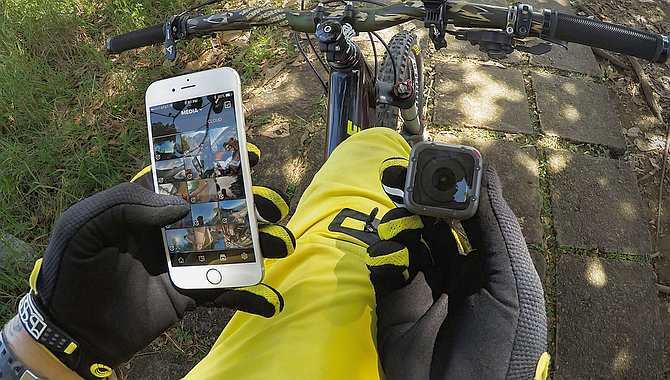 Having only two buttons to operate and change the settings you can further extend the ease of handling the device with access to a bevy of settings using a mobile app.
The mobile app is connected using Wi-Fi and Bluetooth protocols. GoPro's 'Capture' app is available for android and iOS.
As there is no viewfinder (tch,tch, what a pity!) or display screen to see what you shoot, the app lets you have live view and preview of videos and photos you shoot; the live view for time lapse, though, is not available.
Connecting the GoPro Hero5 Session to my Moto G3 Turbo wasn't a piece of cake; at times it would connect really quickly; at other, it would disconnect automatically even when both the devices were kept in close range.
A hatch on the side opens to insert the memory card and access the USB type C port for charging and connectivity. Remember to always carry the type C cable as the technology is new and it would be hard to find one when you desperately need to juice up your device.
While the GoPro Hero5 Session supports a micro SD memory card, using cards of class 10 (a standard that defines how fast and how efficiently the card can read and write data) and above is desirable for faster operation and processing.
Power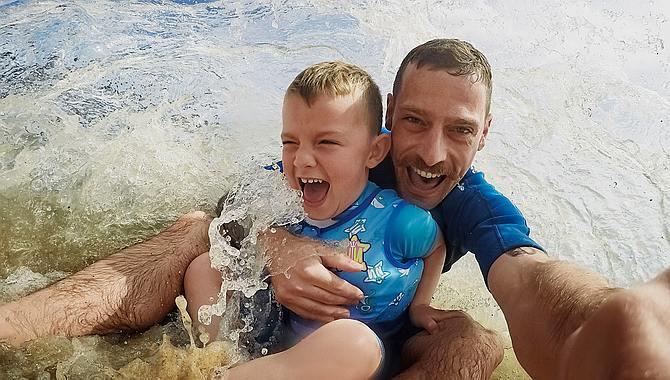 The Hero5 Session derives its power from a non-removable 1000 mAh lithium ion battery. On full charge you get battery time of between one-two hours depending on the settings you choose.
Now, this is quite disappointing! You won't like to charge your camera after every one-two hours of use while travelling.
While shooting, however, our review device would heat up quite a bit, the reason being, we presume, absence of airflow vents in order to keep it water proof. Some improvement is in order here!
As warned by manufacturer when shooting at higher frame rates or higher resolutions under a hot sun, the GoPro Hero5 Session might get hot and consume more power thus reducing the recording time.
Indian users might find it heating often after every use. When camera heats up to a certain limit it has a fail safe programme to shut itself down to save the internals, and it flashes the warning on the screen before shutting down.
The manufacturer even advises to capture shorter videos and limit the use of features which consume more power, when shooting in high performance mode.
You are also discouraged from using the Capture app when you need to control your GoPro remotely.
Instead, it asks you to use GoPro remote or water proof voice activate remote (Remo), sold separately.
Voice control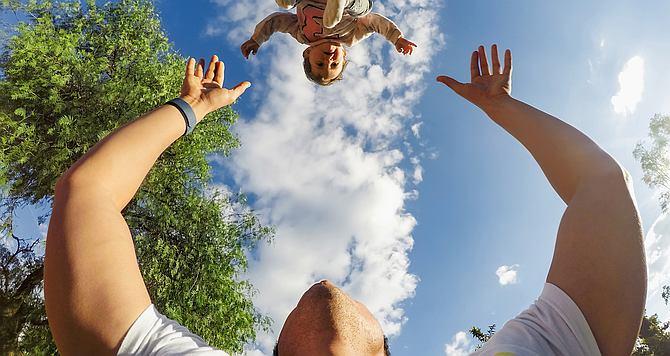 The GoPro Hero5 Session supports voice control to capture videos and photos. You can control the GoPro mode and action with predefined list of command.
For instance, 'GoPro start recording' and 'GoPro stop recording'.
Audio
The GoPro Hero5 Session has two microphones onboard, and thus it can record sound in stereo. This is a marked improvement from GoPro's earlier iteration that would record mono.
It does support external mic by using a 3.5mm Mic Adapter.
Camera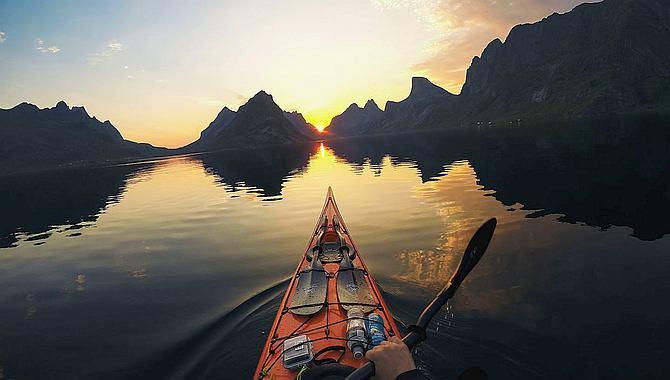 This rugged camera is built as a super tool to document your life, wherever you are: travelling, riding, driving, scuba diving, hiking, running, or swimming. It's like recording what you see.
Although being very small, the GoPro Hero5 Session packs loads of features inside it. It can shoot 4K videos up to 30fs and photos at 10MP.
Note: This is an action camera with fixed focus; you cannot focus or zoom in/ zoom out with camera functions.
But yes, you can use your feet to move in and out towards the subject :-).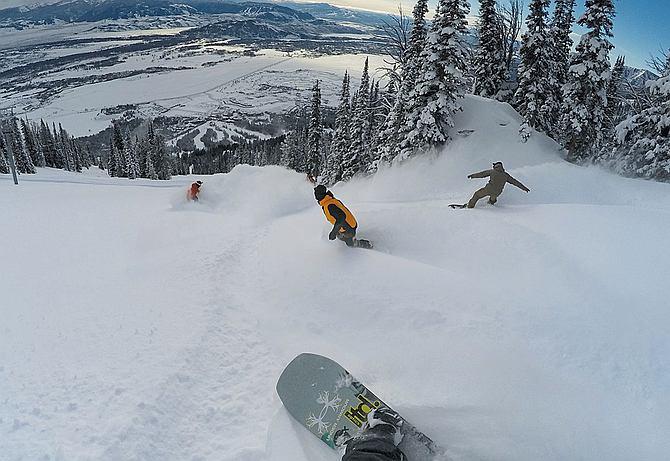 The camera has a built in EIS (electronic image stabilisation) to give you smooth and shake free videos and photos.
Videos
You can shoot video up to 120 FPS (frames per seconds) and has highest resolution of 3840x2160, that is, 4K (ultra high definition).
You can choose between two aspect ratios of 4:3 or 16:9 at different shooting modes.
It provides five different modes FOV (field of view) to capture videos like: SuperView, Wide, Medium, Linear, Narrow.
FOV is how much wider or narrower, a scene can be captured in a single frame.
SuperView is the widest available mode which captures the maximum scene and narrow captures the least.
The WideView gives a fish eye effect to the scene.
The MediumView zooms in at the centre.
The LinearView is the standard mode which removes the fish eye effect and gives as flat a scene as you would get in a normal camera.
The NarrowView, the smallest, is good for capturing distant scenes as it zooms in at the centre.
Not all the features like FPS, FOV, Aspect Ratio and resolution are available together; it depends on what settings you choose.
For example, you can shoot 4k (3840x2160) at 30 FPS (NTSC) and 25 FPS (PAL) at Wide FOV 16:9 aspect ratio and 720p at 120 FPS on both systems at wide FOV 16:9 aspect ratio.
Photos
You can shoot still photos at 10MP in FOV mode as wide, medium, linear or narrow.
It supports burst mode of 30 photos in a second. There is a night photo option too. In this option it allows you to keep the shutter open for two to five seconds.
Time lapse mode
There are three types of time lapse modes: Time Lapse Video, Time Lapse Photo, and Night Lapse Photo.
Time Lapse Video is captured at 4k 2.7l and 1080p.
The Time Lapse Photo, and Night Lapse Photo shoots a series of photos in a given time interval.
In the Night Lapse Photo mode the shutter remains open for longer time to let more light under darker conditions.
Protune
Protune is a mode which is alike shooting photos in DSLR in RAW mode. The camera captures more details.
It give you more professional options to edit videos and photos and create cinema-like effects.
Conclusion
Pros:
Small, compact and rugged device with loads of features
Water proof, no additional housing required
Shoots 4k
Cons:
Heats up quickly; not good for Asian conditions
Non-removable battery, very short battery life
Consumes more power when used in high performance mode
If you are a travel bug, sports guy, want to document your life, or dive into the coral and shoot the marine life then this is just the camera for you.
If ever you wanted to shoot like the guys at National Geographic and Discovery channel shoot their documentaries, without buying expensive stuff, then the GoPro Hero5 Session is just made for you!
Photographs, Courtesy: GoPro.com
Videos: Ashish Narsale-Prasanna D Zore/Rediff.com