Indian Air Force's latest game will challenge you to conquer the skies not in reality but virtually.
Rediff.com's Ashish Narsale reviews Indian Air Force: A Cut Above.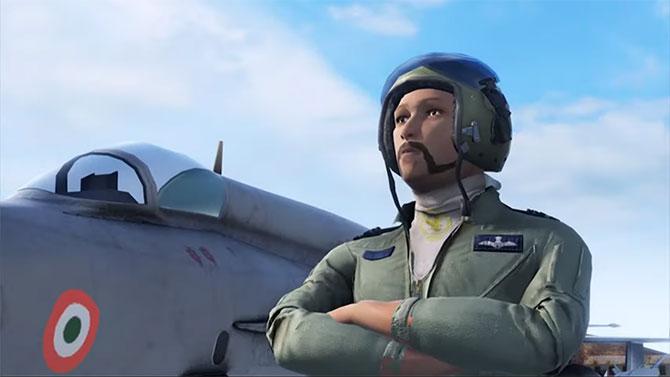 Indian Air Force: A Cut Above is a 3D flight simulation game available for Android and IOS users.
The game which is developed by India's Threye Interactive was launched by Indian Air Force air chief marshal BS Dhanoa last week.
If you are curious to try it out, here are some things you must know:
A Cut Above is designed like any other flight simulation game, but the levels and the missions are meant to evoke patriotism.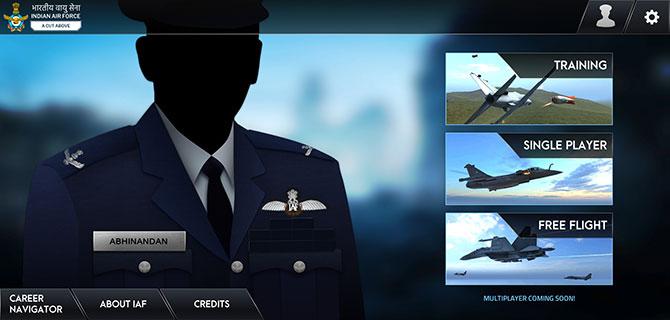 There are three modes available to choose from -- training, single player and free flight.
To start the mission, you have to complete the training i.e. take off, navigation, armaments training and landing.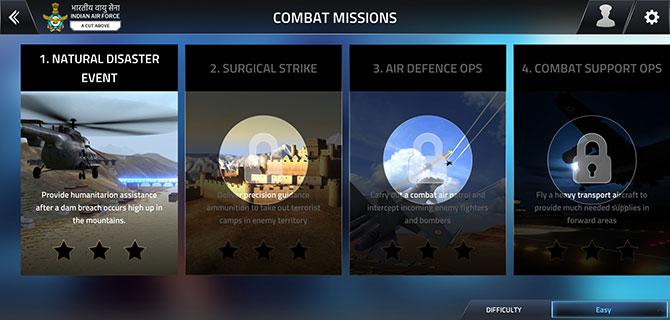 There are ten missions to be accomplished in the single player mode.
One of the missions is the surgical strike. I can easily bet that this mission will excite every Indian gamer.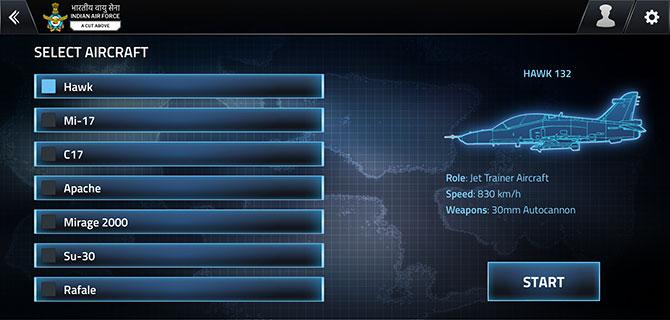 The free flight mode lets you fly various aircraft like the Hawk 132 (a jet trainer aircraft), MI-17 V5 (multirole helicopter), C17 (transport aircraft), Apache (attack helicopter), Miraje 2000 (multirole aircraft), Su-30 (air superiority) and the Rafale (multirole aircraft).
A multiplayer mode is expected soon, which would be more interesting as it will allow users to form teams and play online over the network.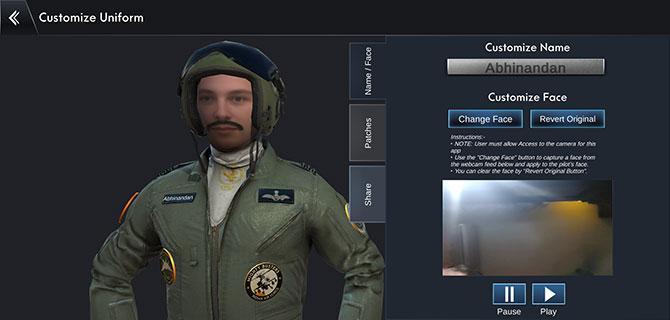 You can create your profile by signing in with your e-mail id.
The default profile is that of wing commander Abhinandan, but with his gunslinger moustache missing for the profile picture.
You can update it with your own name and picture.
The game controls are minimalistic and simple.
The aircraft's manoeuvring is enabled through in-built gyroscope and accelerometer sensor in your smartphone.
The throttle and firing missiles are controlled by the onscreen buttons.
Once you get used to the controls, the game play is smooth and easy.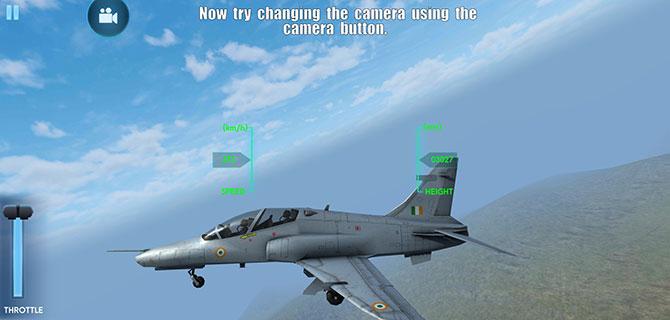 The aircraft rendering is quite realistic barring the graphics for the scene which look generations old.
The sound effects are fine.
When I wanted to quit the game I was hunting for the exit option; I realised that the back/escape button on the Android device didn't work.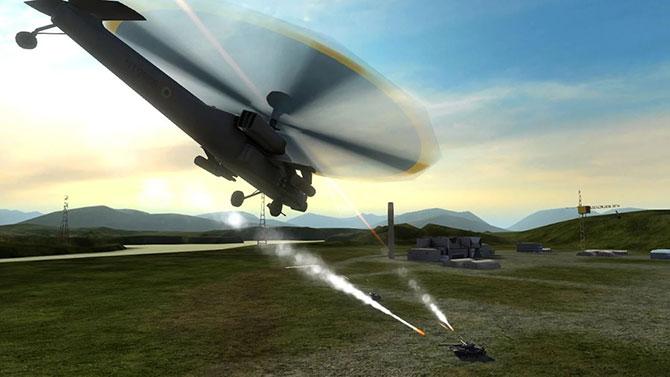 Overall the gaming experience is the same as its earlier version -- Guardians of the Skies -- but A Cut Above comes with a different storyline.
In fact, the game is an initiative by IAF to give you a firsthand experience of an IAF air warrior.
Whether or not you get to serve the nation, you can at least apply and get recruited into the Forces in virtual reality.
How will you know if you have it in you unless you try this game.
In IAF's own words 'Nabha sparsham Deeptam' which means "Touch the sky with glory".
DON'T MISS: The all new Gadgets and Gaming page
Reader invite
Are you a gadget/gaming wizard/afficianado?
Would you like to write on gadgets, gaming, the Internet, software technologies, OSs and the works for us?
Send us a sample of your writing to getahead@rediff.co.in (Subject: 'I'm a tech wizard/afficianado') and we will get in touch with you.