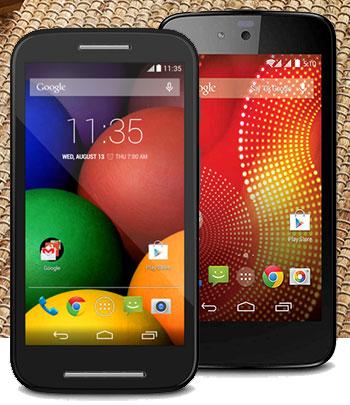 Based on the Android One platform, Karbonn Sparkle V is trying to reach the top spot in this segment as it battles it out with Moto E, another Google product. But, will it succeed?
The budget smartphone segment has heated up again, as two Android devices try to outsmart each other in a market that demands quality at affordable price points.
The last legendary phone at an entry-level price was the Nokia 1100, the phone with a torch.
Now, about half a decade later things have changed drastically. Several notches have been upped and the entry-level phones are the smart ones.
Both Karbonn Sparkle V and Moto E are engaged in a tough fight for this top spot.
Build quality
Motorola has designed a fine smartphone for under Rs 7,000.
To be honest, the finish is great vis-a-vis price. It has a nice waterproof rubberised back panel that looks stylish and we are in absolute love with this smartphone.
The Moto E is one of the best smartphones at this price point and if you need a flashy smartphone, it can't get any better than Moto E.
The Karbonn Sparkle V does look good too, but it is no match to the Moto E in the build department.
The Moto E's build quality is superior to that of the Karbonn Sparkle V, but even then Karbonn is a great value for money proposition.
Amongst the two, the Moto E has an upper hand when it comes to build quality.
Display
Karbonn has a 4.5-inch screen with a resolution of FWVGA 480 pixels.
The Moto E has a 4.2-inch screen but has a better display of 540p. The Moto E wins when it comes to the display quality and the screen quality. The colours on the Moto E are more vivid and so is the brightness of the screen when compared to the Karbonn Sparkle V.
In gaming experience, despite smaller screen the Moto E is our pick because of better display resolution.
The Sparkle does have an advantage of a bigger screen, but the Moto E leaps forward in this battle.
Hardware
The Karbonn Sparkle V has a 1.3-GHz quad-core Mediatek processor, which comes with 1 GB of RAM and an internal storage of 4 GB. The storage space can be expanded with an external micro SD card with a maximum capacity of 32 GB.
This is where the Moto E loses the edge, as it has a 1.2-GHz dual-core processor. It gets a 1 GB RAM and a 4 GB internal storage that is expandable to 32 GB.
This affects the speed of the smartphone and that's why Sparkle V moves ahead of Moto E to emerge as a clear winner in this segment.
Camera
Both the phones have the exact same rear cameras: 5-megapixel; while Karbonn sports the front facing 2 megapixel, Moto E doesn't get a front camera.
Also, Karbonn's Sparkle V gets an LED flash, which goes missing on the Moto E and it has no flash to assist in low light areas.
So, another battle won by Sparkle V.
Battery
Both the smartphones have similar sized batteries as the Sparkle V has 1700mAh and Moto E has 1980 mAh, but because of dual core processor and smaller screen the Moto E has a better talk time compared to Sparkle V's battery which doesn't last for more than 6-7 hours unless on standby.
i2Addicted.com is an online Lifestyle journal that covers various genres like lifestyle, health and fitness and technology for Indian consumers.