What happens when a person who is used to an old Nokia phone gets a brand new Moto E? Here's what Manu Shankar/Rediff.com realised when he gave one such phone to his mother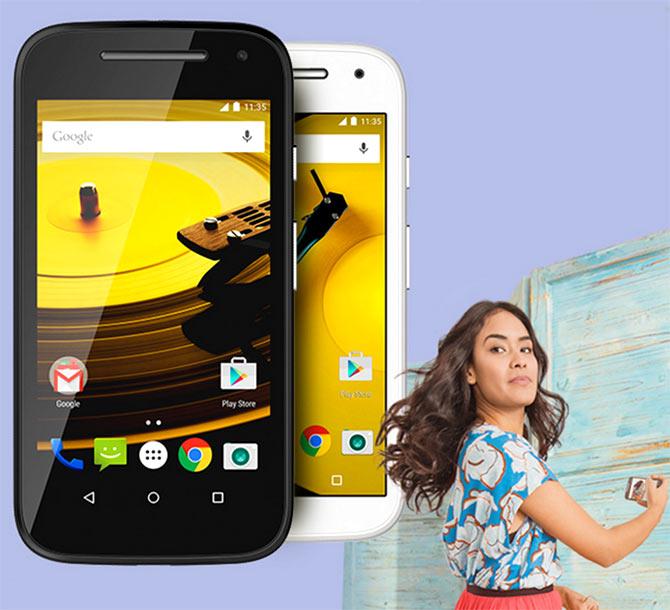 In the world when mobile phones and its technologies are changing at the rate of knots, there are still some, who haven't quite made the switch to the Andriod world from the Symbian age.
While it's hard to imagine someone not carrying a smartphone in their pocket, few are still coming to the terms with the world of Andriod.
So when I asked my mother to get rid of her Nokia E71 for good, she was a bit skeptical. After all she was comfortable with the keypad and didn't quite like the idea of touchpad or sliding her fingers through.
When I gave her Moto E second generation, she was reluctant to take it but had to since her Symbian phone had reached its saturation point.
The good thing about Symbian phones is that it's pretty simple. With Andriod, it's completely the opposite for a first time user.
So from the Gingerbreads to Jellybeans to Lollypops to KitKats -- all these mumbo jumbos sounded more like aliens compared to the simple phonebook, messages and basic e-mail.
"Why would they give such chocolatey names. Why don't they make something simpler for our generation," she cribbed.
So everytime I tried to sit with her and explain how to operate the phone, she would often tell me, "Please explain it to me in layman's language."
I would often tell her not to go into the intricacies of it at the most if she won't understand and she could do a lot more with a smartphone.
So when she started exploring Moto E, she found out that it is relatively simpler yet power-packed phone. Its weight, camera and battery were the three big elements that caught her eye.
While I've seen the days where mobile phones have evolved from VGAs to multiple pixels, for her this was the first phone that gave crystal clear pictures. So the 5 MP camera is constantly on the run and she is quite happy to snap away photos and videos at every occasion.
The world seems all too colourful and power of Play Store seems to have opened a whole array of options for her.
She could not only surf the Internet, but social networking sites too were now accessible to her at the click of a button. Gone are the days of dull looking Symbian to more vibrant Andriod, where the power of customisaion takes you over.
Bit of research over the net and now she fully understands the difference and proudly says, "I've a mini computer in my hands, which takes care of my office as well as my personal needs".