The Touch Bar in place of the function keys brings the convenience of the touchscreen (of iPhones and iPads) to the MacBook. And that's not all.
Abhik Sen lists the many reasons why he considers the Apple MacBook Pro a great notebook computer to have.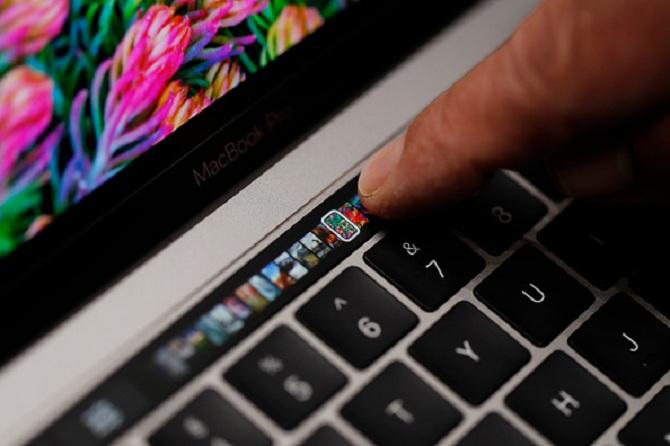 I first came to know what I could do with my lightsaber after I found myself in Mos Eisley Cantina. Since then it has been an uphill journey of building and destroying. I was looking forward to measuring up to Darth Vader, but finally I met Luke.
Then, the battery ran out. Plus, the keyboard had heated up quite a bit while I was playing Lego Star Wars: The Complete Saga on the new 13-inch Apple MacBook Pro with Touch Bar (₹ 1,72,900).
But gaming is just one aspect of Apple's new line of MacBooks, which run MacOS Sierra.
The Touch Bar, as the name suggests, is a retina glass touch bar, in place of the function keys, which brings the convenience of the touchscreen (of iPhones and iPads) to the MacBook.
On Safari, browsing got a whole lot faster; while browsing photos and videos using the Touch Bar was blazing fast.
On Microsoft Word, I got helpful suggestions for words.
While app-specific Touch Bar controls are available for some apps only right now, I never felt the absence of the function keys -- rather, this felt like function keys on steroids.
Logging in with the Touch ID and buying apps with biometric authenticator is another convenience.
The MacBook's screen is brilliant without being overtly reflective. I watched the first two seasons of Mozart in the Jungle on Amazon Prime and a few episodes of Medici: Masters of Florence on Netflix. And boy, are the speakers loud.
The MacBook was easily able to access my iTunes library on the network-attached home media server.
Typing too was great on the thin and light MacBook, which didn't heat up even with multiple tabs open.
The battery lasts for about nine hours, with mixed usage, including gaming.
One aspect some people won't like is the presence of only USB Type-C based Thunderbolt ports; but with the world moving towards this standard, this could only be a temporary hassle.
At the end of the day, the Apple MacBook Pro is a wonderfully capable notebook computer with the added convenience of a Touch Bar.
---
Do you like gadgets?
Would you like to advise readers about gadgets, gaming, the Internet, software, OSs, the works?
Please tell us more about yourself. A writing sample would be nice. Do mail us at gadgetsandgaming@rediffmail.com