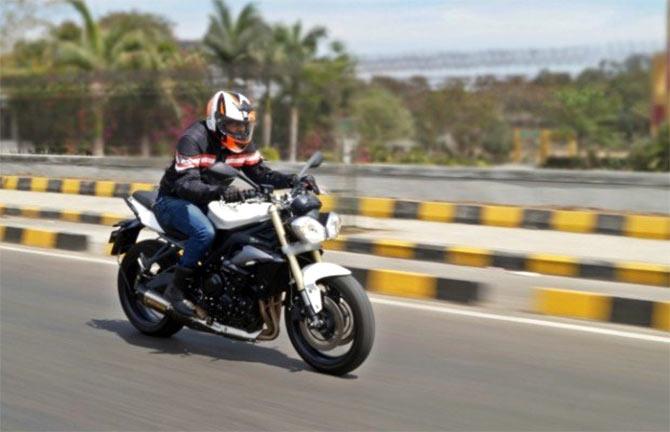 The Triumph Street Triple 675 is a classy, sporty motorcycle with probably a performance which is best suited to our riding conditions. It is the best upgrade from a 300-400 cc machine. This indeed is one of the finest performance bikes we have riddenm says Narendra Sharma.
Triumph has been trying to gain a stronger foothold in the Indian market for the last couple of years and has been introducing many products to suit individual needs. Right from the Bonneville to the Rocket III, Triumph has one for everyone.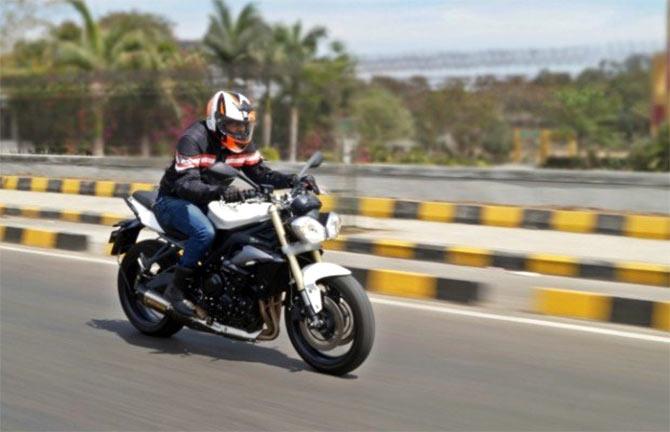 However, one such bike from the legendary manufacturer that breaks the shackles of being typecast is the Street Triple 675. This bike is believed to offer almost everything (barring the retro look). We take a spin on it to find out exactly that.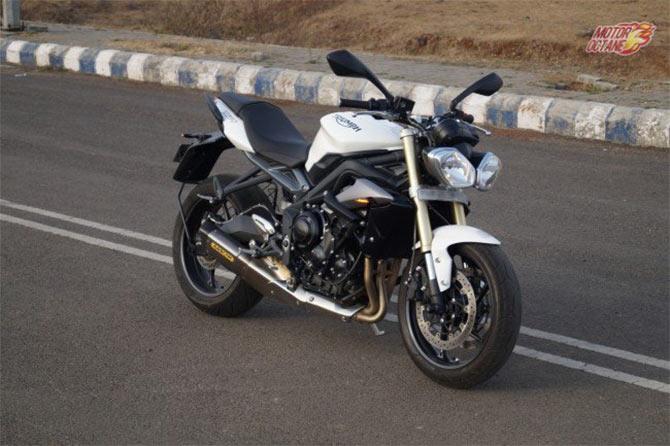 Styling and design:
The Street Triple is a naked motorcycle with stylish looks. It's a compact bike overall and has unique twin headlamps that make it look distinct. The instrument console sits atop the headlamps and is a simple, easy to read unit. It has an analogue tachometer and the speedo, trip meters, gear indicator, fuel gauge etc. are digital. It is easily readable too.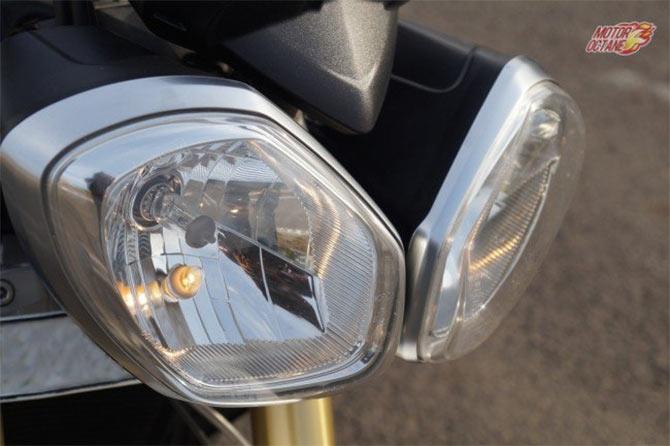 The handlebar is a flat one with standard switchgear and adjustable brake and clutch levers. The grips are classy and exude a premium feel. In fact the Street Triple overall gives you that feel. The mirrors feel solid and have pivot adjustments too. The well sculpted tank provides perfect support to the thighs.
The seat is quite broad to make the seating comfortable. The bike is true to its naked appearance with minimalist cladding. The turn indicators are sleek LED ones and the tail-lamp is a clear unit too. Though I'm not too much a fan of the bike's front looks, it is a distinguishing aspect of the Street Triple. The bike is well styled and put together overall and has tidy proportions.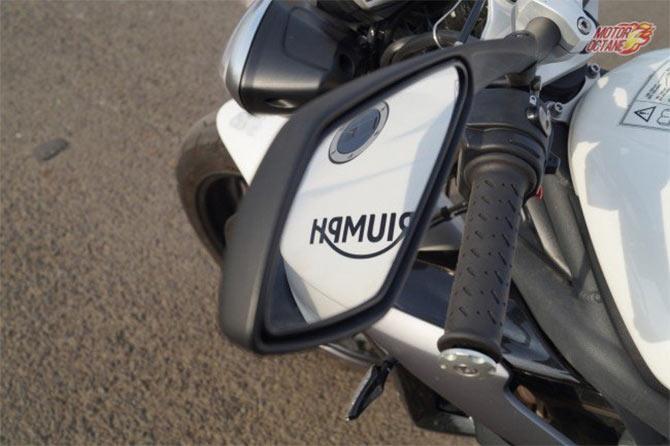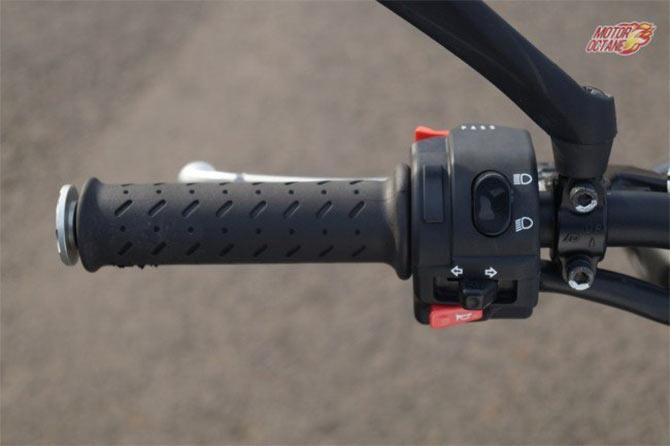 Engine and performance:
The Street Triple gets its power from a 675cc, in-line three-cylinder, four-stroke, liquid cooled, fuel-injection engine. The engine belts out 79bhp of power at 11054rpm and a maximum torque of 57.3Nm at 8375rpm. Three cylinder engines are unique to Triumph and while they may not be as smooth as an in-line four, they make it with an exciting exhaust note and come out as a balance between twin and four cylinder machines offering best of both worlds.
The Street Triple is anything but boring. The engine fires up to a low hum and responds well to the sensitive throttle inputs. The bike pulls away smoothly without any sort of strain and the powerband has a broad range making it easy to ride at any speeds. The torque spread is even and the bike is effortless to ride in any gear.
Not once did I feel it to be strained or for that matter, the power to be suddenly strong, in a particular power band. You reach triple digit speeds from standstill in a matter of a few seconds and the bike just doesn't budge right till 160km/h (that's as much as the road allowed).
The gearshift is slick with a traditional one-down, five-up pattern. It feels superior to many a bike in this category or even beyond as it has a race-inspired quick shifter to offer seamless shifting even at part-throttle, without using the clutch lever. All this makes the bike an easy one to control. The engine is vibration free and its quick acceleration makes it very pleasurable to ride every time.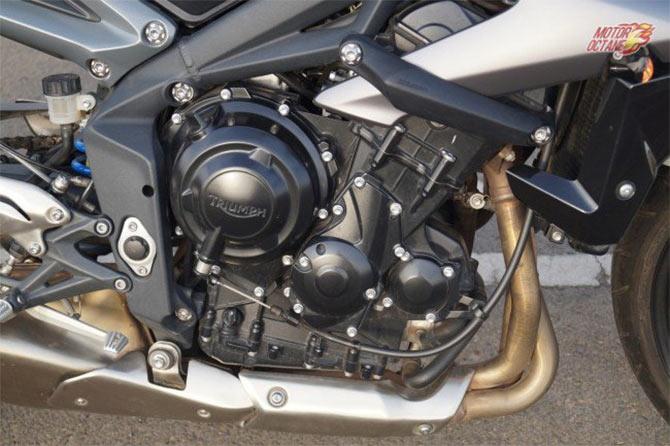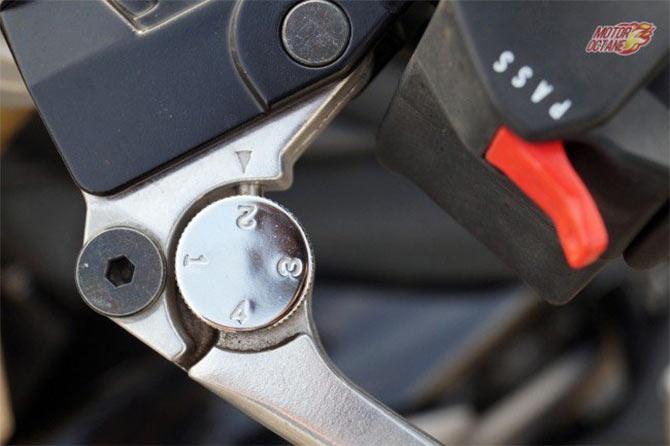 The brakes are also great with a progressive stopping ability. Never did they feel over assisted or grabby. You get just the perfect feel desired. The Nissin twin 310mm discs with twin-piston sliding callipers in the front and Brembo 220mm single disc at the rear. The Pirelli Corsa tyres help in the stopping power too. The ABS works perfectly too. The Street Triple is fitted with upside down front forks and a monoshock suspension setup at rear, with an alloy swingarm.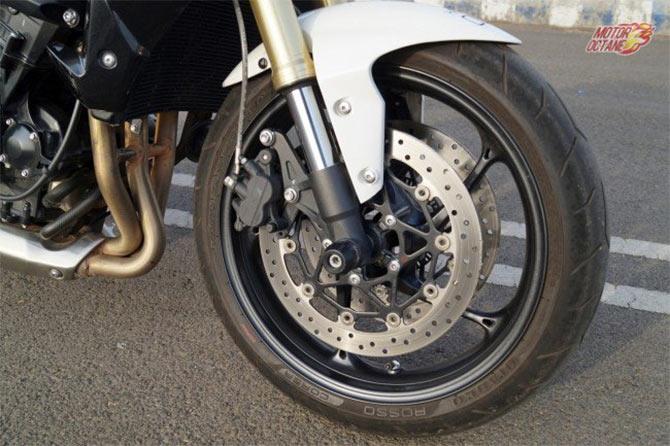 Mileage:
The Street Triple returned a fuel efficiency of 23km/l, during our test, which was mainly within the city.
Ride and handling:
The Street Triple, though, looks compact and can be comfortable for riders of varying sizes. It's not very low, bur short riders will also not find it too difficult. The sitting stance is not too aggressive and is due to the handlebar placement. It doesn't mean that it is upright too. It has just the right lean angle that can suit any kind of riding: be it city or even touring. The seat is a comfortable place and the footpegs and foot levers along with the handle grip and brake and clutch lever are within easy reach. The ride quality is just fine.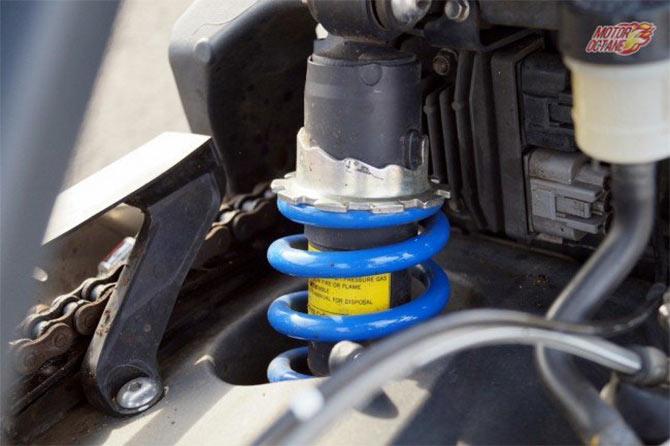 The suspension setting can make it very soft and also firm enough. The brilliant setup actually provides a good balance for easy and comfortable riding at the same time sportiness and agility too. The Street Triple is very easy to weave through traffic and parking in tight spots also is not a bother. Straight line stability is also very good even at speeds in excess of 120 km/h.
Price:
The Triumph Street triple is priced at Rs 8.7 lakh (on-road Pune).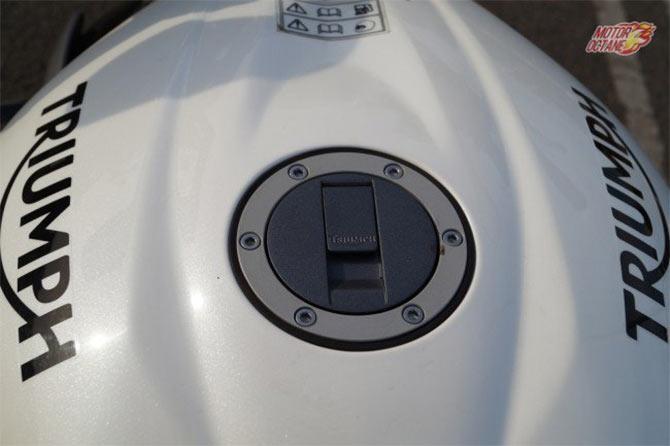 Specifications:
Engine: Liquid-cooled, 12 valve, DOHC, in-line 3-cylinder
Max Power: 79bhp @ 11,054 rpm
Max Torque: 57.3 Nm @ 8,375 rpm
Transmission: Six-speed
Height: 1060 mm
Width: 740 mm
Seat height: 800 mm
Wheelbase: 1410 mm
Dry weight: 168 kgs
Tank capacity: 7.4 litres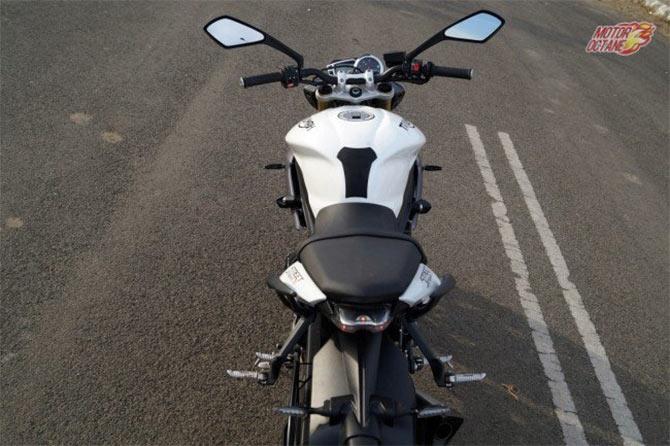 The Triumph Street Triple 675 is a classy, sporty motorcycle with probably a performance which is best suited to our riding conditions. It is the best upgrade from a 300-400 cc machine. This indeed is one of the finest performance bikes we have ridden.
MotorOctane is your one stop shop for news, views and reviews from the automotive industry. It is meant for car and bike enthusiasts -- whether they are considering a new purchase or just wanting to stay abreast of the industry.