After 22 years, Nokia brings an old hero back to life.
Rediff.com's Ashish Narsale examines why the Nokia 8110 4G is worth owning in the age of smartphones.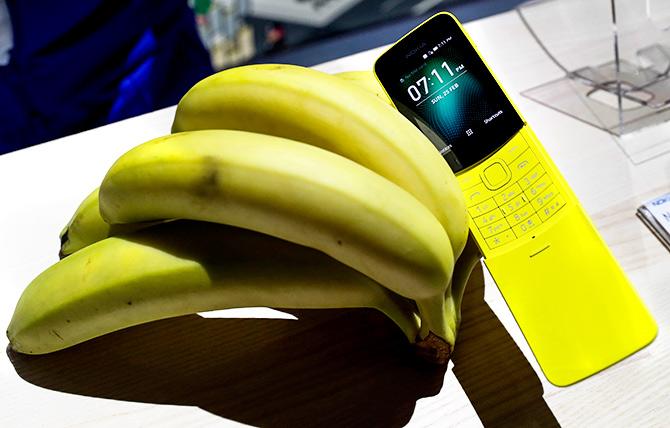 Hollywood star Keanu Reeves made the Nokia 8110, nicknamed the 'banana phone' for its shape and design, popular with his 1999 cult classic The Matrix.
Building on the continuing strong nostalgia for the brand, the HMD-led Nokia rebooted the 8110 for the 21st century. The company unveiled the Nokia 8110 4G, with revamped innards, at the Mobile World Congress.
Here's how Nokia has made the banana phone appealing in the age of über smart phones.
Software
The Nokia 8110 4G runs on the HTML5-based KaiOS, a smart operating system specially designed and developed for feature phones that are light on hardware specs.
Specially designed applications like Facebook, Twitter etc can be installed from the Nokia app store.
KaiOS is also found on Reliance Jio Phones.
Hardware
The Nokia 8110 4G is processed by dual core 1.1 GHz Qualcomm 205 processor, coupled with 512 MB RAM and 4GB ROM, good specs for a feature phone.
The Nokia 8110 4G is packed with modern essentials like Wi-Fi, Bluetooth 4.1, GPS/AGPS and VoLTE. A Wi-Fi hotspot can be created to share internet.
All the components are enclosed in a polycarbonate body.
The Nokia 8110 4G has a curved design with slide mechanism to expose the tactile keypad underneath the shell. The keypad gives a nostalgic feel.
The phone comes in two colours: eye-catching banana yellow and the Matrix-inspired matt black finish.
Display
Nokia has replaced the old monochrome LCD with a curved 2.45 inch QVGA display to make it stylish and futuristic.
Audio
It supports a 3.5 mm audio jack, so that you can connect your old earphones.
It can play most kind of audio formats like MP3, AAC, AMR, MIDI etc.
Other than stored audio you can also enjoy FM on the go.
Battery
The phone is powered by a removable (less heard of nowadays) 1500 mAh battery.
The battery can last up to 25 days in the standby mode.
Camera
Yes, this retro phone also supports a camera on the rear, a 2MP snapper with LED flash.
Price
The phone is priced at $97 (approximately ₹6,300).
Verdict
Can the Nokia 81104G survive in the world of smart devices?
I believe it will, as it is less complex and less resource hungry. The battery will last for days. It is always best to have this kind of a feature phone as a second phone.
This feature phone is also a boon for avid travellers.