New kid on the block Razer Phone brings high-end features specially designed for gamers, says Ashish Narsale
Photographs: Courtesy razerzone.com
But before you get ecstatic, here's some mixed news for Indian gaming-enthusiasts.
The Razer Phone is not coming to India soon, at least officially. But what the heck, you can always buy it abroad if you want if you just can't wait; but if you have the patience pre-book it on the company's website and wait till it officially ships the Razer phone to India.
Razer Inc is a computer hardware and peripheral company co-founded by Singaporean Min-Liang Tan and American Robert Krakoff.
Razer's products are focused more towards the gaming community and builds specially-designed laptops, keyboards, mouse, headsets, etc.
Last year Razer acquired Nextbit, a crowd-funded start-up phone company. The Robin Phone made by Nextbit finds its design emulated by the Razer.
Nextbit Robin was sold on Flipkart last year.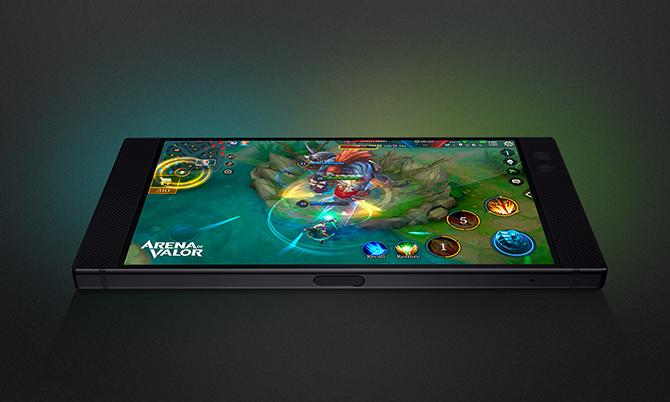 Photographs: Courtesy razerzone.com
Here's why the Razer ought to be a gamer's delight:
120Hz Ultramotion screen
Front firing stereo speakers with Dolby ATMOS and THX certified audio adapter
8 GB RAM
Qualcomm Quick Charge 4+
Qualcomm's Snapdragon 835
Kryo 280 64-bit CPU
Adreno 540 GPU
Design
The Razer Phone comes in a rectangular, boxy design.
Its screen is made using a revolutionary technology that uses a material made by fusing Indium, Gallium, Zinc, and Oxygen (IGZO), making the screen faster and ramping up its resolution. The Razer Phone comes with a 5.7-inch IGZO IPS LCD screen.
The screen has a refresh rate of 120Hz trademarked by Razer as Ultramotion screen.
Simply put, higher refresh rates gives far better gaming experience.
Refresh rate is the number of times an image is refreshed per second on the display.
Refresh rate of 120Hz means the image is refreshed 120 times on the display, resulting in blur-free and crisp motion picture or graphics.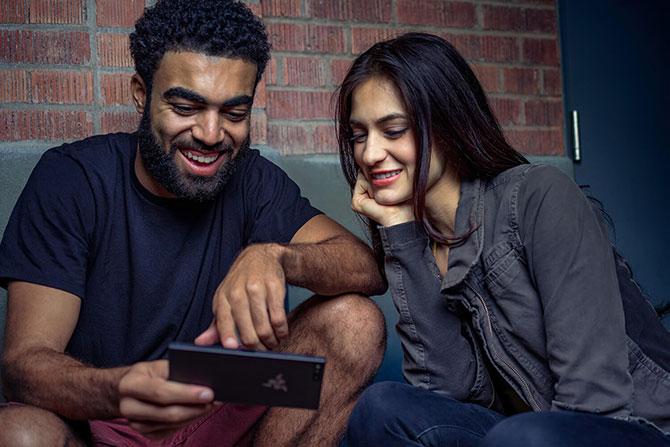 Photographs: Courtesy razerzone.com
Hardware
The Razer runs on Qualcomm's Snapdragon 835, the best SOC available today on android phones. Octa core, power efficient Kryo 280 64-bit CPU and Adreno 540 GPU are embedded in the SOC to make graphics come alive.
8GB of RAM further beefs up the Razer Phone's gaming performance.
The only disappointment is it comes with just 64GB of ROM. Having said that, a microSD card slot compensates for the limited storage space.
Sound
Ask any gamer and s/he will tell you that any thrilling gaming experience is incomplete without a super sound system. Here too Razer fires on two cylinders.
We mean there are two front-firing stereo speakers and dual amplifiers that offer Dolby ATMOS surround sound experience.
What's more there is also an audio adapter with THX certified DAC for listening over earphones.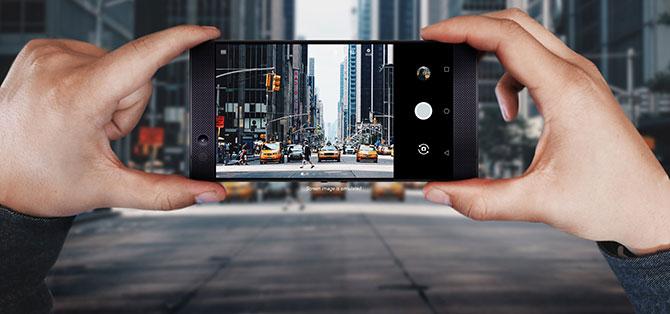 Photographs: Courtesy razerzone.com
Battery and Camera
A 4000 mAh lithium-ion battery that comes with Qualcomm Quick Charge 4+ offers adequate juice to carry out all the power hungry processes.
That's not all that the Razer has on plate: For those interested in shooting pictures there's a 12MP AF (auto focus) f/1.75 wide and 13MP AF f/2.6 zoom dual camera set-up at the rear and an 8MP FF (fixed focus) f/2.0 lens in the front.
The Razer Phone thus offers a complete package not just for the avid gamers but also for snapshot-, selfie-crazy enthusiasts.
Given such hot hardware configuration, the Razer Phone ought to be the ultimate gaming phone till date.
Now, are you tempted to buy one? Take the poll below...