With good sound and image quality, Blaupunkt's 55 inch 4k TV is great to connect to a dish or streaming services.
But its overall picture quality is nowhere close to what Samsung, Sony or even Lloyd 4K TVs offer, says Veer Arjun Singh.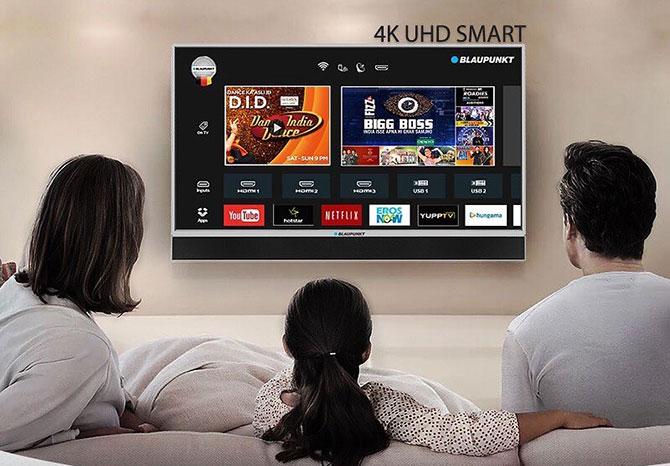 On paper, Blaupunkt's TV series looks solid.
It joins the league of brands such as Xiaomi, Micromax and VU that make affordable smart TVs.
The specs are almost indistinguishable.
But the German brand has a few aces up its sleeve that differentiates its TVs from the rest.
Design (3.5/5)
Smart TVs in the affordable category have a few design limitations.
The bezels are almost never thin.
The 55-inch, 4K smart TV from Blaupunkt that I hung in my bedroom is slim, but not scrawny.
The silver borders have medium thickness and, coupled with sharp edges, the TV doesn't look cheap at all.
It's best to hang it on a wall, though.
This is not a TV you should place on a table top because the protruding back panel gives its affordable range away.
But when mounted on a wall, what gives the TV its distinctive character is the speaker attached to the screen at the bottom.
It lifts the look of the TV as also its sound.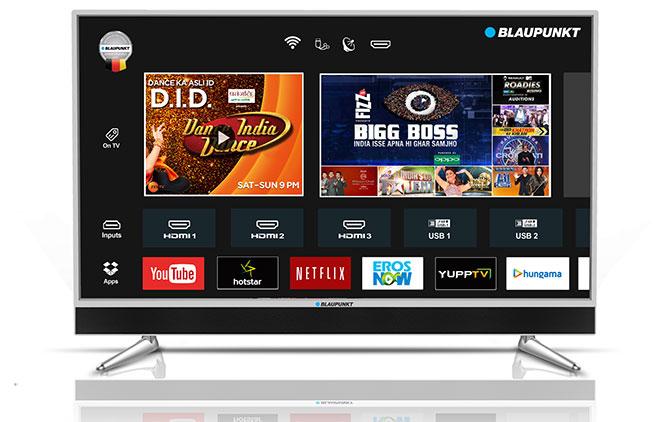 Performance (2.5/5)
Poor sound is what plagues most smart TVs in the mid-range category.
Blaupunkt, being a car audio and accessories maker, has played it smart by adding the speaker grill.
The sound is loud enough to fill a large room.
The bass is deep but the voice clarity at higher frequencies could have been better.
The 4K TV delivers a good image in 3840 x 2160 resolution.
The HDR also helps distinguish colours more accurately.
It may all sound the same on paper, but its overall picture quality is nowhere close to what Samsung, Sony or even Lloyd 4K TVs offer.
But for a quarter of the price in the same screen size, it was never expected that Blaupunkt would compete and win.
After building a decent-looking unit with good sound and picture, Blaupunkt seem to have got sloppy.
The ARM quad-core processor is sluggish.
The Android system takes its own sweet time to power on.
The interface is cluttered.
And the air mouse is a mess.
Even the voice input feature on the remote control doesn't work and the notorious screen-casting app, Miracast, continues to be unreliable.
And, just keep away from its native app store.
Overall (3/5)
The Blaupunkt TV gets the basics right.
Apart from decent looks, good sound and image clarity, it's got all connectivity options, such as USB (2), HDMI (3) and VGA ports.
For Rs 39,990 on Flipkart, it's a great TV to connect to a dish or streaming services.
Just don't expect a glitch-free experience.