Rediff.com reader Vishaka Rautela shares two delicious sweet potato recipes with us.
Do you have an interesting recipe to share? Email it to us!
Here's how to make Hasselback Sweet Potatoes: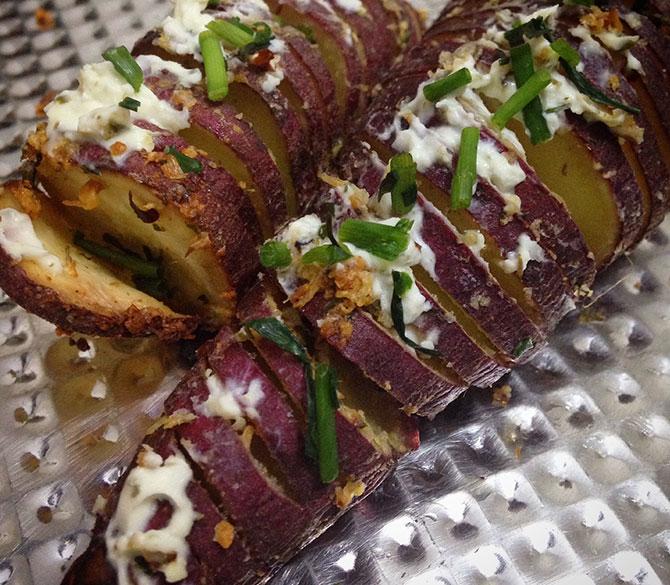 Ingredients
2 sweet potatoes
1 tbsp butter, melted
1 tsp olive oil
1 tsp thyme
2-3 grated garlic
Salt as per taste
1/2 tsp chilli flakes
1 tbsp herbed cream cheese
Chopped chives
Method
1) Preheat the oven. Line a baking tray with aluminium foil and grease it with olive oil.
2) Make a series of thin slices along each potato, slicing 2/3 of the way through. (To make each slice the same, position the sweet potato between a set of chopsticks. When you cut down, it will prevent you from cutting all the way through. I used the ends of a pakad)
3) Mix all the ingredients in a small bowl. Brush mixture all over the potatoes and into the slits. Be careful not to break the potatoes.
4) Place on the baking sheet and roast until the centre of the potatoes are tender and the outside is crisp, 45 minutes at 180 degrees.
5) 30 minutes through the roasting time, remove the potatoes from the oven and run a fork gently across the tops of the potatoes, using light pressure, to fan the slices and separate them from one another.
6) Once cooked, slather some cream cheese and garnish with chives.
---
Oven Baked Sweet Potatoes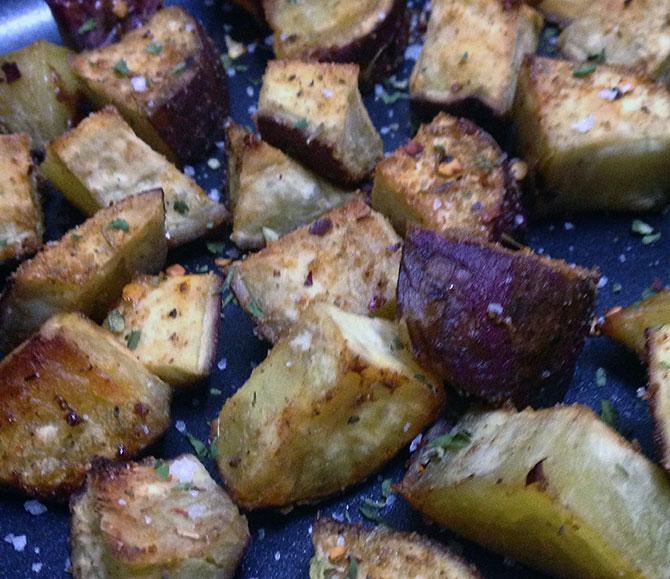 Ingredients
1/2 tsp chilli flakes
1 tsp Cajun seasoning
1 tsp brown sugar
1/2 tsp onion powder
1/4 tsp dried thyme
1/4 tsp dried Parsley
1/4 tsp garlic powder
Salt as per taste
2 large sweet potatoes
1 1/2 tsp olive oil
Sea salt at the end
Method
1) Preheat oven to 180 degrees C
2) In a small bowl, stir together all the ingredients, except oil
3) Cube the sweet potatoes. Brush with olive oil.
4) Rub the seasoning, mix all over.
5) Place sweet potatoes on a baking tray covered in foil.
6) Bake in preheated oven until tender, or about 45 minutes
7) Sprinkle any leftover spice mix and sea salt.
Photo Courtesy: Vishaka Rautela
What's your favourite Christmas recipe? Tell us!
Simply e-mail your recipe to getahead@rediff.co.in (subject line: Xmas recipe) with your name, hometown and any interesting details about the origin of the recipe, along with a photograph of the recipe. We'll publish the best preparations right here on Rediff.com and India Abroad.
ALSO SEE