Want to try out some traditional festive treats this Christmas? Chef Avijit Deb Sharma, Executive Chef from Novotel and Ibis Bengaluru shares two delicious recipes.
Plum Pudding (each pudding serves 12)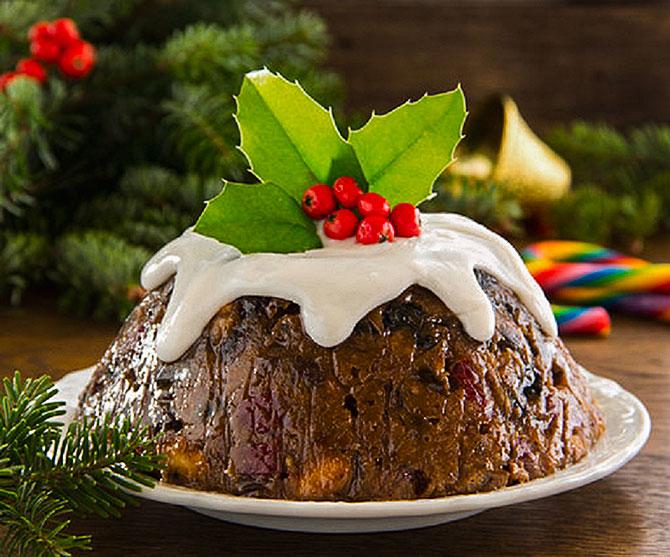 Ingredients:
For the fruit mixture (to be made 30 days ahead):
450 gm seedless raisins
450 gm sultana raisins
220 gm currants
1 cup thinly sliced citron
1 cup chopped candied peel
1 tsp cinnamon
½ tsp mace
½ tsp nutmeg
¼ tsp ground cloves
¼ tsp allspice
¼ tsp freshly ground black pepper
450 gm finely chopped suet, powdery fine
1¼ cup cognac
For the pudding:
450 gm (approximately) fresh bread crumbs
1 cup scalded milk
1 cup sherry or port
12 eggs, well beaten
1 cup sugar
1 tsp salt
Method:
Blend the fruits, citron, peel, spices and suet and place in a bowl or jar.
Add ¼ cup cognac, cover tightly and refrigerate for 4 days, adding ¼ cup cognac each day.
Soak the bread crumbs in milk and sherry or port.
Combine the well-beaten eggs and sugar. Blend with the fruit mixture. Add salt and mix thoroughly. Put the pudding in buttered bowls or tins, filling them about 2/3 full. Cover with foil and tie it firmly. Steam for 6-7 hours. Uncover and place in a 250°F oven for 30 minutes. Add a dash of cognac to each pudding, cover with foil and keep in a cool place.
To use, steam again for 2-3 hours and unmould. Sprinkle with sugar and add heated cognac. Ignite and bring to the table. Serve with hard sauce or cognac sauce.
Note: This pudding is best when made a year in advance and allowed to mellow. It was customary to make it early in Advent -- the religious season before Christmas -- and use it the following year.
Everyone in the family was supposed to stir the pudding once for good luck. If you can't make it the year before, at least give it a few weeks to age.
---
Mince Pie
Ingredients:
600 gm mincemeat
2 satsumas, segmented
1 apple, finely chopped
1 lemon zest
Little icing sugar, for dusting
For the pastry:
375 gm plain flour
260 gm unsalted butter, softened
125 gm castor sugar, plus extra for sprinkling
1 large egg, plus 1 beaten egg for glazing
Method:
Place 375 gm plain flour and 260 gm softened unsalted butter in a bowl and rub together to a crumb consistency. Add 125 gm castor sugar and 1 large beaten egg. Mix together.
Tip out onto a lightly floured surface and fold until the pastry comes together. Be careful not to over mix. Wrap the pastry in cling film and chill for 10 mins.
Scoop the large jar of mincemeat into a bowl and add 2 segmented satsumas, 1 finely chopped apple and zest of 1 lemon.
Heat oven to 220°C. Roll out the pastry to 3 mm thickness.
Using a round cutter (about 10 cm), cut out 16 bases and place them into muffin trays. Put 1½ tbsp mincemeat mixture into each. Brush the edge of each pie with a little beaten egg.
Re-roll out the pastry to cut 7 cm lids and press them on top to seal. Glaze with the beaten egg, sprinkle with the extra castor sugar, then make a small cut on the top.
Bake the mince pies for 15-20 mins until golden brown. Leave to cool before releasing them from the muffin trays and dusting with a little more icing sugar before serving.
---
Dear Readers, tell us what your favourite Christmas preparations are. What are you cooking for your family and friends? Is it sweet, savoury or traditional? Send us your favourite Christmas recipes and we will publish the best ones.
Write in to us at getahead@rediff.co.in (subject line: Christmas Recipes) with your NAME, AGE, HOMETOWN and any interesting details about the origin of the recipe.
Don't forget to share a photograph of the recipe, and your pic as well.
We'll publish the best recipes right here on Rediff.com.