Gurgaon-based food blogger Debjani Chatterjee tells us how to make chocolate chip cookies at home.
What's your favourite Christmas recipe? Tell us!
Chocolate chip cookies can double up as a tea-time snack and a dessert.
According to Debjani Chatterjee, a food blogger and Rediff reader, it also makes for a good Christmas gift.
Here's the recipe: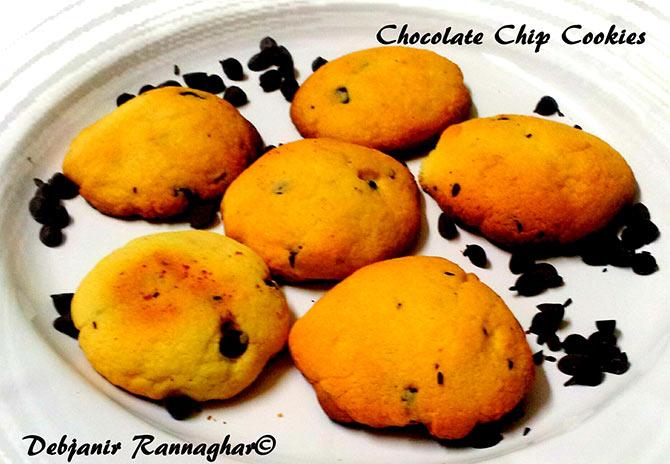 Ingredients
2 1/2 cup all purpose flour
1 tsp baking powder
1 tsp baking soda
1 tsp salt
1/2 cup unsalted butter
1 1/2 cup castor sugar (half of the sugar can be replaced with brown sugar)
50g chocolate chips (you can use more chips, I have used dark chocolate chips; other flavour also would do)
2 eggs
1/2 tsp vanilla essence
Method
Mix all the dry ingredients -- all purpose flour, baking powder, baking soda and salt in a bowl.
In a bowl, add butter (at room temperature) and add sugar powder and start beating to get a fluffy creamy mixture.
Add one egg, beat it well.
Add another egg and vanilla essence. Beat it well to get the wet mixture done.
Mix dry ingredients with the wet ingredients.
Don't add entire flour at a time but add the flour in three parts and mix with the wet ingredients using cut and fold method.
Add choco chips to the mix. The end product should be a semi-soft cookie dough.
Cover the dough using a cling film and transfer it to a refrigerator for two to three hours.
Pre-heat the oven in 180 degree C for 10 minutes.
Take the dough out of the refrigerator and make small 1.5" rounds out of it.
Place them on a baking tray and bake for around 10 to 12 minutes in 180 degree C. There should be a gap of 3" between the cookies.
Do check after eight minutes. Remember the condition of the cookies varies depending on the oven you use.
Take the cookies out in a wire rack and give a standing time of 10 minutes.
Note: If unsalted butter is not available then normal salted butter can be used but in that case no need to add extra salt in the flour.
Photo: kitchenofdebjani.com
Reader Invite
What's your favourite Christmas recipe? Tell us!
Simply e-mail your recipes to getahead@rediff.co.in (subject line: Xmas recipe) with your name, hometown and any interesting details about the origin of the recipe, along with a photograph of the recipe, if possible. We'll publish the best preparations right here on Rediff.com and India Abroad.
ALSO SEE