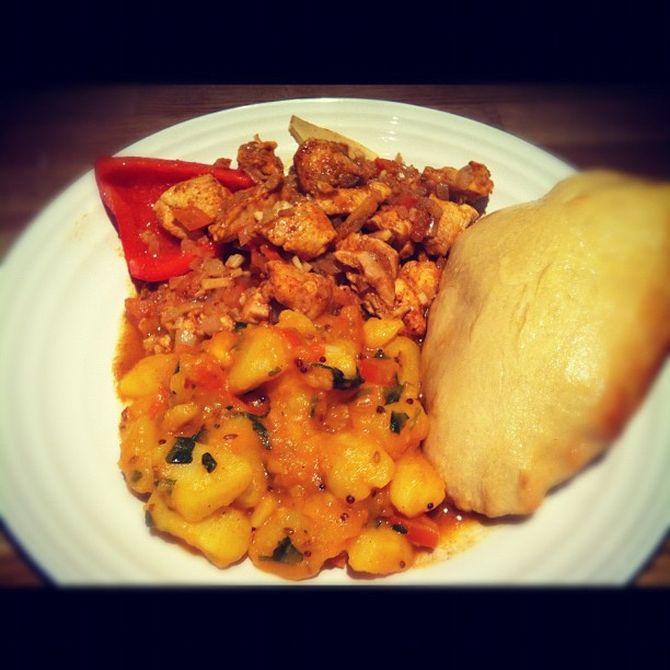 Rediff reader Reshma Aslam shows us how to indulge in homemade delicacies.
Ladies, why eat out when you can enjoy a five-course meal at home.
Here are the recipes:
Russian Salad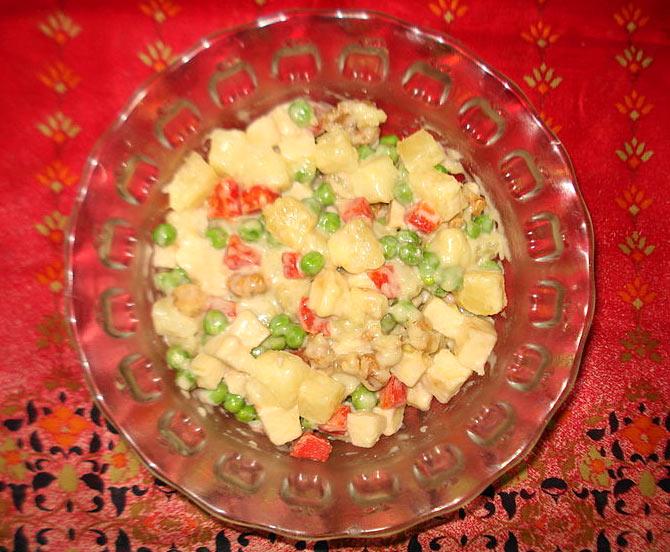 Photograph: Miansari66/Creative Commons
Ingredients
2 medium sized potatoes (boiled)
1 cup peas (boiled)
6 to 7 slices of pineapple (boiled with 2 to 3 tbsp sugar for 10 minutes)
2 apples (peeled)
4 tbsp mayonnaise
1/2 cup corn kernels, boiled (optional)
1 tsp black pepper powder
1/2 cup fresh cream
Sugar (optional)
Salt to taste
Method
Cut the boiled potatoes and apple into small cubes.
Cut the pineapple slices into small chunks.
Take a large bowl and put the boiled potatoes and apples cut in small cubes, boiled peas and pineapple chunks.
If you are adding corn, add it to the above mixture. Mix all the contents well.
Add salt and pepper. Add mayonnaise and fresh cream and mix well.
Add sugar if required.
Keep the bowl in the fridge. Chill and serve.
---
Broast Chicken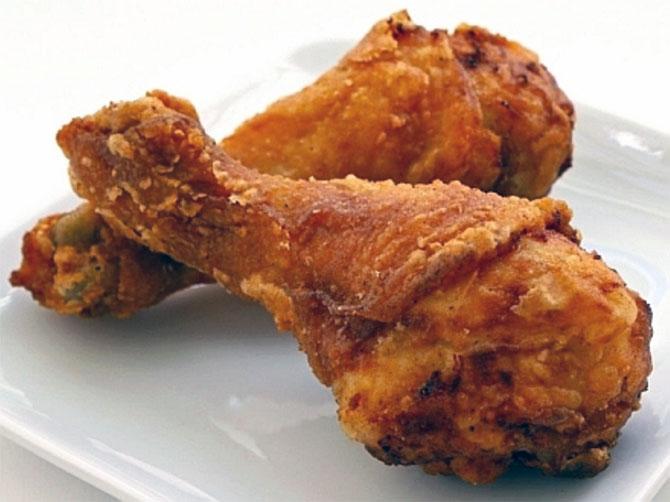 Photograph: Venturiantale/Wikimedia Commons
Ingredients
1 kg chicken drumsticks
2 tbsp vinegar
1 tbsp red chilli powder
Oil for frying
Salt to taste
For broast masala
1 cup all purpose flour
4 tbsp rice flour
1/2 cup corn flour
1 tsp garlic powder
1 tsp red chilli powder
2 tbsp white pepper powder
Salt to taste
For egg wash
3 eggs
1/2 cup milk
Pinch of salt
Method
For broast masala
Mix all ingredients of the broast masala and keep it in an airtight container. This mixture always comes handy whenever you want to make broast chicken.
For egg wash
Whisk the eggs in a bowl
Add milk and salt. Keep it aside
For broast chicken
Cut and wash the drumsticks thoroughly
In a mixing bowl, place the pieces. Add salt, red chilli powder and vinegar. Mix well.
Refrigerate the above mixture for 5 to 6 hours.
Once the marination is complete, coat the drumsticks in broast masala.
Dip it in egg wash and coat it with broast masala again.
Heat oil in the frying pan and fry the chicken drumstick pieces till they turn golden brown.
Serve hot.
---
Chicken Jalfrezi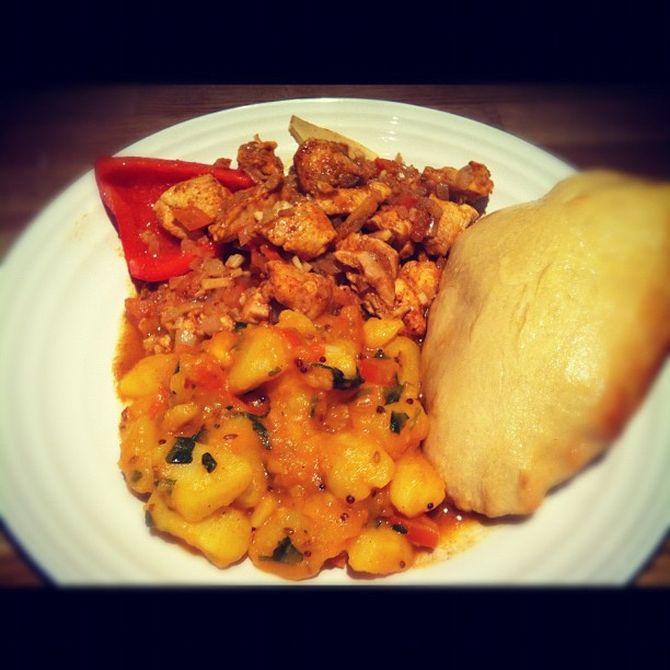 Photograph: Jonathan/Creative Commons
Ingredients
1/2 kg chicken pieces
2 tbsp fresh cream
2 tbsp garlic (chopped)
1/2 tbsp turmeric
1/2 tbsp ginger garlic paste
Pinch of saffron dissolved in milk
5 to 6 green chillies (finely chopped)
3 big onions (finely chopped)
1 tsp garam masala
1 lemon
2 tsp red chilli powder
2 eggs
4 big tomatoes (grounded into paste)
3 1/2 tbsp ghee or oil (as per your choice)
1 inch dry coconut
1 tbsp cashewnuts
1/2 tbsp shahjeera
1/2 cup of water
Salt to taste
Method
Take oil or ghee in a pan. Add chopped onions and fry well.
Add ginger garlic paste, green chillies and ground tomato and fry.
Add garam masala, salt, red chilli powder and turmeric.
In a separate pan, roast the coconut piece, cashewnuts and shahjeera. Grind this mixture well in a mixer.
Add the grinded mixture in the other pan. Fry the entire contents well.
Add chicken pieces and water. Let it simmer on low flame for about 20 minutes
Put cream and saffron slowly. Whisk the eggs and add it to the pan. Mix well till it turns into a dry gravy.
Serve hot with roti, naan or parathas of your choice.
---
Vegetable Fried Rice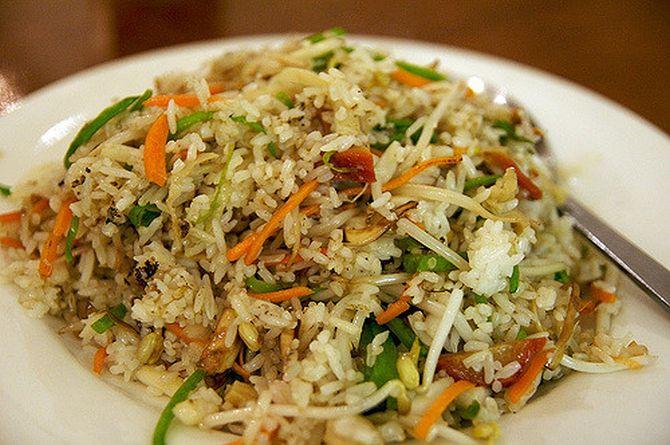 Photograph: Brian Yap/Creative Commons
Ingredients
1 and 1/2 cup boiled rice
1/2 cup finely cut cabbage
1/2 cup finely cut carrot
1/2 cup finely cut spring onion green
1/2 cup finely cut capsicum
1/2 cup French beans
5 to 6 green chillies (chopped fine)
1 tbsp soya sauce
2 tsp black pepper powder
1/2 tsp ajinomoto
2 tbsp oil
Salt as per taste
Method
Heat oil in a pan.
Add green chillies slowly and add all the veggies except for spring onions.
Let it boil on a high flame for about 3 to 4 minutes.
Add salt, black pepper and ajinomoto.
Add rice and stir well. Add soya sauce and toss it well.
Add finely chopped spring onions.
Serve hot.
---
Shahi Kheer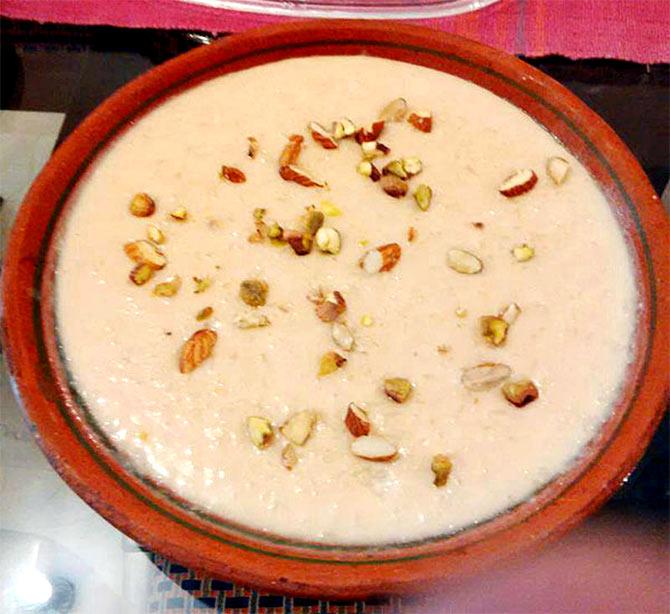 Photograph: Syedandy/Creative Commons
Ingredients
200 ml condensed milk
1 cup rice (soaked in water for 3 to 4 hours)
2 tbsp vanilla custard
Few almonds (sliced)
1/2 cup khoya
Few pistachios (chopped)
1 litre milk
3 tbsp cold milk
1 tsp vanilla essence
Method
Drain the rice and blend it in a mixer till it turns into a fine paste.
Boil the milk in a bowl.
When it starts to boil, add rice paste.
Keep stirring continuously or else the rice will settle at the bottom.
Add condensed milk and khoya. Cook it on a low flame. Keep stirring.
In a small glass add cold milk and dissolve the custard powder.
Add the above mixture in the milk and keep stirring until it gets thick. Switch off the flame.
Garnish with almonds and pistachios and serve.
Note: All images used for representational purposes only
Click here for interesting recipes and food features
You can send us your favourite recipes too.
Write in to us at getahead@rediff.co.in (subject: Favourite Recipes) with your name, hometown and any interesting details about the origin of the recipe, along with a photograph if possible.
We'll publish the best preparations right here on Rediff.com and in India Abroad.