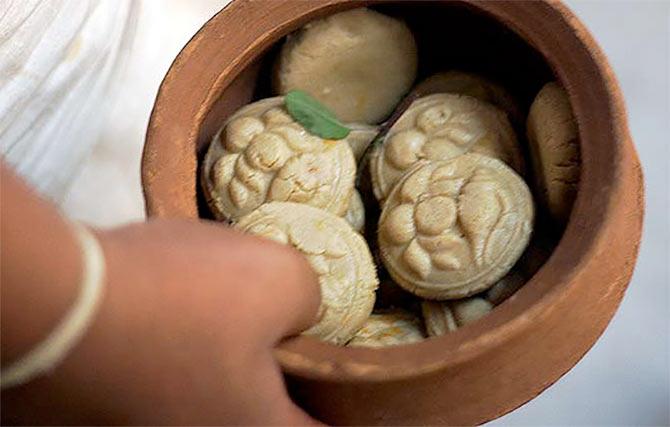 To make winter special, Indrani Roy shares two classic Bengali sweets recipes. You can share yours too!
Nolen Gur or date palm jaggery (slightly smoky in colour) is an intrinsic part of any Bengali household food in winter.
Visit any sweet shop in Bengal in the winter months and you are sure to come across lip-smacking delicacies made with this jaggery -- Moyas, Rasogollas, Sandesh, Jalbhora, Kanchagolla to name a few.
Collecting date palm jaggery is a rigorous process. With the onset of winter, thoroughly cleaned earthen pots are fitted to date palm trees wherein the sap gets collected by a tapper. It is left in the containers all night.
The liquid is then boiled (usually in a metal pot) till it thickens and Jhola Nolen Gur is made.
Here are two mouth-watering recipes made of Nolen Gur.
Nolen Gurer Moya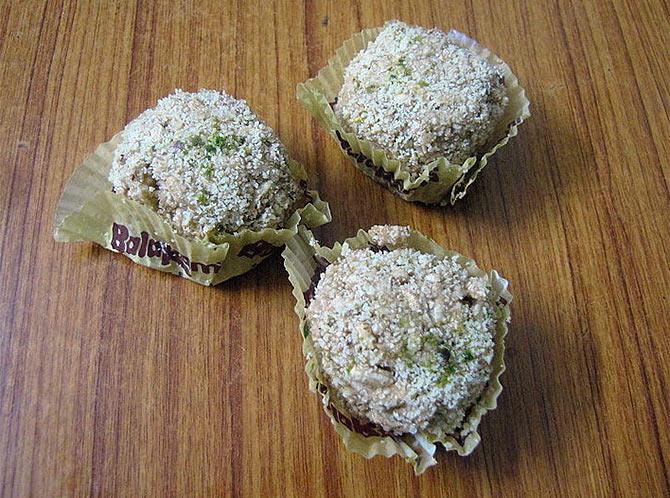 Photograph: AshLin/Creative Commons
Ingredients
2 cups Khoi or puffed rice
1 cup refined sugar
5 tbsp Nolen Gur (date palm jaggery)
3 to 4 tbsp water
1 tbsp cashew nut
1/2 tsp cardamom powder
1/2 tbsp pistachio
1 tsp raisins for garnishing
Method
Heat a non-stick pan.
Add refined sugar, Nolen Gur and water. Stir constantly on low flame till the mixture thickens.
Add cashew nuts, pistachio and cardamom powder. Keep stirring.
Add khoi gradually. Stir till the khoi is completely covered with the mixture.
Switch off the stove when all the khoi is evenly added to the mixture.
Make small balls while the mixture is still hot. You can dip your hands in cold water, in case it is too hot.
Garnish each Moya with raisins.
Refrigerate for around 2 hours before serving.
Note: While making the Moyas, you might have to wipe your hands in between, if they get too sticky.
---
Nolen Gurer Sandesh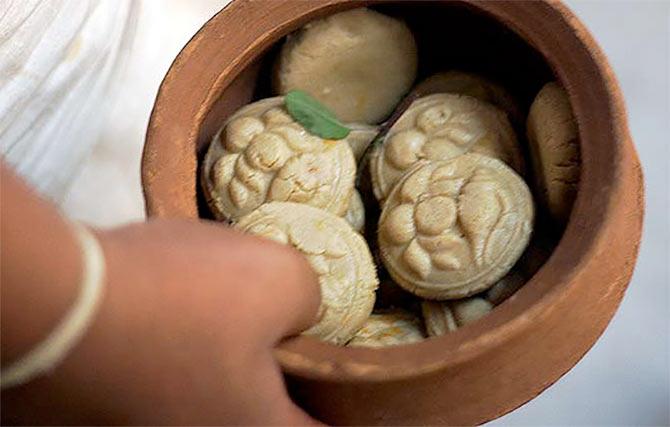 Photograph: Vrindavan Lila/Creative Commons
Ingredients
500 gm cottage cheese (chhana)
2 tbsp refined sugar
4 to 5 tbsp Nolen Gur (date palm jaggery)
1 tsp ghee
Raisins
Moulds
Method
On a flat plate, mash chhana for 8 to10 minutes.
Add refined sugar and Nolen Gur. Mix thoroughly.
Heat a non-stick pan (kadai) on low flame and cook the mixture for 5 to 7 minutes. Keep stirring.
Pour the mixture on a flat plate.
Make 10 round balls of equal size.
Take a mould, grease it with ghee and press it to each ball to give it a nice shape.
Garnish each sandesh with raisin.
Refrigerate for 30 minutes before serving.
Note: All images used for representation purposes only.
You can send us your favourite recipes too. Write in to us at getahead@rediff.co.in (subject: Favourite recipes) with your name, hometown and any interesting details about the origin of the recipe, along with a photograph if possible. We'll publish the best preparations right here on Rediff.com and in India Abroad.