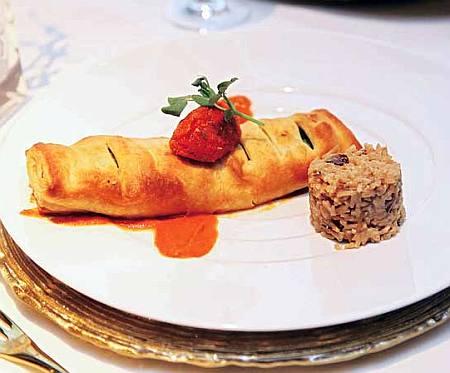 Renowned chefs reinvent traditional age old recipes for your palate
Winter brings to mind trees hidden by fog, cosy blankets, evenings spent by the heater and, of course, warm foods. Gajar ka halwa, chicken broth, khichdi, bisques, stews, fiery-hot rasam and sarson ka saag are just some of the staples that have been made in homes across the country during these chilly days.
But, here's your chance to reinvent the traditional recipes with a gourmet twist, as suggested to Avantika Bhuyan by leading chefs. These dishes are loaded with nuts, warm oils, delicate seafood, fresh seasonal produce and have all the drama of presentation that you need to impress guests at home.
Warm foods to beat the chill
"When we think of comfort food during the biting cold, we think of pakoras, parathas and hot cups of chai. But we need to think beyond that," says Anita Jatana, chief dietician, Indraprastha Apollo Hospital, New Delhi. She suggests livening up the winter spread with whole grains such as bajra and jowar.
These contain complex carbohydrates that take time to break down and generate warmth. They are also great sources of B Complex vitamins.
Though winter brings with it festive cheer, it is also sometimes accompanied by ailments such as cough, cold and dehydration. "People take less water and more tea and coffee which leaches the body of essential fluids," says Sunita Roy Chaudhary, chief dietician, BLK Super Speciality Hospital.
"One must keep having liquids such as fresh orange and sweet lime juices or thick, rich soups." One way to make your tea sparkle is by adding cinnamon, cloves or a pinch of garam masala to it. "The heat-inducing spices can keep cough away and make your tea tastier," says Jatana.
Some people also keep cinnamon-infused water on the dining table -- not only does the shimmering, golden liquid look delicious but tastes great too.
One must-have during winter is seafood. "It has calcium, Vitamin E and essential oils that are needed in this season," says Chaudhary. It is no wonder then that winter menus in restaurants are dominated by sea fish and crustaceans.
This is also the time when mushrooms and morels grow in abundance. "They are great source of protein for vegetarians," points out Chaudhary. And those who want to add vivacity to their desserts and salads can do so by adding heaps of sesame seeds and nuts. "A combination of nuts and seeds is ideal as they are a great source of Omega 3 fatty acids," says Jatana.
***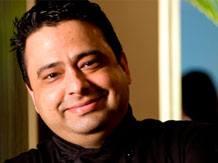 Kashmiri Morels Musallam, Crushed Roasted Walnuts, Parmesan Papad
Manish Mehrotra: Corporate chef, the Indian Accent, New Delhi
Chef speak: "During winter, we get such good fresh produce that we simply have to incorporate these in our menu. So, this year, I am doing items like bajra and parmesan khichdi, polenta crusted malai corn, sarson ka saag, makki flat bread, gajar murabba tart and Indian celery soup with garam masala. We are also planning a custard apple cream. These are twists on some traditional dishes that are made at home."
Ingredients:
5 morel mushrooms, 50 gm button mushrooms, 50 gm oyster mushrooms, 50 gm ceps mushroom, 15 ml refined oil, 5 gm chopped garlic, 2 gm chilli flakes, 5 gm garam masala, salt to taste, 10 gm grated mozzarella, 20 gm roasted walnuts, 20 ml cooking cream, 5 gm chopped ginger, 2 gm chopped garlic, 2 gm chopped green chillies, 5 gm chopped coriander and 10 gm grated parmesan
Method:
Thoroughly wash morel mushrooms in running water and soak. Change the water at least three to four times. Finely chop the rest of the mushrooms. In a heavy bottom pan, heat oil and saute garlic. Add the grated mushrooms and cook till water evaporates. Cool the mixture, add grated mozzarella, garam masala, chopped coriander, chilli flakes and salt.
Clean and trim the morels into equal sizes, stuff them with the mushroom mixture, toss them in cream. Roast the walnuts and crush them to a coarse consistency. Sprinkle this on the morels.
For the cream sauce: Saute the chopped ginger, green chillies and garlic. Add cream and adjust seasoning.
For the parmesan papad: Spread grated parmesan cheese on a silpat and bake at 160 C till they become golden.
Plating: Slit the morels from top, spoon some sauce on the plate, place the morels, garnish with parmesan papad.
***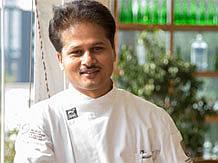 Prawn Bisque, Prawn Timbale And Brandy Flambe
Abhijit Saha: Chef-entrepreneur, Caperberry, Bengaluru
Chef speak: "It is that time of the year when people crave rich food for its spiciness and warmth. Olive oil is ideal for this season as it adds a fat component to the dish. One item on our menu that is a hot favourite is the chicken, walnut and celery soup, which is a heart-warming winter dish made with chicken stock, fresh puree of chicken and walnut. The crunchiness in the velvety soup comes from small dices of celery and toasted walnuts that are added as garnish. Seafood is also a popular winter food and hence the bisque recipe but with a dramatic flambe."
Ingredients:
For the bisque: 300 gm prawn head and shells, 60 ml white wine, 4 tbsp olive oil, 1 tbsp chopped garlic, 1 roughly chopped onion, 1 roughly chopped carrot, 1 chopped leek, 2 diced ripe red tomatoes, 100 ml tomato puree, 2 tbsp rice (washed and soaked), 2 tbsp softened butter, salt and crushed black pepper to taste, 30 ml brandy/cognac.
For the timbale: 100 gm diced shrimps, 2 tbsp chopped onions, 2 tbsp chopped carrots, 1 chopped leek, 2 tbsp chopped green and yellow zucchini, 50 gm butter, 4 tbsp cream, 0.5 tsp chopped dill, salt and pepper to taste.
Garnish: 4 prawns (medium, tail on, peeled and deveined), 4 dill sprigs, extra virgin olive oil
Prawn Bisque
Method:
Bisque: Wash and clean the shells and the head under running cold water. Place them in a saucepan with olive oil and cook for three to four minutes, stirring occasionally over medium heat. Pour in the white wine and allow the alcohol to evaporate for a couple of minutes.
Add garlic, onion, carrots, leeks, tomatoes and tomato puree. Continue to cook for five to seven minutes or until the vegetables turn light brown in colour.
Pour one-and-a-half litres of water in the saucepan and bring to a boil. Add rice, reduce heat to simmer and cook for 45 minutes. Remove from heat, allow it to cool.
Fish out the shells and head. Make a smooth puree of the rest in a food processor, pass it through a kitchen strainer and transfer back to the saucepan. Set it aside.
Timbale: Heat butter in a pan, add onions and saute for a minute or so without browning. Add leeks and carrots, cook for another minute. Add the zucchini, cook for a minute and add the prawn dices. Toss for a couple of minutes, add cream and dill and season with salt and pepper.
To serve: Bring the bisque to a boil, slip in the prawns, cook for three to four minutes over medium heat. Adjust the seasoning, reduce heat to a simmer and stir in the softened butter.
In a separate pan, heat the brandy and allow it to ignite. On each soup plate, place a ring 2 inches in diameter and put some of the prawn timbale mixture. Press with a spoon and add a piece of prawn. Pour in the soup, drizzle with extra virgin olive oil and garnish with dill sprig.
***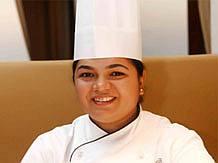 Wild Mushroom Khichdi
Nayna Nanji: Chef, Ziya kitchen at The Oberoi, Mumbai
Chef speak: "This year, we have taken ingredients that can be paired well with different spirits. One of the signature dishes is a lovely lobster flambeed with whiskey and served with beetroot galouti. We are known for our vegetarian galoutis. Another of our trademark items ideal for winter is the lifafa paneer and wild mushroom khichdi. It is an Indian dish but presented in an evolved way. We use shiitake and porcini mushrooms, add truffle oil to that and on the side, serve a nice puff of paneer topped with makhni sauce."
Ingredients:
20 ml olive oil, 10 gm whole jeera, 15 gm ginger, 60 gm large onion, 400 gm basmati rice, 75 gm button mushrooms, 75 gm ceps mushrooms, 40 gm shiitake mushrooms, 80 gm unsalted butter, 30 ml truffle oil, 100 ml cream, salt to taste
Wild mushroom khichdee
Method:
Wash the rice and soak for half an hour. Soak the ceps and shiitake mushrooms separately. In a pan, heat oil, add chopped ginger, chopped onions. Add the soaked rice and stir well. Add the water in which the mushrooms had been soaked. Cook till half done. Add salt. Add the chopped mushrooms and water, cover and cook. Pour in cream, butter and truffle oil to finish.
Tomato and sesame chutney
Ingredients: 60 ml ghee, 1400 gms tomato, 2 gms bay leaf, 9 gms chilli green, 25 gms sesame seed, 3 gms cardamom powder, 10 gms honey, 5 gms fennel seeds, salt to taste
Method: Blanch tomatoes. Chop and keep aside. In a pan, heat ghee, add bay leaf, slit green chillies, fennel seeds and the tomatoes. Cook till the tomatoes leave water, then add in the salt and honey. Cook till tomatoes soften. Finish with green cardamom powder and sesame seeds.
Makhni Sauce
Ingredients: 20 ml ghee, 10 gms ginger paste, 10 gms garlic paste, 10 gms jeera powder, 200 gms table butter, 10 gms coriander powder, 10 gms deghi mirch powder, 600 gms tomato paste, 600 gms tomato pellati, 15 gms kasoori methi powder, 15 gms sugar grains, 200 gms cream, 2 gms cardamom powder, salt to taste
Method: Heat ghee in a pan, add ginger-garlic paste. Now add jeera powder, coriander powder, tomato paste and saute well. Now put in the tomato pellati and cook thoroughly. Add butter and cream. Finish with kasoori methi and cardamom powder.
Lifafa paneer
Ingredients: For the filling: 575 gms paneer malai, 10 gms deghi mirch powder, 1 gm ajwain seeds, 150 gms hung curd, 15 gms red chilli paste, 10 gms ginger-garlic paste, 100 ml oil, 150 gms spinach, 200 gms onions, 200 gms tomato, 15 gms coriander powder, 15 gms jeera powder, 5 gms turmeric powder, 5 gms salt, 3 gms garam masala powder, 5 gms whole jeera
Method:
Marinate paneer with chilli paste, ginger-garlic paste, ajwain seeds and hung curd. Cook in an oven, cut in small cubes and keep aside. Heat oil in a pan. Add whole jeera, cumin powder, coriander powder, turmeric powder, chopped onions and ginger-garlic paste. Cook well. Add chopped tomatoes. Cook till they soften. Cook well till the mixture becomes dry. Add salt, fresh coriander and garam masala powder. Now cut the puff dough in A4 paper size. Layer the centre with fresh spinach leaves. Fold it over one overlapping the other like an envelope. Turn around. Make a slit on the top. Bake at 220C for 15 to 20 minutes
***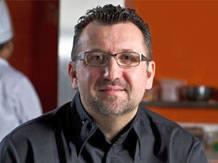 Seafood Brodetto
Christophe Gillino: Executive chef, The Leela Palace New Delhi
Chef speak: "Usually, one hears of seafood stews during winters, but I have created a seafood vol-au-vent which is made live in front of the guests. It's a seafood stew with cream, winter mushrooms, white sauce, prawns, scallops, shrimp, clams and mussels. It is served as a tiny portion.
I also mix a lot of fish with meat juices and forest herbs. So, you will find a roasted salmon with heavy wine sauce, chicken jus and rosemary. It is our yearly bestseller. Also, one of our signature dishes is the seafood brodetto which is a tomato broth with fennel and shrimp. It is a rich, warming dish."
Ingredients: 1000 ml fish stock, 2000 gms tomatoes, 100 ml tomato sauce, 5 gms dry fennel, 30 gms fresh fennel, 5 gms star anise, 50 ml white wine, 10 ml pernod, 100 gms onion, 50 gms carrots, 25 gms celery, 20 gms leeks, 5 gms bay leaf, 5 gms peppercorns, 50 gms lemon, 100 gms snapper, 100 gms prawns, 100 gms scallops, 100 gms halibut, 50 gms garlic, 50 ml olive oil, 50 gms basil
Seafood brodetto
Method:
Prepare a fish stock with fish bones. Cover the bones with water, add some carrot, cubed onions and bay leaf. Boil for 20 minutes, not more. Strain it and reserve it. Peel and clean the fresh tomato, reserve it. Pan fry the chopped onions, chopped garlic and fresh tomato with olive oil. Cook for 30 minutes very slowly and then add fish stock, celery, leek, carrot and onions, dry and fresh fennel and star anise.
Cook it slowly till you get the desired consistency for the soup. Don't strain it, but take out the dry fennel and star anise. Cut small pieces of snapper, get one prawn, one scallop and a small piece of halibut per person. Pan fry the fish for a minute on each side and the prawns for two minutes per side. Then add this to the soup with some lemon zest, olive oil and chopped basil. Finish it in the oven (for two to three minutes). Serve in a deep plate.