Mini Ribeiro lists her 10 fav biryani places in Mumbai.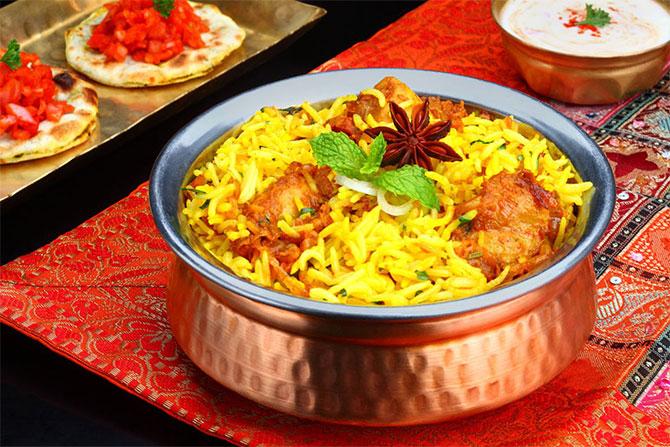 Photograph: Courtesy Zaffran
Looking for the best Biryani in Mumbai? Here are my 10 favourite places in the city.
Zaffran
A must visit place if, like me, you love biryani. The Zaffran Chicken Biryani (Rs 395) here is irresistible.
Basmati rice slow cooked on dum with saffron milk and succulent morsels of chicken, results in an unparalleled gourmet experience.
The unique cooking style is what sets it apart, imparting the aroma and flavours to this biryani. Consistently good. I can never tire of this one!
Where: Several outlets across Mumbai in Crawford Market, Lower Parel, Bandra.
Neel-Tote on the Turf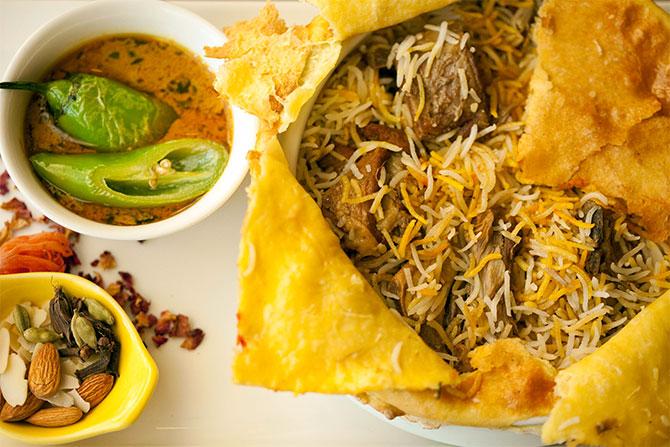 Photograph: Courtesy Neel-Tote on the Turf
For mutton lovers, this is a must try. Kacche Gosht Ki Dum Biryani (Rs 885) is a sublime gastronomic experience.
The aroma fills your nostrils even before you bite into the melt-in-the-mouth mutton pieces and flavourful rice with a medley of spices. Given the portion size, I am full easily, but can never have enough of this. Pure indulgence, this one is.
Where: Mahalaxmi Race course, Mahalaxmi, Mumbai
Monkey's Bar & Restaurant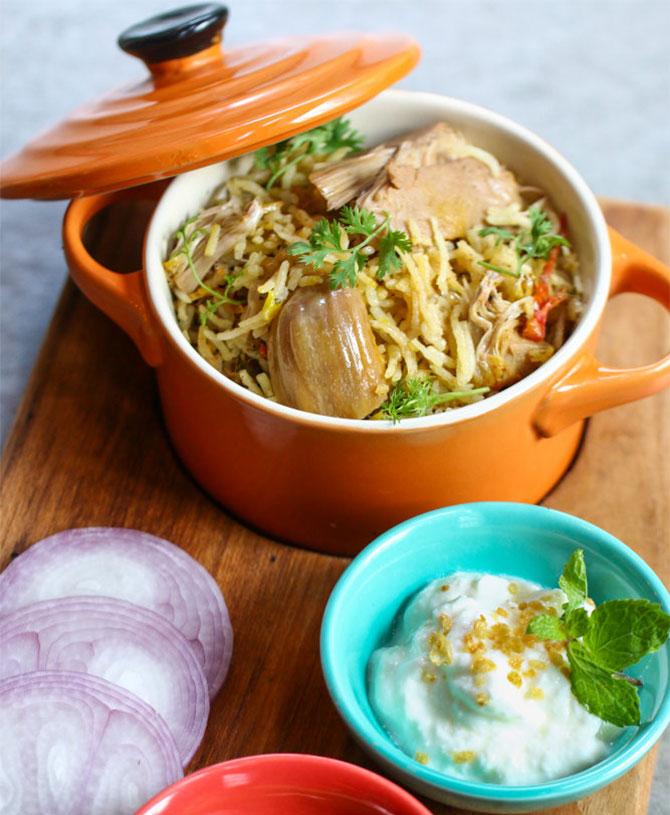 Photograph: Courtesy Monkey Bar & Restaurant
Whoever said vegetarian biryani is boring, needs to try this one. The Jackfruit Biryani (Rs 380) served with raw apple raita and boondi is a gourmand's delight.
I love the texture and the bite there is to the jackfruit pieces in the biryani. With this on my table, I don't miss a mutton biryani. Vegetarian rules.
Where: Sumerville, Junction of 14th and 33rd Road, Linking Road, Bandra West, Mumbai
Jai Hind Lunch Home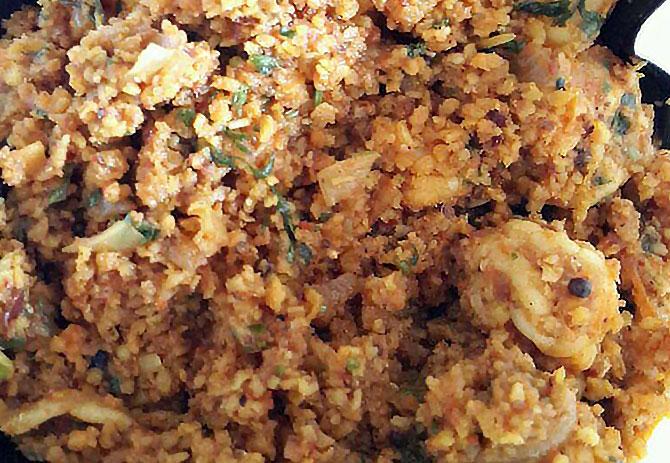 Photograph: Ranveer Allahbadia @beerbiceps93
For Mumbaikars, there is nothing like lip-smacking sea food. The Prawns Biryani (Rs 290) made in the Konkan style, replete with spices, is a delight for the palate.
The prawns generously thrown in are soft and luscious. This biryani is undoubtedly one of the best in the city and my all-time weakness. If you have this on a Sunday for lunch, you'll attain nirvana thereafter.
Where: Dr. Ambedkar Road, Pali Naka, Pali Hill, Bandra West, Mumbai
Hangla's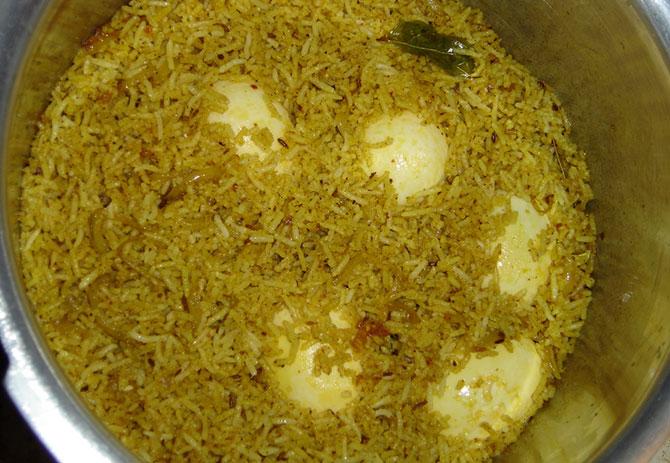 Photograph: siddhu2020/Creative Commons
If the Awadhi style biryani from Bengal, is your calling, don't miss the Chicken Biryani (Rs 190) here.
The roasted piece of chicken, boiled egg, potato and the fragrant biryani rice, makes for a comforting and filling meal which is value for money. The Bong in me can never say no to this biryani.
Where: With several outlets across Mumbai, you can opt for the one closest to you.
Ammi's Biryani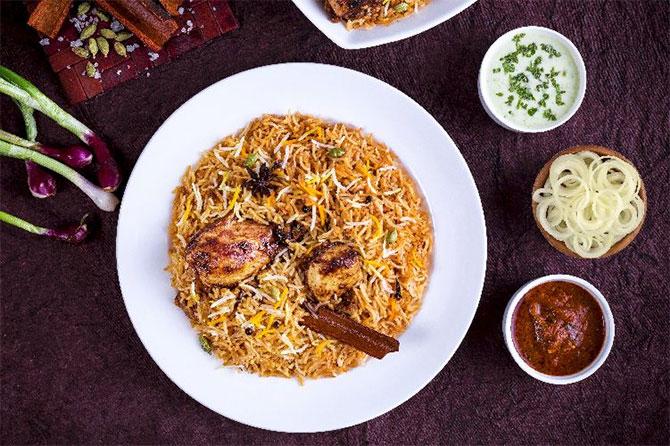 Photograph: Courtesy Ammi's Biryani
It is the longing for a Hyderabadi biryani replete with well-marinated chicken, spices, less oil, that leads me to this eatery.
My favourite is the Hyderabadi Murg Biryani (Rs 225) because of the spice levels, which leave me craving for more. Well-presented, it is appealing both, to the eyes and the taste buds.
Where: Innumerable QSRs, all over Mumbai. Website: http://www.ammisbiryani.com/
Hotel Fountain Plaza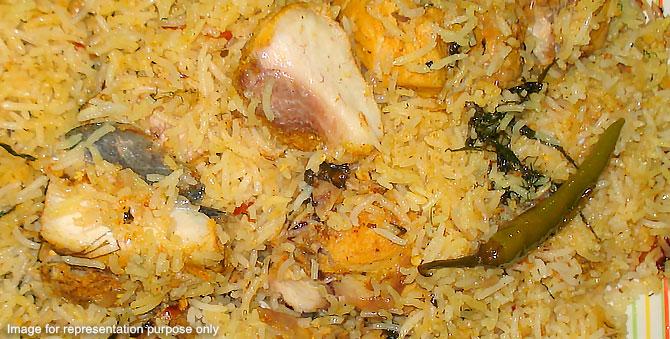 Photograph: Miansari66/Wikimedia Commons
It is tricky to prepare a Fish Biryani (Rs 150), but this place does a mouth-watering one. The fish is flaky, and the rice, aromatic. And yes, fiery too. Go for it if you can handle the spice quotient. I love it.
Where: Standard Plaza Chamber, near Handloom House Police Chowki, Fort, Mumbai.
Olympia Coffee House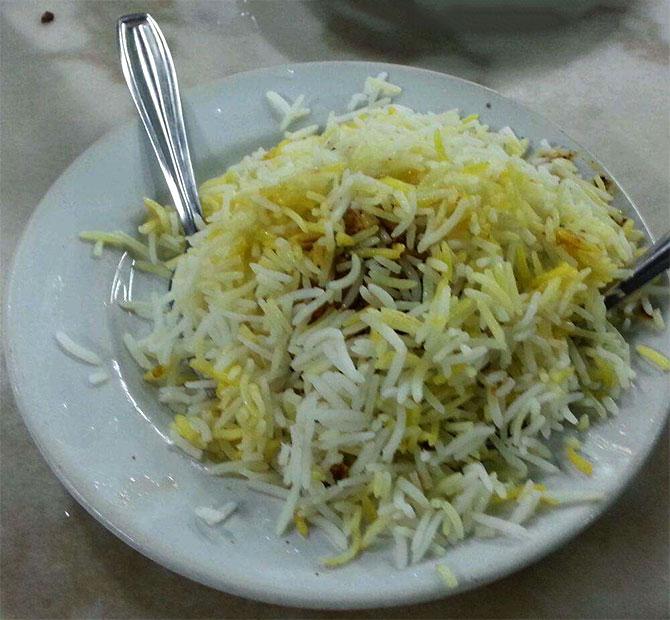 Photograph: Courtesy Rajinder Singh
Yes, indeed, sounds strange, but one of the best Mutton Biryani (Rs 140) can be relished at this eatery. The mutton is marinated and cooked to perfection and the rice meshes well with it, perking your taste buds with every spoonful.
Where: Rahim Mansion, S.B. Road, Colaba, Mumbai
Borivali Biryani Centre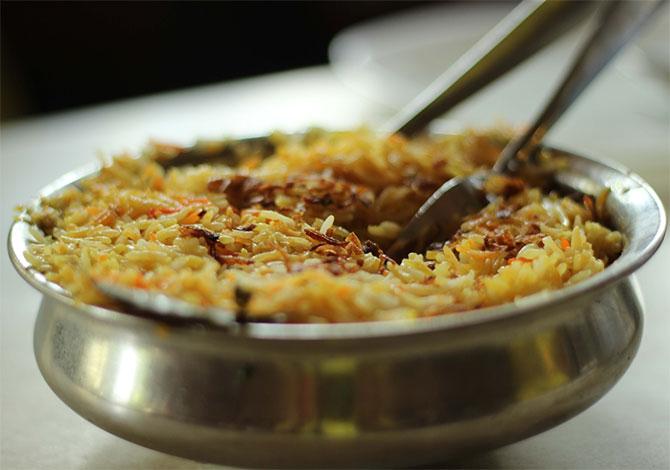 Photograph: Sartak Mane @ Borivli Biryani Centre
I can never decide which one I love more. The Mutton Keema Biryani (Rs 210) or the Egg Biryani (Rs 140)? Both are equally delectable,well-made and satiating.
Always packed, this place maybe modest in its appearance, but the biryanis are the star.
Where: 25-28, Aditya Apartment, Shimpoli, Chikuwadi, Borivali West, Mumbai
Times of Biryani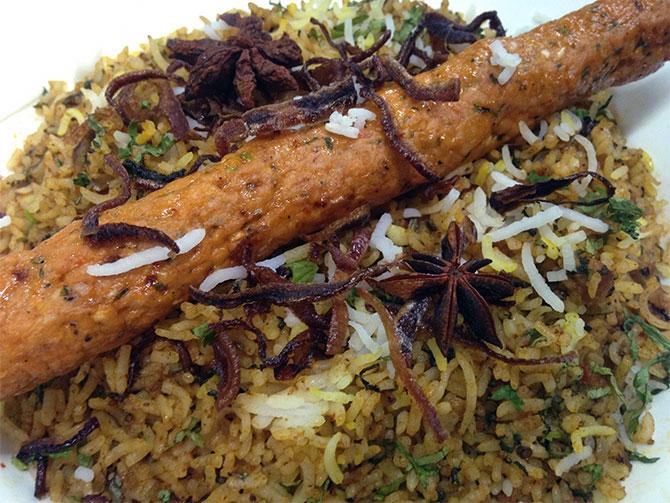 Photograph: Courtesy Times of Biryani
Last but definitely not the least, a newly opened take away and home delivery joint, which has taken my taste buds by storm.
The Murgh Mussallam Biryani (Rs 225) has layers of chicken kheema and tandoori chicken ensconced between flavourful biryani rice. The biryani is not very spicy and yet, palate-tickling. That's what got my vote.
Another must-try here is the Murgh Lahori Sheekh Biryani (Rs 245) with Hot, Spicy Lahori Sheekh! Quite unusual I thought. This biryani is available in chicken and lamb too. With generous portions and finest quality ingredients, this one is set to rock Mumbai.
Where: Shop 1/A, Gurunagar, Four Bungalows signal junction, Andheri West Mumbai
Click here for more interesting recipes and food features!
ALSO SEE
10 must-try vegetarian restaurants in Mumbai
The best places to eat in Delhi
The best places to eat in Mumbai
Grilled trout on a holiday in Manali