Do you have a favourite street food in Mumbai? Tell us about it!
Click on the pic to cast your vote.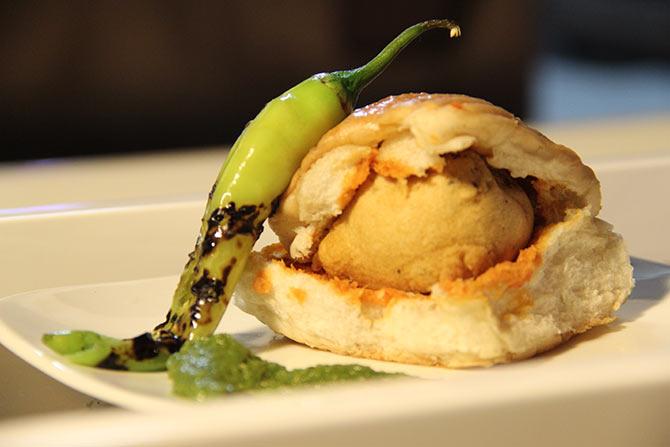 Photograph: Kind courtesy Rutvi Mistry/ Wikimedia Commons
If you have lived in Mumbai even for a day, there's no way you cannot fall in love with its street food.
From the humble vada pav to spicy misal pav, delectable kebabs to the quintessential Bombay Toast, lip-smacking pav bhaji to delicious falooda, you will be spoiled for choice.
We ask you, dear readers if given a choice between dosa and veg pizza or momos and frankie, which would you choose?
Would you choose sugarcane juice over cutting chai?
What about bun maska vs kheema pav? Or egg bhurji vs kanda poha?
Take the poll and let us know which is your favourite street food in Mumbai.
Get started!
Pav bhaji vs misal pav
Photographs: (left) Premshree Pillai/Wikimedia Creative Commons and (right)

Hitesh Harisinghani/

Rediff.com
Sev puri vs pani puri
Vada pav vs samosa pav
Photographs: (left) Rutvi Mistry/Wikimedia Commons and

(right) thehungryduoblog
Bhajiya vs medu vada
Photographs: (left) Mr TinDC/Creative Commons and (right) Anita Aikara/Rediff.com

Falooda vs gola
Photographs: (left) Kanchana Bose/Creative Commons and (right) Edgar Su/Reuters
Dosa vs pizza
Photographs: (left) Anita Aikara/Rediff.com and (right)

Sonia Goyal/Creative Commons
Momo vs frankie
Photographs: (left) Hitesh Harisinghani/Rediff.com (right) Phoodelphia/Creative Commons
Kebab vs bhutta
Photographs: (left) Dheerajk88/Wikimedia Creative Commons and (right)

Niharika Mondal/Instagram
Manchurian rice vs tava rice
Photographs: (left) Brian Yap/Creative Commons and (right) Sudhir Sharma/Instagram
Chinese bhel vs bhel puri
Photog

raphs: (left) savory tales/Instagram and (

right)

Shreyans Bhansali/Creative Commons
Egg bhurji vs kanda poha
Photographs: (

left) Ravi Mittal

/Instagram and (right)

Scott Dexter/Wikimedia Creative Commons
Bun maska vs kheema pav
Chai vs sugarcane juice
Photographs: (left) justanothercupoftea/Instagram and (right)

Food Trails/Wikimedia Creative Commons
Bombay veg sandwich vs dabeli
Photographs: (

left) Namratha Kumar/Instagram and (

right) Bharat Mirchandani/Creative Commons