Food blogger Vishaka Rautela tells you how to surprise your loved one with a romantic meal.
First up is Strawberry Decadence -- a mix between strawberry cheesecake, strawberries and cream.
A sprinkle of chocolate powder and a sticky sweet kick of marshmallows makes it an interesting dessert.
Here's the recipe for Strawberry Decadence inspired by Ina Parmaan.
Ingredients
1/2 tin condensed milk
Juice of 1 lemon
1 tsp vanilla essence
150 gm cream cheese
1/2 packet thick Amul cream
12 big chopped strawberries
1 strawberry for decoration
1 tsp powdered chocolate
4 chopped marshmallows (optional)
Method
Blend condensed milk and lime juice in a mixer.
Add vanilla extract and strawberries and blend again.
Add cream cheese.
Whip the cream (use only the thick part, discard the liquid) in a separate bowl and fold the strawberry cream cheese mixture into it.
Pour into glasses or bowls and refrigerate till serving time.
Before you serve, decorate with chocolate powder and a sliced strawberry piece.
---
Pan Seared Chicken in Drunken Fig Sauce
This wonderful gourmet dish -- chicken in fig sauce served on a bed of wilted garlic spinach along with smoked portobellos and mashed potatoes -- is perfect for a romantic dinner.
Here's the recipe: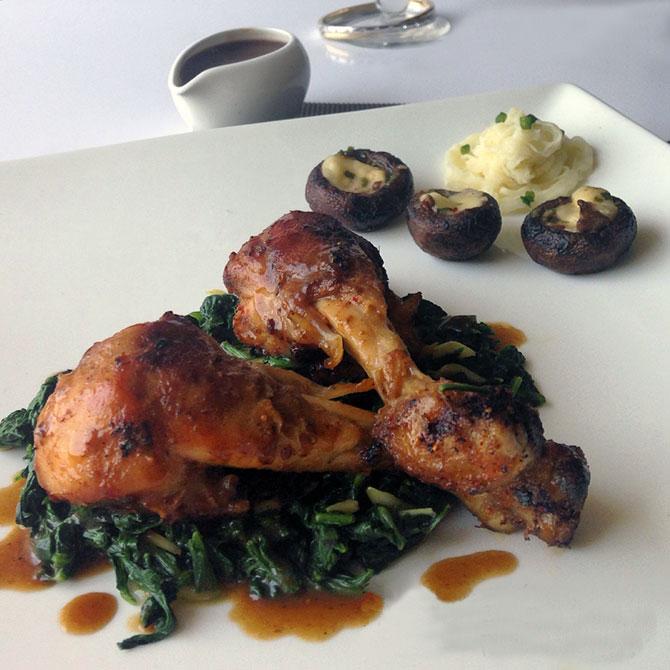 Ingredients
For the Fig Sauce
3/4 cup chopped dried figs
1 cup cognac
1 chopped onion
1 cup chicken stock
1 bay leaf
1" cinnamon
2 sprigs thyme
4 chopped garlic
3 tsp balsamic vinegar
1 tbsp maida
Pinch of salt
For the chicken
6 pcs chicken
1 tbsp ginger garlic paste
Salt as required
1 tsp paprika powder
Olive oil
Method
Soak the figs in cognac overnight. Add bay leaf and cinnamon.
Marinate the chicken for two hours with the ingredients mentioned under 'for the chicken'.
Heat oil in a pan and add chicken. Sear on both sides for a couple of minutes.
Lower the flame, cover and cook till chicken is nearly ready. Remove the pieces and keep aside.
In the same pan, add onions and garlic and saute them in the leftover oil.
When onions turn pink, add maida and mix well.
Add stock. Bring to a boil and simmer for 3 to 4 minutes.
Add soaked figs and 2 tbsp of the cognac and cook till it becomes tender. If the sauce dries out, add some chicken stock or water.
Add salt, balsamic vinegar and thyme. Cook for a minute. Turn off the flame and allow it to cool.
Strain the sauce and keep aside.
Before you serve, add some leftover cognac to the same pan in which the sauce was cooked.
Deglaze it and then add the chicken and few tbsp of the fig sauce. Give it a good mix and turn off the gas when the chicken is well coated in the sauce.
Wilted Garlic Spinach
Ingredients
1 bunch chopped spinach
5 cloves garlic sliced
Salt as required
Olive oil or butter
Method
Heat oil or butter in a pan, add the garlic and let it become lightly golden.
Add spinach and cook till wilted and the rawness goes out. Dry out excess water
Season with salt and pepper.
Mashed Potatoes
Ingredients
5 boiled potatoes
1-2 tbsp melted butter
2 tbsp hot milk
Salt as required
Method
Mash the potatoes and pass it through a sieve to remove lumps.
Add butter, milk and salt. Mix well and keep aside.
Smoked Portobellos
10 portobello mushrooms
2 tbsp spiced garlic butter (readymade or butter mixed with minced garlic, herbs and chilli flakes)
3 cheese cubes
Olive oil
Method
Rub olive oil on the mushrooms. Stick a fork and char over the gas till emits aroma.
Remove the stalks and stuff the caps with spiced garlic butter
Microwave for 7 minutes at 600 degrees.
Top with a piece of cheese and microwave again for 1 minute or till cheese melts.
---
Cognac Infused Truffles with Fig and Walnut
Ingredients
2 cup chopped dark chocolate
200 ml Amul cream
2 tbsp butter
2-3 tbsp cognac
1/2 cup chopped walnuts
1/2 cup chopped dried figs (I used the ones I had soaked overnight in cognac as had some leftover, you can use without soaking too)
Method
In a microwave, heat cream and butter and add chopped chocolate. Without overheating, melt and mix the chocolate, cream and butter well.
Add cognac, figs and walnut.
Pour into a greased dish and refrigerate it for an hour.
Once the mixture is set, cut out squares and form little balls quickly.
Use your creativity to decorate as per your preference. I used chopped almonds, chopped pistachios, coloured sprinkles, chocolate sprinkles, unsweetened cocoa powder, chocolate powder.
Refrigerate for a minimum of four hours before serving.
Store in an airtight box and refrigerate.
Photos: Vishaka Rautela
ALSO SEE
10 things we did as kids during Valentine's Day
Surprise Your Special Someone By Giving An Awesome Valentine's Gift from Rediff!