Who needs aphrodisiacs when you have these delightful recipes!
Want to impress you better half on Valentine's Day.
Take some food inspiration from chef Kunal Kapur on how to whip up romantic desserts -- you can treat your significant other to these homemade treats.
Fresh strawberry gateaux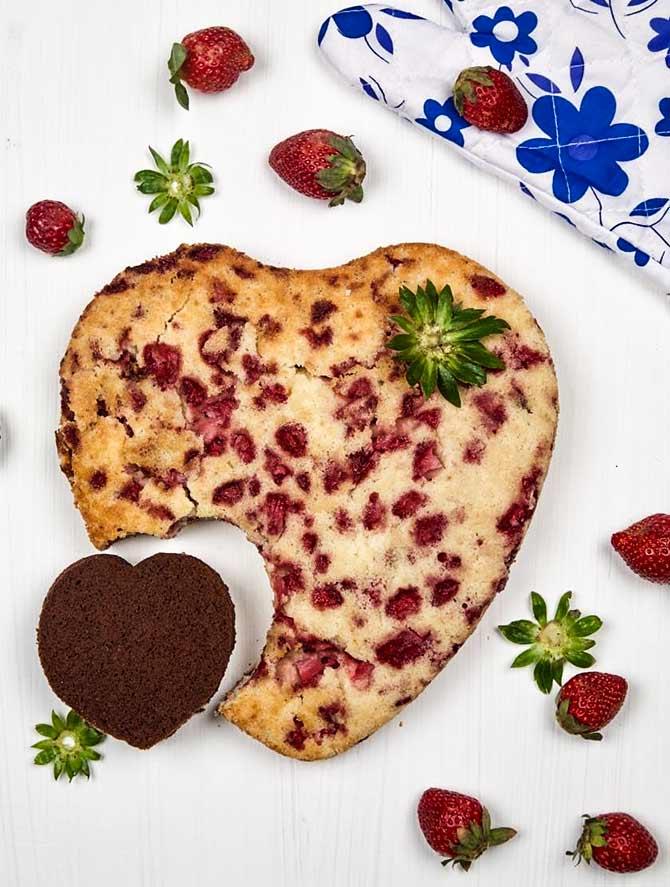 Ingredients
¾ cup softened butter (unsalted)
1 cup sugar
5-6 eggs
1 cup flour
1 tsp baking powder
Few drops of vanilla extract
1 ½ cups strawberries
Method
Using a whisk, cream the butter and sugar together till creamy and light.
Break the eggs and add them, one by one, into the butter and keep whisking it.
Once all the eggs are mixed, reserve a fistful of flour. Sift in the remaining flour and baking powder. Add vanilla extract and gently mix.
Separately clean and chop the strawberries, sprinkle the reserved flour and toss. Add these strawberries into the batter and gently fold it.
Pour the batter into a non-stick heart-shaped mould and bake in a preheated oven at

180

°

C

for about 30 minutes.
Remove and allow to cool completely. Serve.
---
Chocolate dipped strawberries
Ingredients
100 gm chocolate (dark)
A handful of fresh strawberries
Satay sticks (as required)
One potato or any hard vegetable
Method
In a bowl break the chocolate. Place it inside a warm oven/microwave or melt it over a double boiler. Take care not to overheat the chocolate.
Clean the strawberries in cold running water and pat dry them.
Pierce the head of the strawberry with a satay stick and push the stick into the strawberry, half-way through.
Dip the strawberry in chocolate. Pull out and stick the satay stick into a potato. This will keep the strawberry in place till the chocolate on it cools.
Once the strawberries have completely cooled, stack them in a bunch and serve.
---
Mocha pralines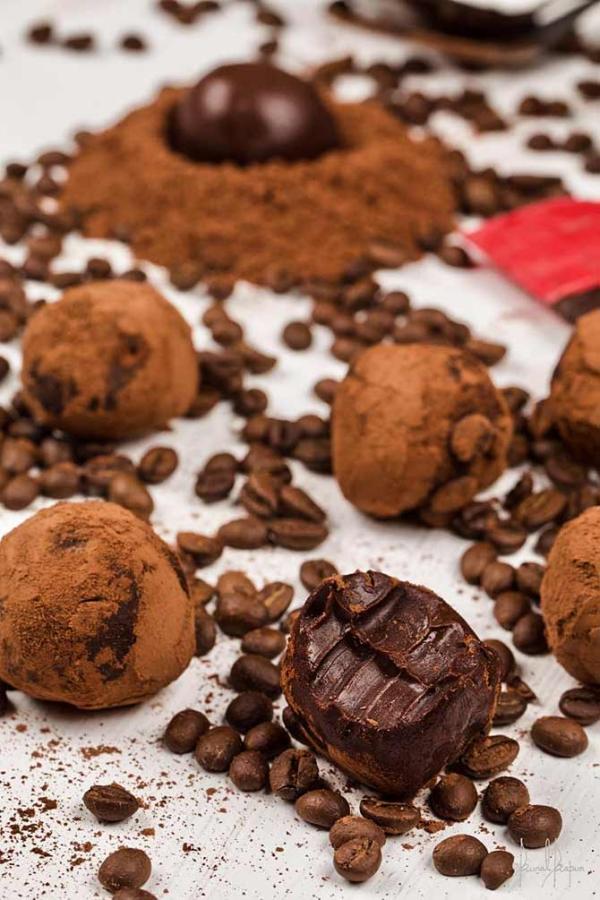 Ingredients
200 gm dark chocolate
1 ml cream
1 tbsp coffee powder (instant)
Cocoa powder for dusting
Method
Break the chocolate into smaller pieces and place it in a bowl along with coffee.
Heat a pan and pour the cream. Give it a quick boil and immediately add it to the chocolate. Cover and leave it for five minutes.
Using a spoon mix the molten chocolate and place the bowl in the fridge for 15 minutes.
Remove and using a warm spoon divide into equal parts.
Using your hands roll them roughly. This might be a bit messy. If it is difficult to roll the chocolates, put it back into the deep freezer for another five minutes.
Once you have made the balls, dip them in cocoa powder, roll them evenly and serve.
---
Cookie latte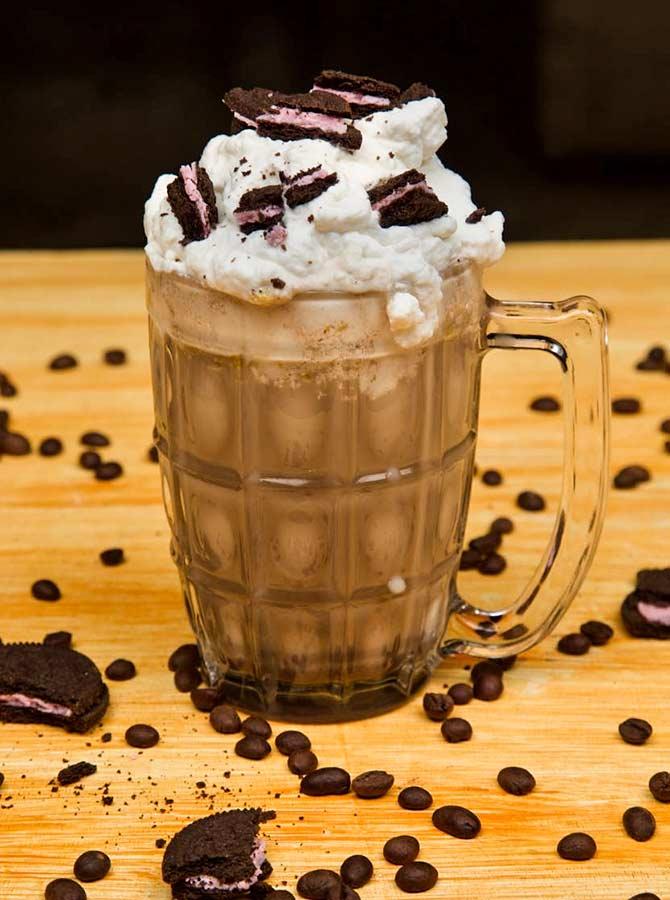 Ingredients
4 Oreo cookies
200 ml milk
½ tsp cinnamon powder
1 tbsp brown sugar
¾ tbsp coffee powder (instant)
90 ml coffee liqueur
2 long strips of orange rind
100 ml fresh cream
2 tsp sugar
Method
In a blender add the Oreo cookies. Pour milk, cinnamon powder, brown sugar, instant coffee powder, 60 ml coffee liqueur and orange rind. Blend it nicely and pour into a tall glass.
Separately whip fresh cream with sugar. Once stiff mix in the 30 ml coffee liqueur. Scoop the cream and drop it on the latte. Break the remaining cookie on the floating cream and serve.
---
Strawberry sangria
Ingredients
1-2 fresh strawberries
1 small spring of fresh rosemary
1 tsp honey
150 ml white wine (chilled)
50 ml ginger ale (chilled)
Method
In a thick bottom glass drop a clean strawberry and crush it using a muddler (used to mash fruits).
Add the rosemary and crush it as well. Add honey followed by some chilled white wine. Top up the glass with some ginger ale. Serve chilled.
---