Sadly, no Indian restaurant features on this list :(
The world's best restaurants were recently announced at Melbourne's Royal Exhibition Building, Australia.
It came as a pleasant surprise, when for the second time in 15 years, a fine dining restaurant outside of Europe won this prestigious award.
Eleven Madison Park has been named this year's Best Restaurant of the World, after beating last year's winner Osteria Fracescana.
Here are the top 10:
1. Eleven Madison Park, New York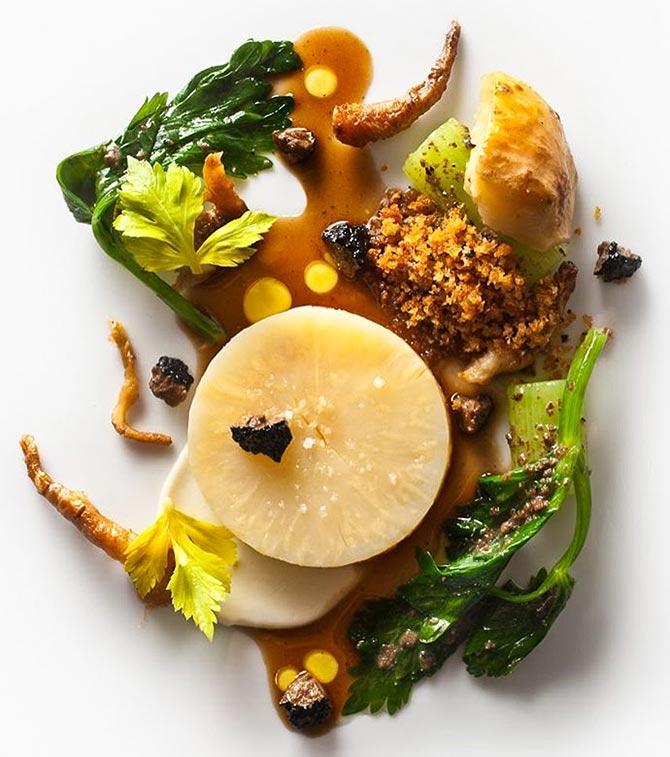 IMAGE: Oven-roasted celery root with black truffles.

Helmed by Swiss-born chef Daniel Humm, along with co-owner Will Guidara, Eleven Madison delivers exotic food in an art deco building just off Manhattan's Madison Park.



Style of food:

Modern European food with a New York twist



Food to try:

Signature honey lavender roasted duck and celery root cooked in a pig's bladder, above.

Photograph: Kind courtesy

Daniel Humm/Instagram
2. Osteria Francescana, Italy
IMAGE: Steak in a plate smeared with colour -- looks like an artist's palette.

Toppled from the top spot it occupied last year on this list, Osteria Francescana is led by the talented chef Massimo Bottura. A poet, storyteller, artist and cook, Bottura tells exciting stories through his dishes. High on tradition, Osteria Francescan is known to experiment with ingredients from the Emilia-Romagna region from where Massimo hails.



Style of food:

Contemporary Italian



Food to try:

Cheese, cheese and some more cheese

Photograph: Kind courtesy www.osteriafrancescana.it
3. El Celler de Can Roca, Spain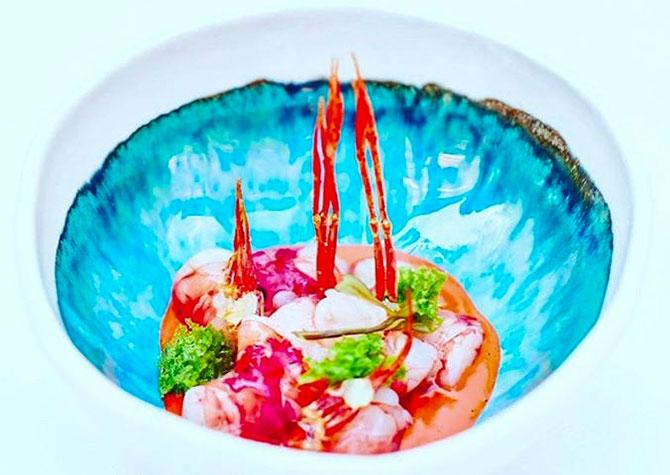 IMAGE: The sea has been recreated in this dish called Gamba de Palamos.

El Cellar is one of the few restaurants that has been ranked twice as No.1 on this list.
The three brothers who own and run the restaurant are chef Joan, sommelier Josep and patissier Jordi. The food is complex and has multiple ingredients thrown in to create highly stylised plates. The highlight here is that the dishes are also designed to evoke memories, emotions and the landscape of the region.



Style of food:

Contemporary Catalan



Food to try:

Edible perfume desserts

Photograph: Kind courtesy Celler Can Roca/Instagram
4. Mirazur, France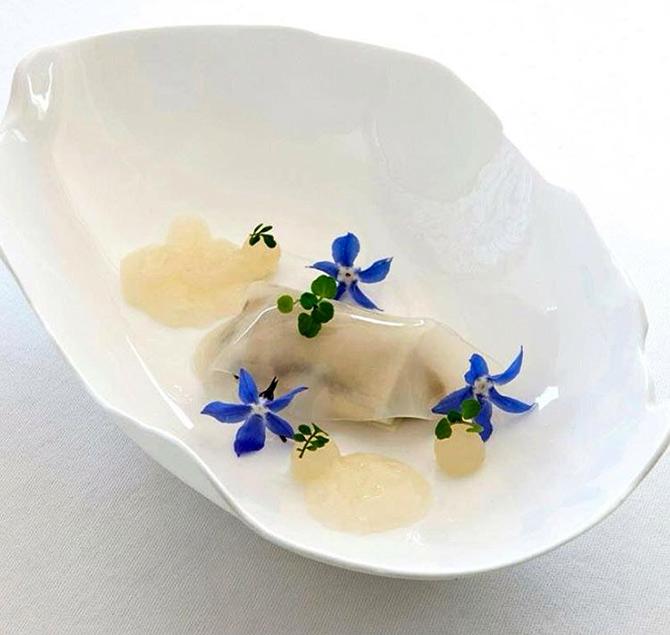 IMAGE: Oyster with pearl.

Mauro Colagreco who established Mirazur bagged his first Michelin star within a year of the opening of the restaurant. Several of the ingredients used in the dishes come from Mauro's backyard and the food in the restaurant is greatly inspired by Mauro's Argentine-Italian heritage and the local French cuisine.



Style of food:

Mediterranean

Food to try: Beetroot and caviar, oyster with tapioca

Photograph: Kind courtesy Restaurant Mirazur/Instagram
5. Central, Peru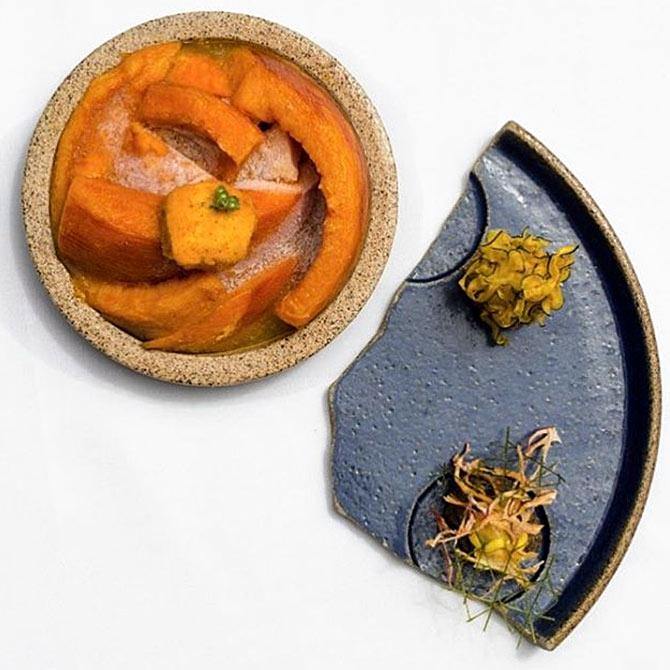 IMAGE: This dish is made with a delicious fruit called mamey sapote -- it looks similar to the Indian chikoo.

Central won the the award of the Best Restaurant in South America in 2017. It is the baby of chef Virgilio Martinez and Pia Leon. The chef take their guests on a colourful journey of Peru through its +17 courses -- dig into some of their better known dishes like ceviche, exotic fruits, vegetables and herbs.

Style of food: Contemporary Peruvian cuisine

Food to try: Spiders on a rock with mussel

Photograph: Kind courtesy Central Restaurant/Instagram
6. Asador Etxebarri, Spain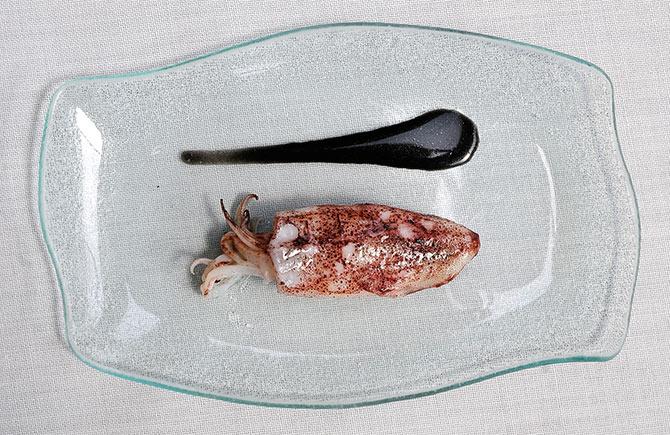 IMAGE: Look at the precision with which the sauce has been spread out on the dish.

The dishes here are relatively simple, ingredients super fresh and the chef-owner Victor Arguinzoniz is extremely talented. The dishes here are grilled over fierce heat -- they all have a distinctive smokiness to it. The simplest plates -- home-made chorizo, salted anchovy on toast, giant Palamos prawns, the legendary beef chop -- are also the most outstanding.

Style of food: Spanish wood-fire barbecue

Food to try: Crunchy corn and sea urchin

Photograph: Kind courtesy asadoretxebarri.com
7. Gaggan, Bangkok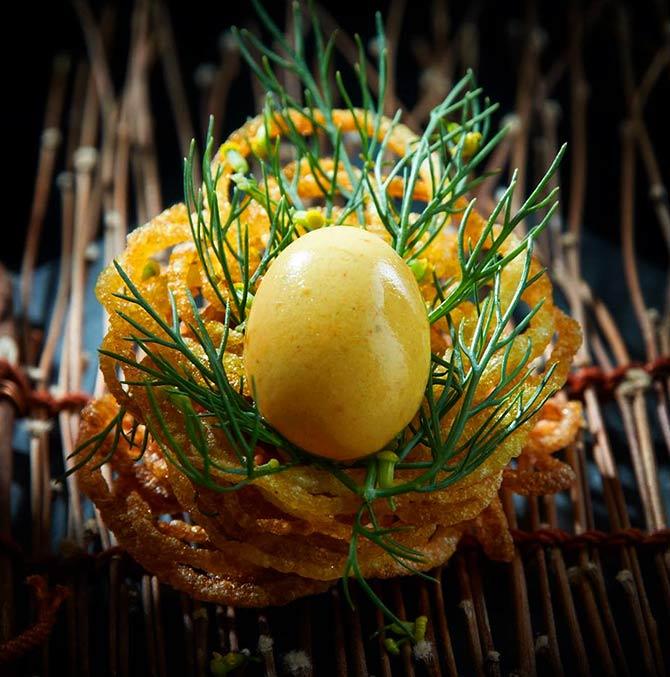 IMAGE: A bird's nest made with potatoes.

Gaggan has been named No.1 in Asia's 50 Best Restaurants for three consecutive years. It is known for its warm hospitality that it extends to its patrons -- its chef Gaggan Anand, will gladly take you on a journey through Indian cuisine that you'd have probably never tasted before -- 'magic' mushrooms, Indian sushi and sea urchin ice cream, etc.

Style of food: Progressive Indian cuisine

Food to try: Yoghurt explosion

Photograph: Kind courtesy Gaggan/Facebook
8. Maido, Peru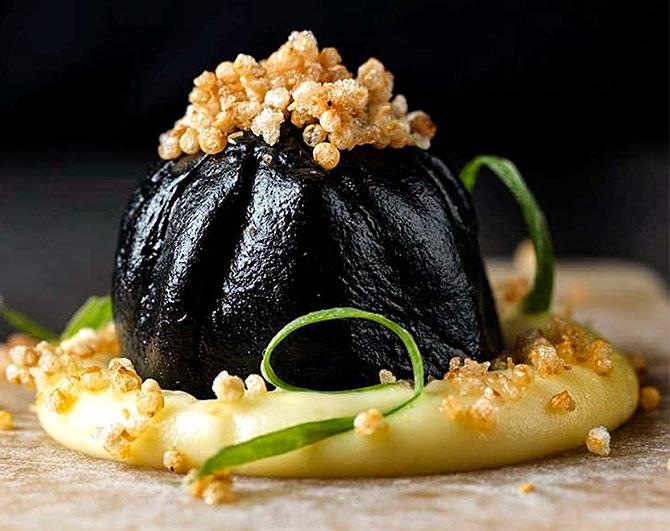 IMAGE: A black dessert topped with hazelnuts.

Chef Tsumura was encouraged by his father to turn his passion for cooking into a profession. Though he spent many months washing dishes, he eventually learned how to cook rice and make sushi. After years, he returned to Lima and opened Maido.
Maido's tasting menus are a colourful journey through Nikkei cuisine and the restaurant is known for its classic sushi counter and inventive menu.

Style of food: Nikkei

Food to try: Dim sums with sea snail, sea urchin rice and fish hotdog.

Photograph: Kind courtesy Maido Cocina Nikkei/Instagram
9. Mugaritz, Spain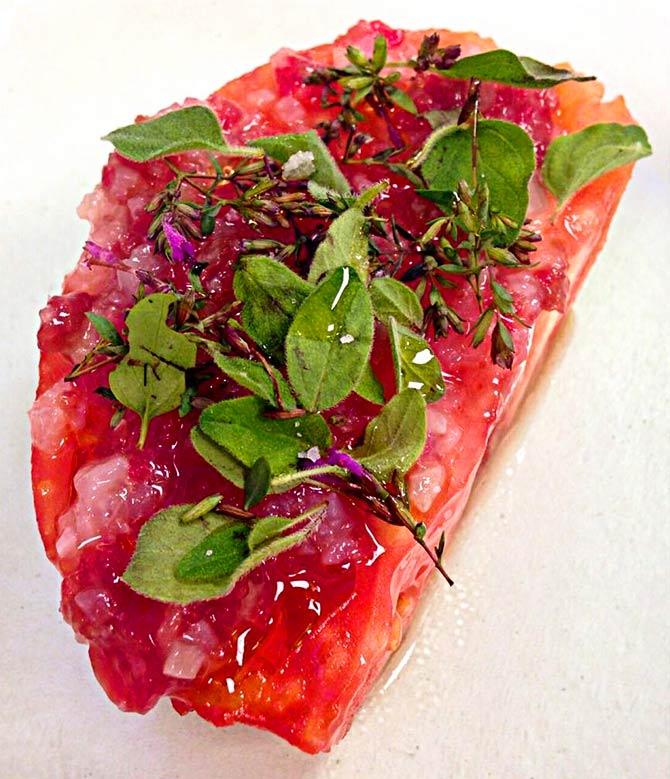 IMAGE: Tomato brine with a vegetable dressing.

Nothing like eating a meal here, served in the gorgeous gardens around the restaurant.
At Mugaritz, the dishes combine elements of the mountains and the sea, so be prepared to be treated to oyster, young garlic omelette, pig tails and even a loin of lamb smoked over eucalyptus and served with its cultivated wool.

Style of food: Spanish

Food to try:

Crunchy sandwich of local cheese presented in a book



Photograph: Kind courtesy Mugaritz/Instagram
10. Steirereck, Vienna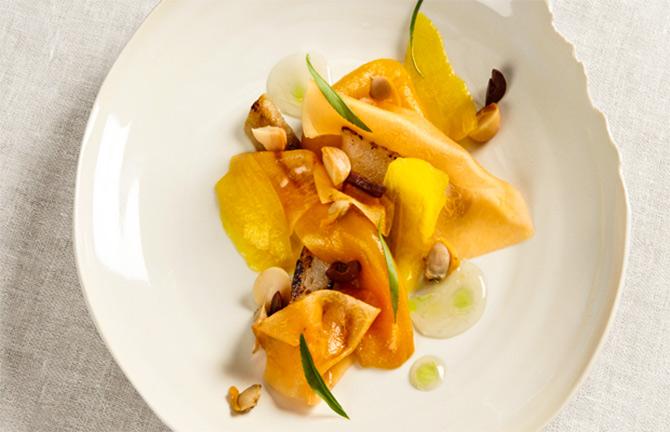 IMAGE: This plate of colourful veggies looks like a treat to the eyes.

When at Steirereck, you get the impression that you're seated in a culinary theatre.
At its helm is chef Heinz Reitbauer, who is known for his cutting-edge cooking which is rooted in Austrian tradition. The restaurant is known for the importance it places to local ingredients, which try to engage your taste buds in every possible way.

Style of food: Modern Austrian

Food to try: Freshwater mountain fish cooked at the table in hot beeswax before being returned on a plate with yellow carrot, pollen and sour cream.

Photograph: Kind courtesy www.theworlds50best.com
Information about restaurants: Kind courtesy http://www.theworlds50best.com