Say hello to these delightful foodies from Kolkata!
You can also share your interesting food pictures and stories here #RediffFoodies.
Want to know where to find the best Macher Jhol and Nolen Gurer Kancha Gola in Kolkata?
We followed the Instagram accounts of eight foodies from the City of Joy who tempted us with delicious pics of Bengali food and details about where to find them.
A word of caution: Their accounts, filled with captivating food pics, will tempt you to travel to Kolkata.
Take a look!
@peekncook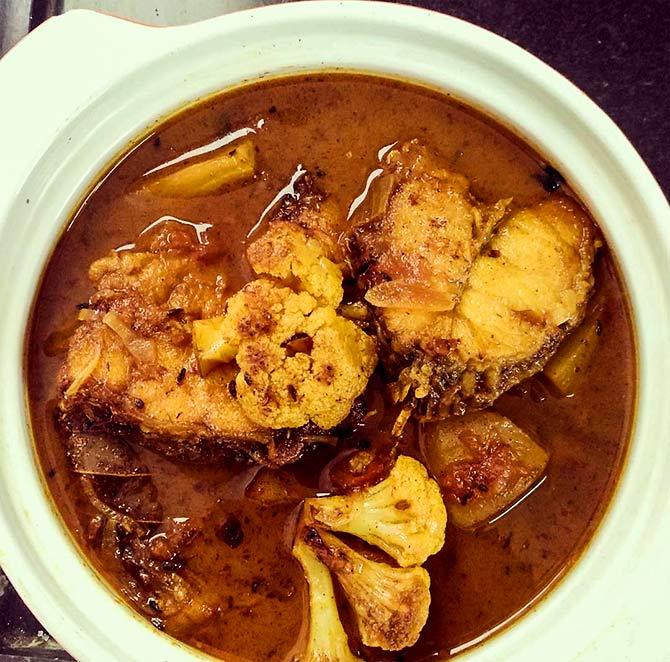 IMAGE: Bhetki Fish with Alu and Gobi
Just as the Instagram handle suggests you can peek into the page and bring out in the chef in you by experimenting with the recipes on their blog which goes by the same name.
The blog has a massive collection of recipes that are submitted, rated and reviewed by other foodies who can tell their begun bhaja from alu posto and kancha amer jhol.

Followers: 416

Photograph: Kind courtesy peekncook/Instagram
@kolkatafoodies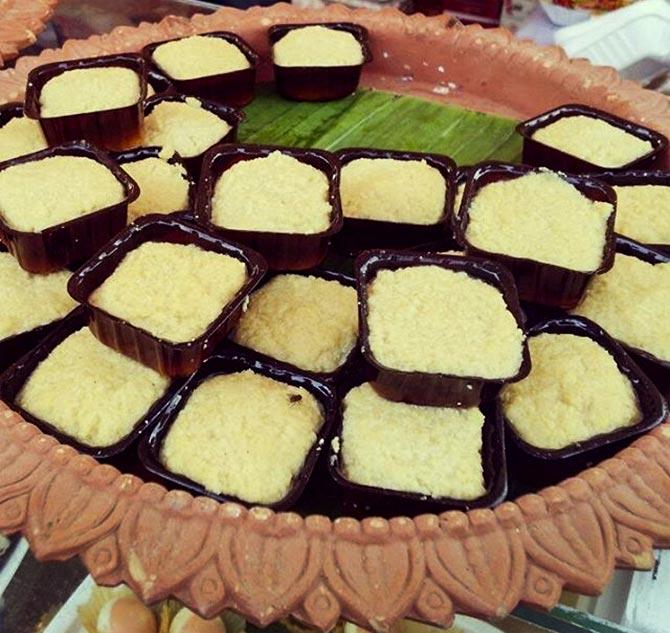 IMAGE: Nolen Gurer Kancha Golla from Balaram Mullick
'We speak food in Kolkata' reads their Instagram profile.
They will tell you where you can get delicious mishti doi (sweet curd), kosha mangsho (spicy Bengali mutton curry), etc. and non-Bengali food like crunchy iceberg dumplings, ice cream sandwiches, pyramid-shaped sticky rice dumplings, etc.

Followers: 7,339

Photograph: Kind courtesy Kolkata Foodies/Instagram
@foodofdebjani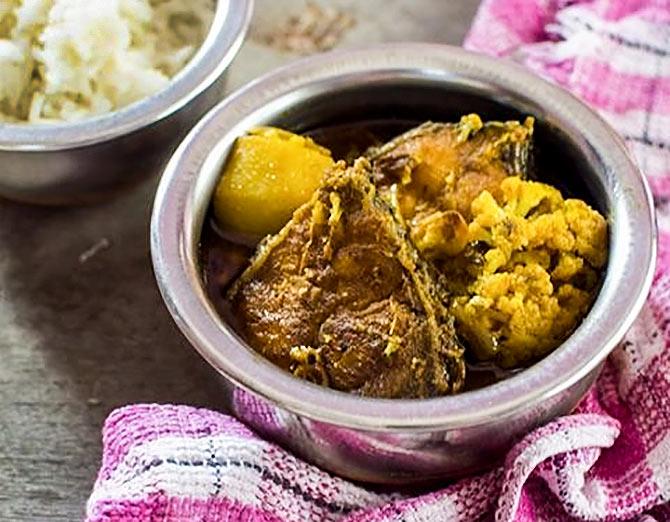 IMAGE: Macher Jhol
It is the brainchild of food blogger and photographer Debjani Chatterjee Alam, who makes Bengali cooking so vibrant and effortless.

Her followers are hooked to pics which document her typical Bengali cooking ways like marinating fish with salt and turmeric powder (nun hulud makhano). Every food pic she posts like tempting two-in-one sandesh, ghol, taler bora (sugar palm fritters), etc is desirable.

Followers: 3,812

Photograph: Kind courtesy

Debjani Chatterjee Alam/Instagram
@Mallikabasu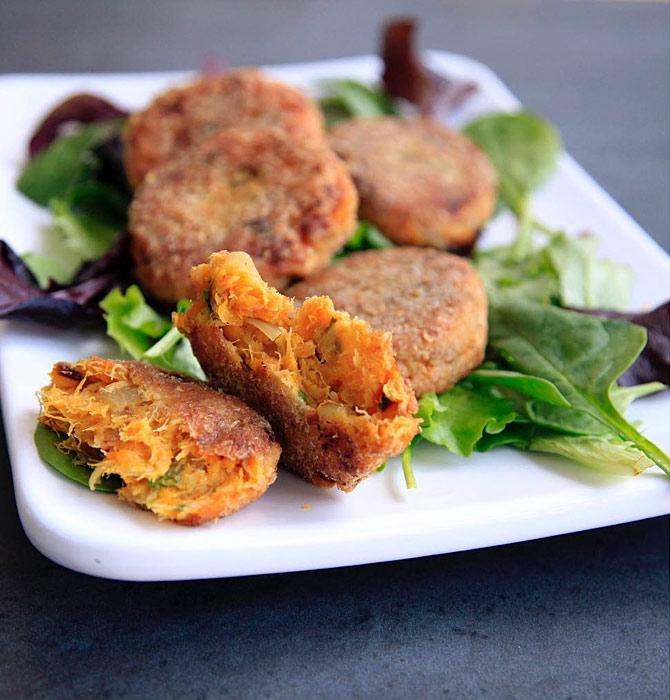 IMAGE: '

Bengali fishcakes, Macher Chop, with a twis

t,' Mallika wrote about the photograph above. '

I've used sweet potato instead of potato and rolled these in porridge oats,' she added.



Mallika Basu is teaching foreigners how to cook scrumptious Indian meals like spicy, tangy
jhalmuri
,
parathas
with
dum aloo
,
appam
and chicken stew, etc.
She is an Indian cook, food writer and the author of Miss Masala: Real Indian Cooking for Busy Living. She also writes a regular column for the London Evening Standard.
Followers: 19,500

Photograph: Kind courtesy Mallika Basu/Instagram
@kolkataepicurean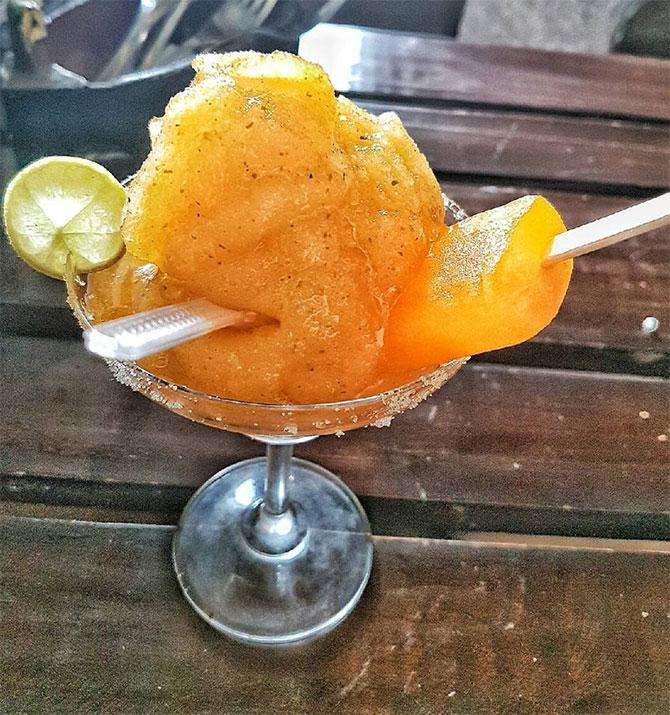 IMAGE: Orange Candy Margarita
Craving from some fancy food in Kolkata, but don't know where to head to, this is the page to follow.
Paneer lapeta, the chocolate soap cake (yes, you heard it right), molecular papdi chaat, kele ke phool ke croque monsieur, pizza dosa, etc. the page has got it all. The pics of food on this page are always uplifting.

Followers: 7,563

Photograph: Kind courtesy Kolkata Epicurean/Instagram
@colorandspices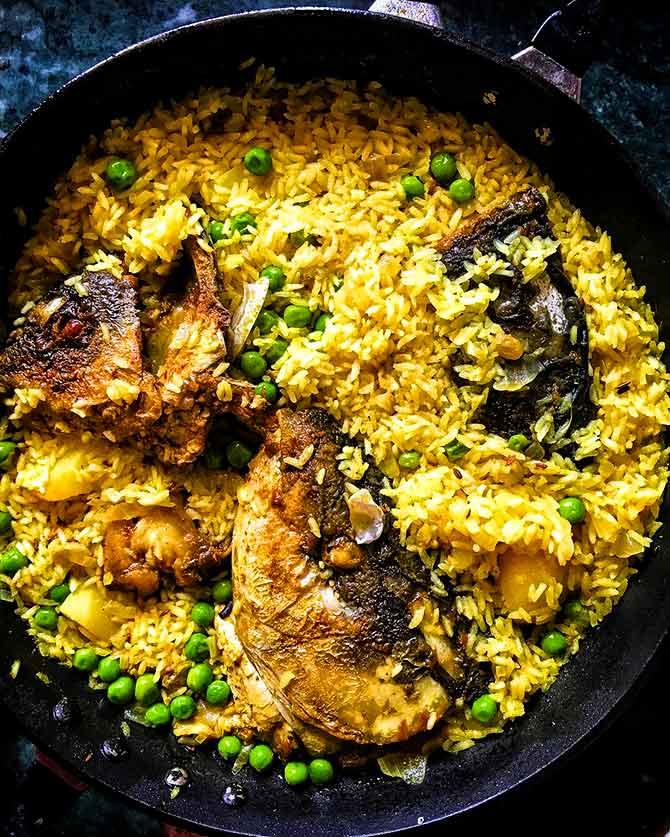 IMAGE: Muri ghonto (fish head cooked with aromatic rice and spices)
A food blogger from Kolkata, Chitrangada Kundu calls herself a 'food photographer and recipe developer' too.
Her blog is a winning combination of two things: her love for food and some deadly captions.
You will become her fan if you take one look at all the food she makes like piping hot koraishutir kochuris (green pea stuffed fried flat bread), muri ghonto (fish cooked with aromatic rice and spice, above) and rang alur puli pithe (deep fried sweet potato dumplings), just to name a few.

Followers: 769

Photograph: Kind courtesy

Chitrangada Kundu/Instagram
@bitechompgulp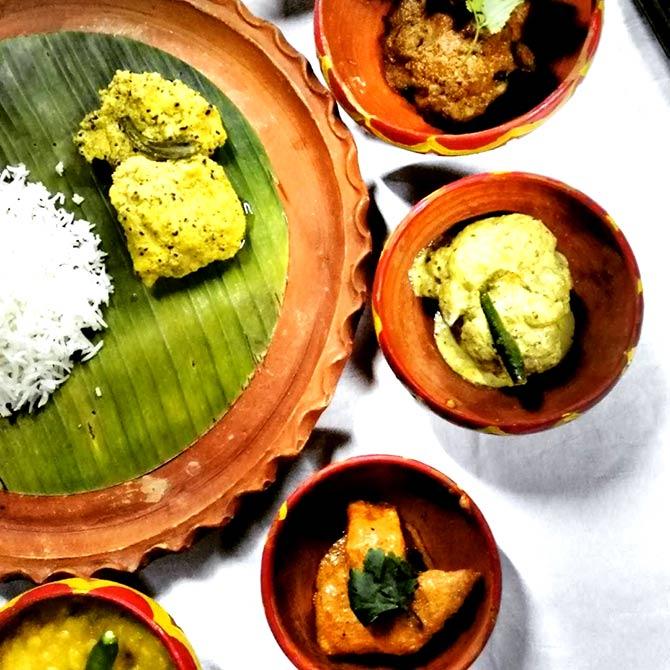 IMAGE: Lunch at Aauris, Kolkata
Mind you this is a food blog by a 'ever hungry Bong lady'! She loves good food and her page is a visual treat for any foodie. From the rogan josh burger made from gorgeous red bread, stuffed button mushrooms, glass noodle salad and much more, the page will give you everything you need to know about non-Bengali food in Kolkata.

Followers: 3,383

Photograph: Kind courtesy Bite Chomp Glup/Instagram
@ahomemakersdiary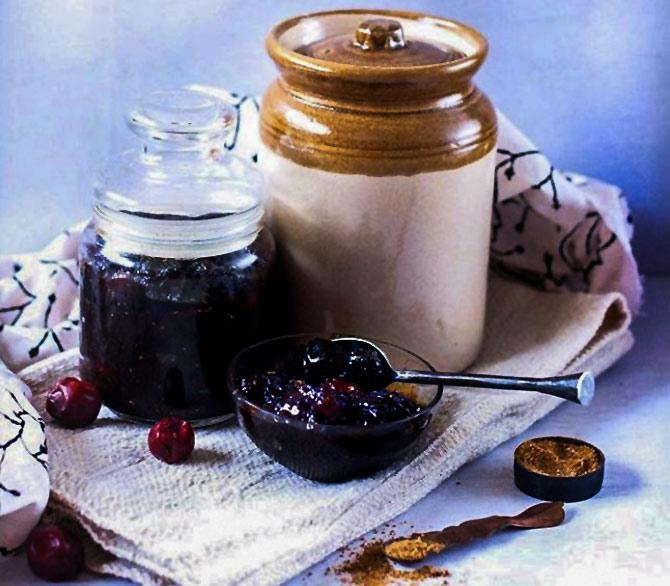 IMAGE: Bengali Kuler Achaar (Sweet and sour jujube pickle)
Homemaker

Sayantani

loves to document all her gastronomical adventures. If it is Bengali food on your mind, then the delectable food pics she uploads will warm your heart and tempt your taste buds.
A mother, blogger, food photographer, recipe curator, Sayantani is a wonderful chef too. Need proof? Just go through her food pics of Bengali kuler achaar (sweet and sour jujube pickle), Shish palong er charchori (spinach shoots mishmash), neem begun (tender neem leaves with sauteed eggplants), etc.

Followers: 847

Photograph: Kind courtesy

Sayantani/Instagram
---
Follow this link to post the best of your food pics and we will publish them right here on Rediff.com!
Share your food pics along with a short description of the food and the place you clicked it.
Steps to upload pic on ZaraBol:
1. Click on 'Add Image' option on the left side of the #RediffFoodies page.
2. Upload an image from your computer/phone.
3. Write a small description for your image in the box above.
4. Hit post and see your image on ZaraBol.