Did you know Turmeric Latte or our Haldi Doodh is trending abroad?
Indian food has a vast, intriguing history. Over the years, many of its recipes have travelled to foreign lands.
Take the case of the humble Masala Chai. It is now a popular beverage of choice in America.
Close on its heels is Haldi Doodh which is becoming a fashionable drink to sip beyond our shores.
Known as Turmeric Latte or the golden milk, it is a favoured preference in cafes all over, as folks are ditching coffee for this healthier brew.
Take a look at 10 such Indian foods that are also available overseas, but with fancy names.
1. Turmeric Latte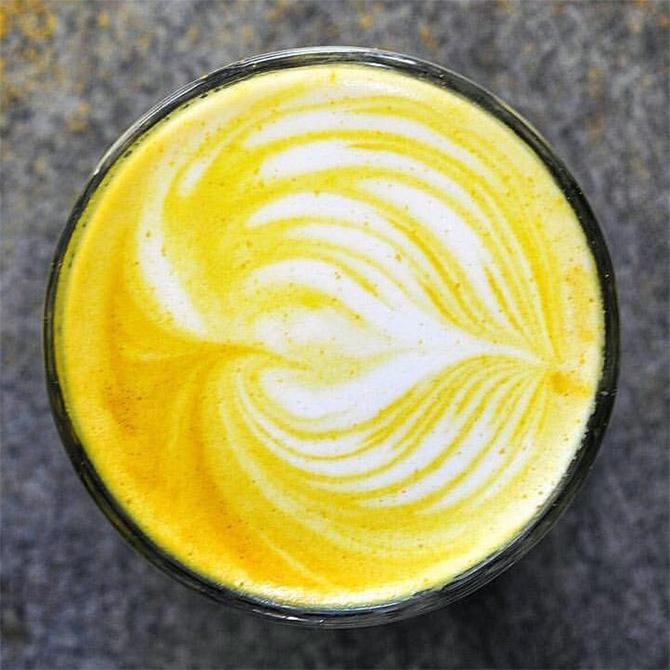 IMAGE: A cup of healthful golden turmeric milk latte. Photograph: Kind courtesy wunderworkshop/Instagram
Don't be fooled into thinking this is a new latte that you (Indians) haven't tasted yet!
We have been sipping it for ages -- even today, every night, mothers fondly mix haldi (turmeric) in a glass of milk and give it to their children.
Turmeric Latte is nothing but Haldi Doodh known for its soothing flavour and aroma!
Quite a sophisticated name for the good old mum's fave, isn't it?
It seems to be perhaps all the rage in Britain, America and Australia too and is served up in cafes.
People prefer it to the regular lattes and coffees as it is healthier and tastier.
Made with juiced raw turmeric, foamed nut milk, coconut, almonds and cinnamon powder, Turmeric Latte has a cult following.
Time for Indians to ditch cappuccinos and lattes for Haldi Doodh?
2. Basbousa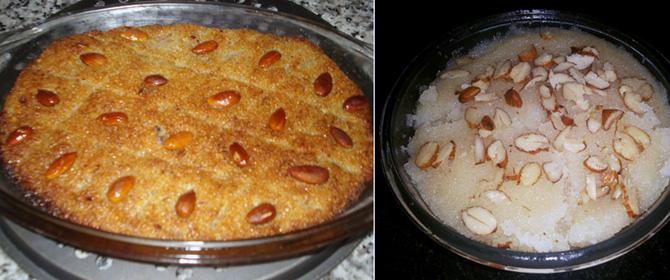 IMAGE: Basbousa, (left) a fave sweet in Egypt, is actually baked Sheera (right). Photographs: Kind courtesy (left) Owa Olfa/Wikimedia Commons, (right) Samir Nar/Wikimedia Commons
Are you thinking: What a fancy name for a sweet semolina cake made in Egypt?
Wait till you hear what it is called in India.
Sheera!
Yes, you heard it right.
Basbousa is Sheera -- the Indian sweet of semolina (rava or sooji) made during special occasions -- with a twist. The traditional Middle Eastern sweet is made in Egypt from cooked semolina soaked in syrup.
While Indians cook it on the stove, Egyptians bake it and add desiccated coconut and sugar syrup to sweeten it further.
We are not sure if the sweet originated in India and then travelled to Egypt or it was the other way round. But the uncanny similarity among these two cannot be ignored.
3. Almond Brittle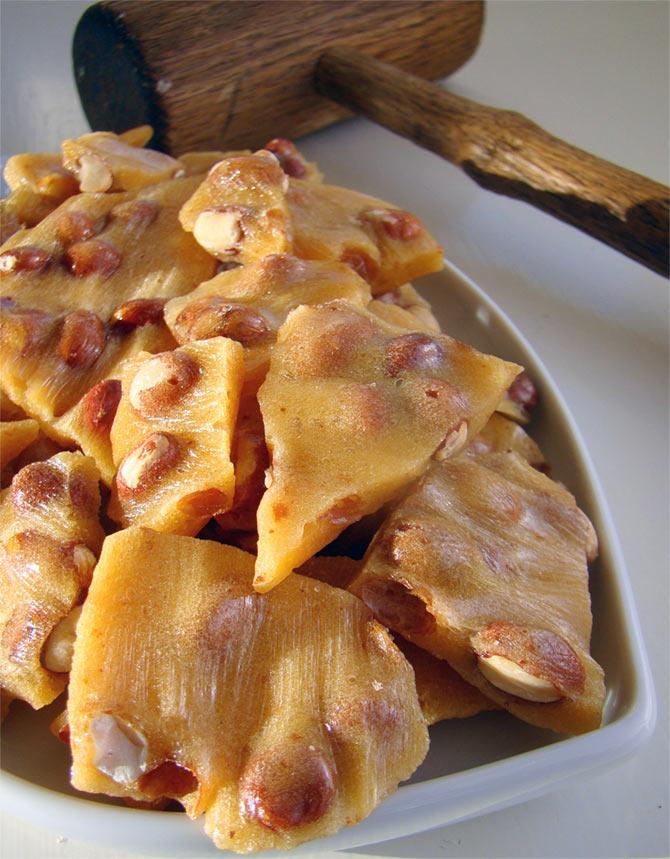 IMAGE: Almond Brittle Photograph: Kind courtesy Janet Hudson/Creative Commons
Lonavala Chikki just got a new, fancier name.
Almond Brittle has two major ingredients: almond and sugar.
You can garnish it with dark chocolate, maple almond butter and sea salt.
Sounds yummy, doesn't it?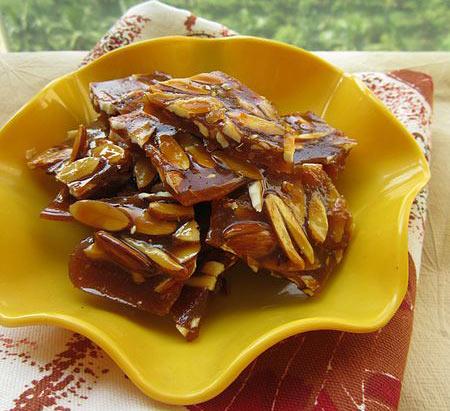 IMAGE: Indian Chikki. Photograph: Kind courtesy Divya Kudua/Wikimedia Commons
In Brazil, they have an improvised version of the Peanut Chikki called Pe-de-Moleque.
It is a traditional candy made by mixing roasted peanuts with jaggery.
4. Chaitea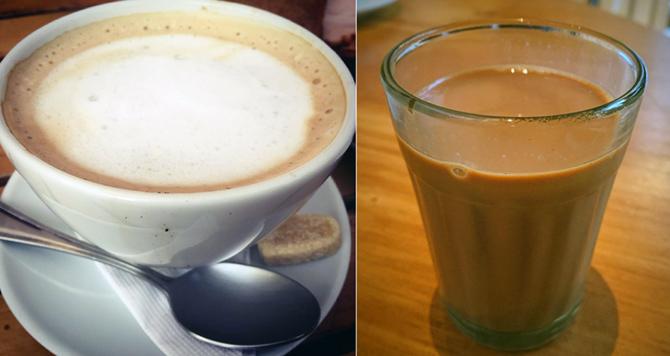 IMAGE: (left) The frothy Chaitea and (right) the humble Indian Cutting Chai. Photograph: Kind courtesy (left) lclameezcharles/Instagram, (right) justanothercupoftea/Instagram
No brownie points for guessing what this tea is all about?
It's India's favourite Masala Chai.
What people in the US call Chaitea is better known as Masala Chai back home in India.
Indians in the US have tried to dissuade their foreign friends from using the term as it translates to 'chai chai' and makes absolutely no sense.
It typically involves brewing black tea with spices like cardamom, ginger and nutmeg.
A few, more adventurous American restaurants, add black pepper too in their tea.
5. Puttu Mayam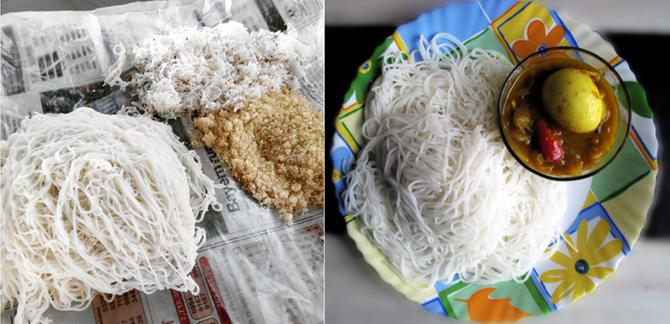 IMAGE: (left) Puttu Mayam and (right) the Kerala-style Idiyappam with Egg Curry. Photograph: Kind courtesy (left) yoongcarlos/Instagram, (right) Viewfinder18/Wikimedia Commons
This dish finds its origin in the Kerala-style Idiyappam, made from freshly ground rice flour. The flour is then steamed.
Idiyappam, which looks like noodles, is a favourite breakfast option in Kerala. Malayalees have it with sweetened milk.
In Kerala it is steamed in a cooker. In Malaysia, pandanus leaves are used, which colour it green when it is steamed in a basket.
They mix it with coconut and palm sugar and relish it.
6. Hoppers

IMAGE: (left) Sri Lankan Egg Hoppers and (right) the Kerala-style Vellayappam. Photograph: Kind courtesy (left) Ji-Elle/Wikimedia Commons, (right) KARTY JazZ/Wikimedia Commons
We're certain that Malayalees are going to take one look at this and exclaim: But that's Kerala-style Vellayappam -- a pancake made with fermented rice -- with egg on it.
Sri Lankan Hoppers are also made the same way.
Their variation, called Egg Hoppers, is made by breaking an egg on the appam batter that is spread in the pan, and cooked up.
The Indonesian pancakes, Serabi and Malaysian Apam Balik are all versions of the humble appam.
7. Chamucas

IMAGE: (left) Chamucas and (right) Indian Samosas. Photograph: Kind courtesy (left) paulo_i_sverige/Creative Commons, (right) Chris/Creative Commons
It is a cousin of our street food -- the samosa.
Chicken Chamucas are on many a menu in Lisbon.
Similarly, there is the Empanada, which is the Argentinean version of the samosa. Or maybe it's vice versa, samosa is the Indian version of Empanada, since we don't know which was the migrant because types of Samosa have moved up and down the Silk Route for centuries!
They are delicious pastry pockets filled with savoury pork, beef or chicken. And have different flavours and fillings.
The fish versions are sold during Lent.
The sweet variety have a stuffing of caramel apple pie, chopped peanuts and chocolate chips.
8. Tindaloo

IMAGE: (left) Tindaloo and (right) the Goan Vindaloo. Photograph: Kind courtesy (left) niklentz/Creative Commons, (right) stu_spivack/Creative Commons
It is likely the Brits wanted to give a new name to Vindaloo -- the spicy pork curry with vinegar and spices -- so they named the dish Tindaloo.
But what's in a name? This dish is a distant relative of the Goan pork Vindaloo, but Tindaloo is spicier.
You can call it the hotter avatar of Vindaloo.
It is said the British living in Goa were so inspired by Vindaloo that when they went home, they made and sold it by a different name.
9. Phaal Curry
IMAGE: (left) The Chicken Phaal Curry and (right) Indian Chicken Curry. Photograph: Kind courtesy (left) Joey/Creative Commons, (right) Charles Haynes/Creative Commons
If a Punjabi samples Phaal Curry, he would lick his fingers and exclaim, "Oi yeh toh chicken curry hain, Punjabi style (This is chicken curry, made Punjabi style)."
And he wouldn't be wrong!
Except that Phaal Curry has lots and lots of red chillies thrown in -- that explains the difference in colour!
Voted as one of the spiciest curries in UK, it finds its origins in Indian eateries/curry shops in Birmingham.
In some restaurants, they use bhut jolokia, the scariest chilly in the world, while making the dish.
10. Kedgeree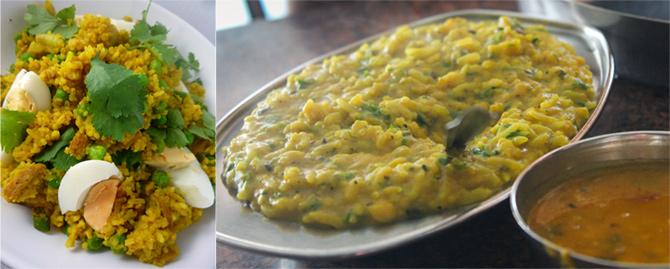 IMAGE: (left) Kedgeree and (right) the humble Indian Khichdi. Photograph: Kind courtesy (left) Beck/Creative Commons, (right) Rohit Valecha/Wikimedia Commons
Kedgeree reminds us of the comforting, lightly-spiced Indian Khichdi. But it is a non-vegetarian version with hard boiled eggs and fish -- usually smoked haddock fillets -- added.
Traditionally, British Kedgeree is made of rice and lentils with spices and some dry fruits thrown in.
The cooking method is a lot like that of Khichdi.
It comes as no surprise that most Kedgeree recipes online urge you to make the dish with Basmati rice.
Know more such foods? Share it on the message board below. We'd love to hear from you.