Was it the basic dal and rice combination? Or did it include millets and vegetables?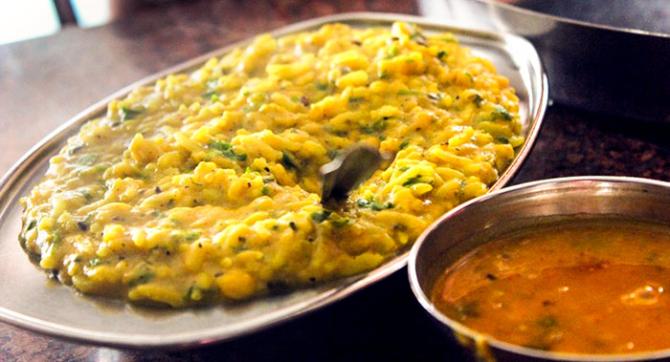 We have all eaten khichdi during our growing up years.
Made of rice, pulses and spices, it was the comfort food that our mothers would cook for us.
We still love to have it whenever we're reminded of our mother's cooking.
However, the khichdi has come a long way! Almost every next Indian chef is twisting the simple dish, adding new flavours and turning it into something exotic.
Today, apart from the basic khichdi, you'll find several varieties that also include seafood.
Chef Vineet Bhatia's crisp prawns with red-onion turmeric khichdi is quite popular.
There's also edamame coconut khichdi, broccoli khichdi and one that includes meat too.
We ask you, dear readers, how did your mom prepare khichdi!
Share your mother's recipe along with a picture of the dish, and we'll post the most interesting ones on Rediff.com.
You can mail them to getahead@rediff.co.in (subject: Khichdi Recipes) along with your NAME, AGE and the place where you LIVE.
Do include a little information about what makes your mom's recipe so special.
Lead photograph: Kind courtesy Rohit Valecha/Wikimedia Commons