Now you can order a cup of coffee with your face on it!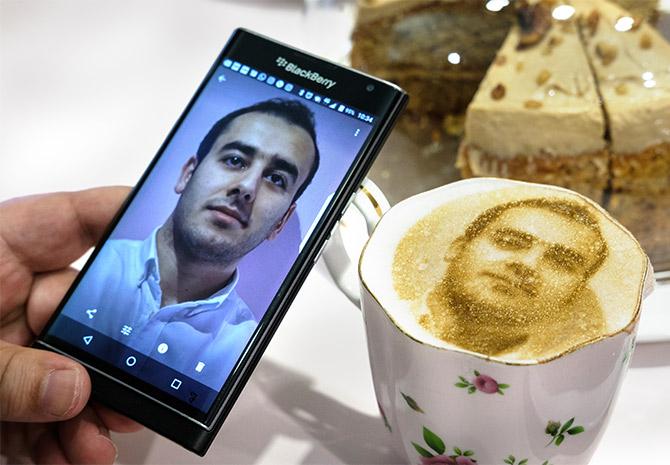 Turkhan Baghirov compares his selfie to his Selfieccino at The Tea Terrace in House of Fraser department store in London on December 21. For £5.75, customers can send a photo to the barista, who then applies the image to the foam of the coffee using edible food dye, from a fine art printer.
Photographs: Leon Neal/Getty Images.
Just when we thought we had seen all kinds of selfie madness a new selfie trend has emerged out of London.
The Tea Terrace, based in House of Fraser's Oxford Street branch, has introduced the 'Selfieccino,' which features the customers' selfies in froth on their drinks.
According to a Reuters report, 'Patrons send their headshots via an online messaging app to the barista and are given the choice of either a cappuccino or hot chocolate as their canvas. The image is uploaded to the "Cino" machine while the drink is placed in position. The picture is then scanned and reproduced onto the froth using a flavourless food colouring.'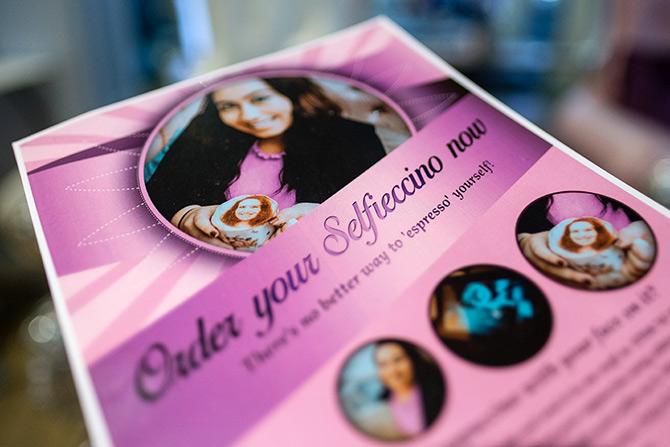 Details of how to order a 'Selfieccino'.
The Selfieccino -- The Tea Terrace hopes to trademark the term -- process takes around four minutes and costs around 5.75 pounds (Rs 500).
'Due to social media, the dining experience has completely shifted,' Ehab Salem Shouly, the owner of The Tea Terrace told Reuters. 'It's not enough any more to just deliver great food and great service -- it's got to be Instagram worthy.'
The Selficcino went viral on Instagram soon after the launch.
The launch of the Selfieccino comes days after researchers at Nottingham Trent University in the United Kingdom and Thiagarajar School of Management (TSM) in India confirmed that 'Selfitis' is a genuine mental condition.
The term 'Selfitis' was coined as part of a 2014 a spoof news story to describe obsessive selfie-taking, but these researchers saw some truth in it and decided to investigate. The researchers not only confirmed the existence of Selfitis, but also developed the world's first Selfitis Behaviour Scale to assess the condition.
But that's clearly not stopping anyone from thronging The Tea Terrace. They have not only sold hundreds of cups of Selfieccino since the launch, but also a Doggieccino or two!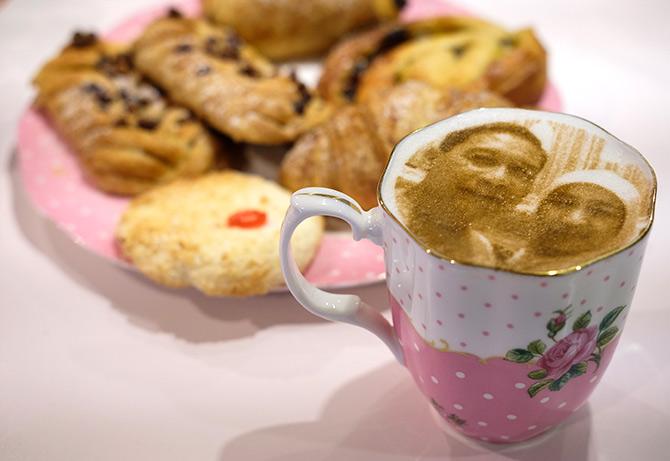 The Tea Terrace, which is the first restaurant in Europe to introduce the Selfieccino, now hopes to trademark the term.