What are you cooking for Diwali this year? We want you to share your recipes.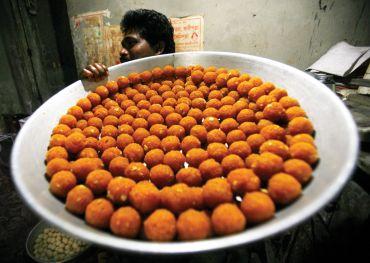 Friends, Diwali is round the corner.
Apart from the fire crackers and all the fun, it is also the time to look forward to sumptuous sweets and snacks cooked at home.
Shakkarpare, gujjias, chivda, chakli, besan ka laddoo -- the list is endless.
So, dear readers, what are you cooking this Diwali? Tell us!
Is it something traditional, a recipe you learned from your mother? Or something healthy -- less oily, fat-free?
We want you to share recipes of your favourite Diwali food with us.
And if you are cooking something creative, do tell us about it too.
Simply e-mail your recipes to getahead@rediff.co.in (Diwali Recipe) along with your NAME, AGE and the place where you LIVE. We'll publish the best ones on Rediff.com.
Lead image used for representational purposes only. Image: Jayanta Dey/Reuters