Food blogger Vishaka Rautela shares her special recipes infused with alcohol.
Enjoy :)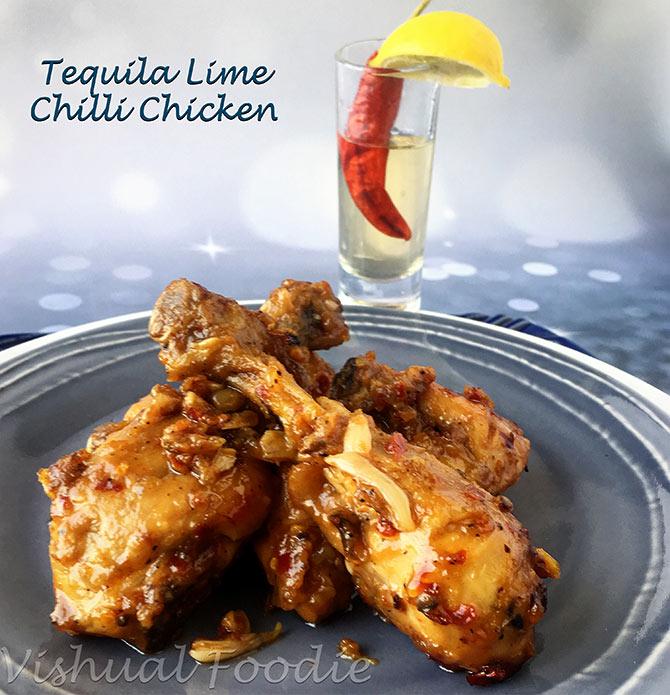 Tequila Lime Chilli Chicken
Ingredients:
1 kg chicken pieces with bone
75 ml tequila (to glaze)
Zest and juice of two lemons
3 tsp chilli flakes
2 tbsp Sriracha sauce
1 tbsp brown sugar
2 tbsp olive oil
10 crushed garlic
1 tbsp maida
Method:
Mix tequila, olive oil, lime juice and zest, chilli flakes, sriracha, salt and garlic.
Add chicken to this marinade. Rub the marinade well on the chicken.
Keep for 4 hours or overnight if possible.
Transfer to an oven-proof dish (do not cover) and cook for 35-45 mins at 200°C in a pre-heated oven.
When cool, transfer the liquid to a pan, add sugar and adjust seasoning if needed.
Add maida and mix well. Add little tequila to mix it all.
When the sauce gets thick, add the chicken and mix well till the sauce coats the chicken and gets a golden brown colour.
---
Strawberry Margarita Truffles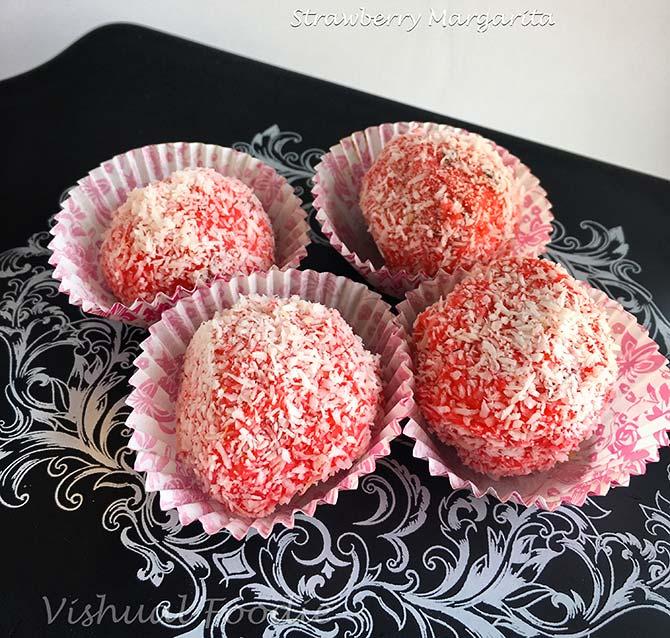 Ingredients:
500 gm chopped white chocolate

1 packet Amul cream

2 drops pink gel colour

2-3 tbsp tequila

1/2 cup chopped dried strawberries

1/2 tsp salt

1/2 cup desiccated coconut
Method:
In a heavy pan heat cream till scalding, and pour over chopped chocolate. Cover for 3-4 minutes and then mix till it melts. Let it cool.
Add tequila, salt and dried strawberries. Mix well.
Pour into a greased dish and keep it in the fridge for an hour.
When set, scoop out portions to roll into balls.
Coat with desiccated coconut and then keep it in the fridge again for 4 hours before serving.
---
Wine and Cheese Straws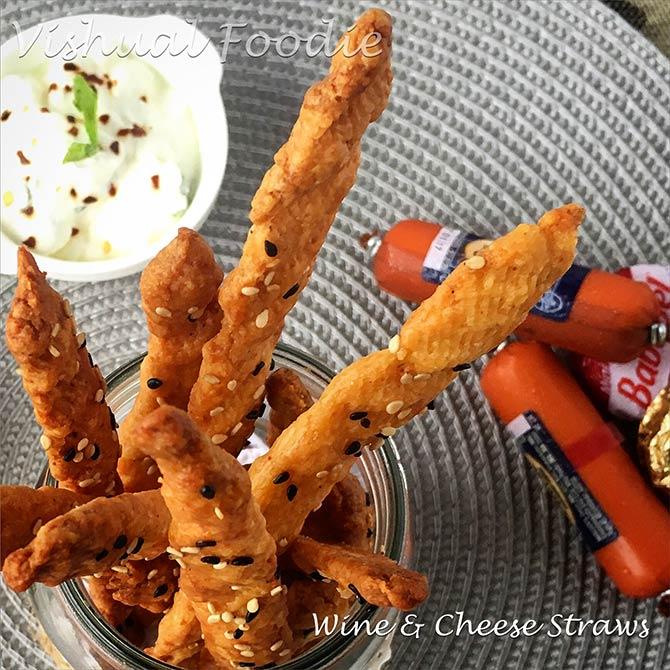 Ingredients:
120 gm all purpose flour
80 gm chilled Amul butter
1/2 tsp chilli powder
1/4 tsp salt

(lesser is fine too as cheese and butter both have salt)

1/4 tsp garlic powder
100 gm grated Parmesan cheese/cheddar/procesed
30 ml chilled white wine (

or any liquid like water/milk/balsamic vinegar/egg)

1 egg white
White and black sesame seeds
Method:
Sieve the all purpose flour and cut the butter into it using a scrapper. Avoid use of hands as that will transfer body heat to the mix. Cut it and mix to make pea-size crumbs in the flour.
Add salt, garlic powder, chilli powder, cheese and mix it with a scrapper.
Add wine (or any liquid that you are using) spoon by spoon, and bring the dough together. Do not knead. Just scrape from outside and bring it in. Once all the liquid is added, use your hands to gently tighten the dough by cupping the dough together to form a mound.
Cling wrap and keep it in the fridge for half hour.
After half hour, roll the dough (thickness of a stuffed paratha) to a square shape and cut lengthways strips to 1.5-2" thickness. You can alternatively gently roll to make pipes with your fingers and give a design of your choice.
Line your rack with a silicon mat or a tin with parchment paper and place the strips on it, twisting it slightly from the centre to give it a shape.
Place the strips in the fridge for another half hour.
Preheat your oven to 150°C. Remove the tray from the fridge and give it an egg/milk wash. Sprinkle some sesame seeds on it.
Bake on middle rack, with top and bottom rod on for 25-30 mins. Keep an eye out, once golden brown shut the oven else will get too brown. Leave it in the shut oven for another 4-5 mins and then remove to cool. Store in airtight container.