Chef Bhakti Kudalkar shares five pastry recipes to impress your guests.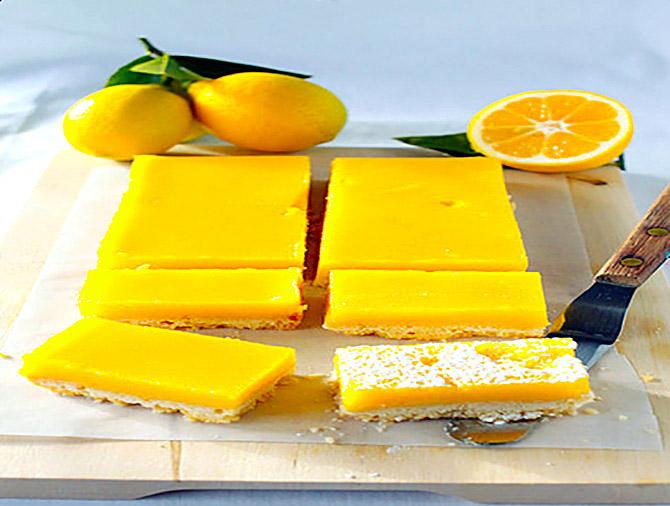 Lemon bar
Ingredients:
1 cup all purpose flour
½ cup powdered sugar
8 tbsp unsalted butter
For filling:
7 large egg yolks
2 large eggs
1 cup + 2 tbsp sugar
2/3 cup lemon juice (from about 4-5 medium lemons), finely grated zest from the lemons
½ tsp salt
4 tbsp unsalted butter, cut in to 4 pieces
3 tbsp fresh cream
Method:
Cover a 9-inch square cake pan with two sheets of aluminum foil, perpendicular to each other. Put the flour, powdered sugar and salt in a food processor and process briefly, for about 2 seconds. Add the butter pieces and proceed to blend for 8 to 10 secs. Process (about three 1-sec pulses) until the mixture is pale yellow and resembles a coarse meal.
Sprinkle the mixture into the prepared cake pan and press firmly with your fingers into an even layer. Refrigerate for 30 mins.
Heat the oven to 350°F. Bake the crust until golden brown, about 25 mins.
For the filling:
In a medium saucepan whisk together the egg yolks and whole eggs until combined. Add sugar, lemon juice, zest and salt until well combined, for about 30 secs. Add butter and cook over medium-low heat, stirring constantly with a wooden spoon, until the curd thickens to a thin sauce-like consistency (about 170°F on an instant-read thermometer), for about 6 mins.
Immediately pour the curd through a fine-mesh steel strainer set over a medium bowl. Stir in the heavy cream and then pour the curd into the warm crust. Bake until the filling is shiny and opaque and the center 3 inches jiggle slightly when shaken, for about 10 mins. Cool on a wire rack to room temperature, about 45 mins.
Remove the bars from the pan and transfer to a cutting board. Cut into 2 inch squares, wiping the knife blade clean between cuts as necessary. Sieve powdered sugar over the bars.
---
Banana pudding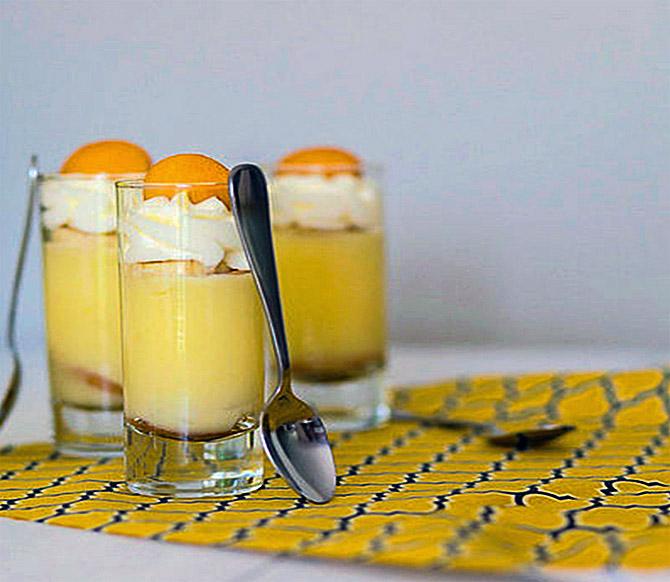 Ingredients:
⅓ cup all purpose flour
¾ cup sugar
¼ tsp salt
2 large egg yolks, lightly beaten
2½ cups milk
3 tbsp butter, at room temperature, divided
2 tsp vanilla extract
2-3 tbsp banana liqueur or 1 tbsp banana extract
3-4 ripe bananas, sliced
Vanilla wafers (mini if you make parfaits)
Method:
In a medium saucepan, combine the flour, sugar and salt. Whisk in the egg yolks and then the milk. Place the saucepan over medium heat.
Add in 2 tbsp of the butter. Cook, whisking frequently, until the mixture bubbles and thickens significantly. Remove from the heat. Strain through a mesh sieve if you are at all concerned about having overcooked it to remove any lumps.
Whisk in the vanilla, remaining 1 tbsp of butter, and banana liqueur or extract.
Layer a serving dish or individual serving dishes with vanilla wafers and banana slices. Fill each dish with some of the pudding and continue layering with vanilla wafers and banana slices as desired until the serving dishes are mostly filled and the pudding has been used up. Cover with plastic wrap and let it chill until well set, for at least 2-3 hours.
In the bowl of a stand mixer fitted with the whisk attachment, whip the cream and confectioners' sugar on medium-high speed until stiff peaks form. Blend in the vanilla. Transfer the whipped cream to a pastry bag fitted with a decorative tip and pipe a dollop of cream onto each serving of pudding. Garnish with additional vanilla wafers if desired.
---
Raspberry bar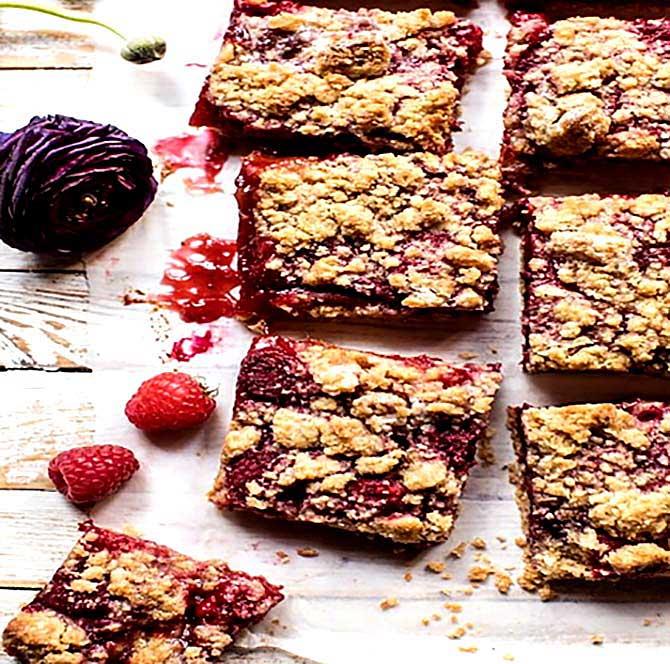 Ingredients:
For the crumble:
2 cups old fashion oats
1½ cup all purpose flour
1 cup brown sugar
1 tsp baking powder
½ tsp cinnamon
2 sticks (1 cup) cold salted butter, cubed
For the filling:
2½ cups fresh raspberries
2-4 tbsp brown sugar
2 tbsp all purpose flour
2 tsp vanilla extract
2 tsp lemon zest
½ cup raspberry jam
1 ripe but firm peach, thinly sliced
Method:
Preheat the oven to 350°F. Line a 9x13 inch baking dish with parchment paper
In the bowl of a food processor, pulse together the oats, flour, brown sugar, baking powder and cinnamon, until the oats are mostly ground. Add the cold butter pulse until a crumbly dough forms. If the dough seems dry, add 1 tbsp water.
Press ⅓ of the dough into the bottom of the prepared baking dish. Transfer to the oven and bake for 10 mins or until lightly golden.
Meanwhile, make the filling. In a medium bowl, toss the raspberries with the sugar, flour, vanilla, and lemon zest. Spoon the berries out into an even layer over the pre-baked crust. Dollop the raspberry jam evenly over the berries. Add the peach slices in a single layer. Sprinkle the remaining crumble dough over the berries.
Return to the oven and bake for 30-40 mins or until the crumble is a light golden brown and the berries burst. Let cool completely before cutting into bars. You can keep it stored in a sealed container for a week.
---
Strawberry pie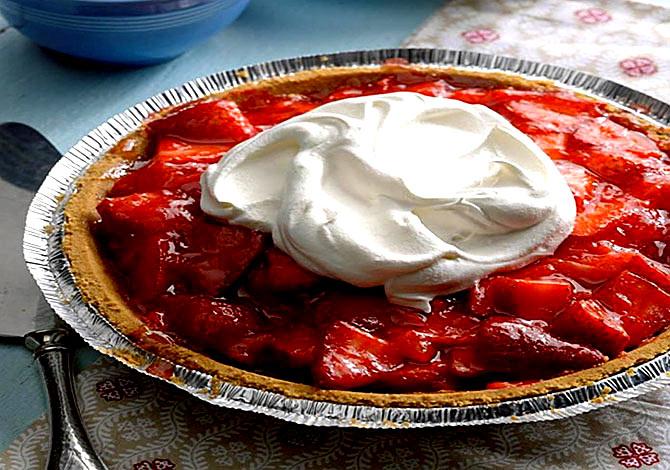 Ingredient:
1 can (220 gm) unsweetened crushed pineapple
1 package (220 gm) sugar-free cook-and-serve vanilla pudding mix
1 package (85 gm) sugar-free strawberry gelatin
3 cups fresh strawberries, sliced
1 reduced-fat graham cracker crust (8 inches)
½ cup reduced-fat whipped (for the topping)
Method:
Drain pineapple, reserving juice in 2 cups. Set pineapple aside. Add enough water (1½ cups) to juice and transfer to a saucepan.
Whisk in the pudding mix and gelatin until combined. Bring to a boil; cook and stir for 1-2 minutes or until thickened. Stir in the pineapple. Remove from the heat; cool for 10 minutes.
Add the strawberries and toss gently to coat. Pour into crust. Refrigerate until set, for about 3 hours. Garnish each piece with 1 tbsp whipped topping. Refrigerate leftovers.
---
Gooey brownie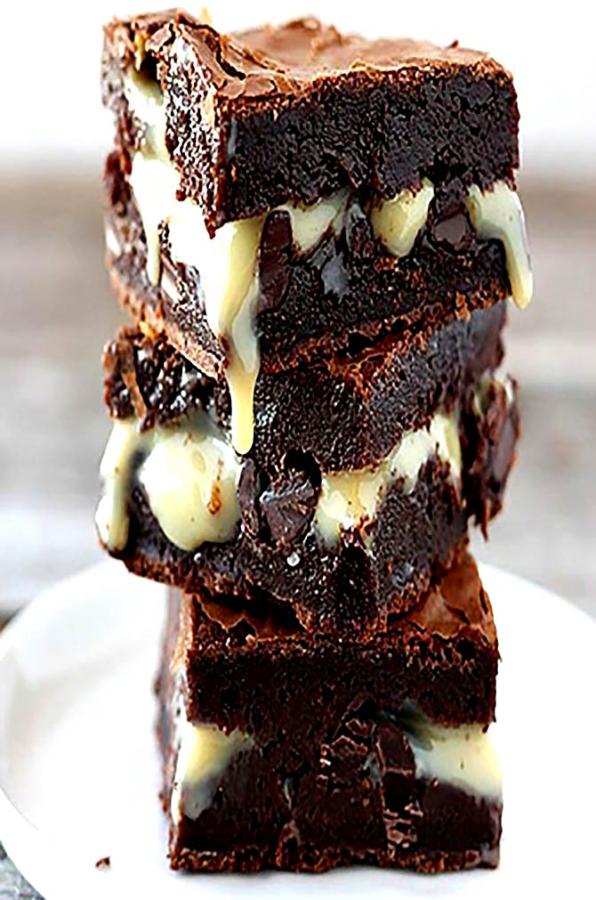 Ingredients:
2 cups semi-sweet chocolate chips, divided
1½ sticks (170 gm) unsalted butter, cut into pieces
113 gm unsweetened chocolate, chopped
1½ cups granulated sugar
3 large eggs + 1 egg yolk
1 tsp vanilla extract
3/4 cup all purpose flour
1/4 tsp fine sea salt
3/4 cup sweetened condensed milk
Method:
Preheat the oven to 350°F. Line an 8x8 inch baking pan with foil and spray with nonstick cooking spray. In a large microwave-safe bowl, combine 1 cup chocolate chips, butter and unsweetened chocolate. Heat in the microwave for one minute and then stir. Continue heating in 30 second bursts, stirring between each burst, until the mixture is melted and smooth but not scorched. Remove from the microwave and let cool slightly.
In a large bowl, use an electric mixer to beat the eggs and sugar on medium-high speed until light and thick, for about 3 minutes. Beat in the vanilla extract. Stir in the cooled chocolate mixture with a rubber spatula.
Add the flour and salt, folding gently until well combined. Pour half of the batter into the prepared baking pan. Bake for 10 minutes.
Sprinkle with the remaining cup of chocolate chips and pour the sweetened condensed milk over the top. Pour the remaining batter over. Return to oven and bake for about 35 mins, or until a tester comes out with moist crumbs still attached. Do not over bake. Let cool to room temperature and then place in the fridge to chill. The brownies are easiest to cut when chilled and can be served chilled, at room temperature, or warmed in the microwave.
Chef Bhakti Kudalkar is an assistant professor (Food Production and Patisseire) at ITM Institute of Hotel Management.