Time to ditch Easter eggs and bunnies for some new, delicious treats!

Dhawal Shah, Chief Patissier, The Dessert Street, shares his secret recipes.
---
White Chocolate Fruit Tart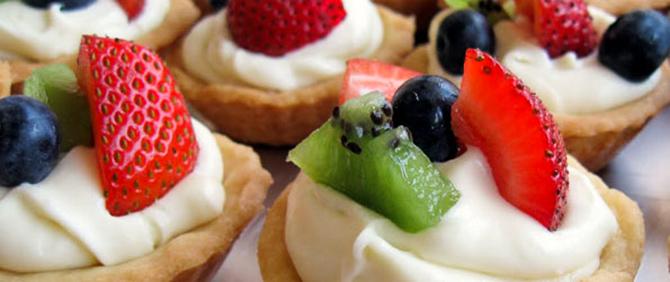 Ingredients:
530 gm butter, softened
350 gm confectioners sugar
1050 gm flour
850 gm couverture white chocolate
175 gm whipping cream
680 gm cream cheese, softened
Method:
Heat oven to 300°F.
Beat butter and sugar until light and fluffy. Blend in flour.
Press the mixture onto the bottom and up the side of a 12 inch round pizza pan.
Bake for 20-25 minutes or until just lightly brown.
Cool completely. Carefully melt the vanilla or white chocolate chips and the cream either carefully on the stove on very low, stirring constantly, or in the microwave.
Beat in the cream cheese.
When crust is cool, pour on the melted chocolate/cheese mixture, spreading evenly.
Cover with plastic wrap and chill until ready to serve, at least 3 hours.
Slice the fruit of your choice and place on the tart.
---
Easy Lemon Loaf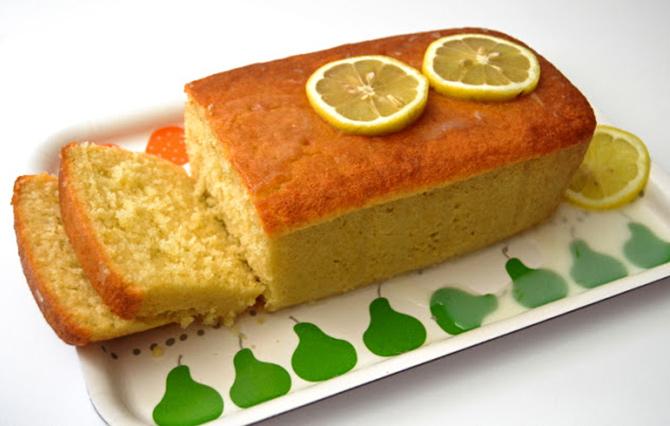 Ingredients:
120 gm butter, melted
230 gm sugar
2 eggs, well beaten
15 gm lemon juice
2 gm salt
355 gm flour
5 gm baking powder
120 gm milk
Ingredients for the soaking syrup:
80 gm lemon juice
60 gm sugar
Method:
Mix together sugar and butter.
Add eggs and 1 tbsp of lemon juice; mix well.
Add salt, flour, and baking powder to mixture. Add milk.
Bake at 325°F in a well greased loaf pan for one hour, or until golden brown. Mix lemon juice and sugar.
Use a toothpick to make holes in top of cake and drizzle lemon juice and sugar mixture over the top of the cake when removed from the oven. Serve warm or cool.
---
Rolled Sugar Cookies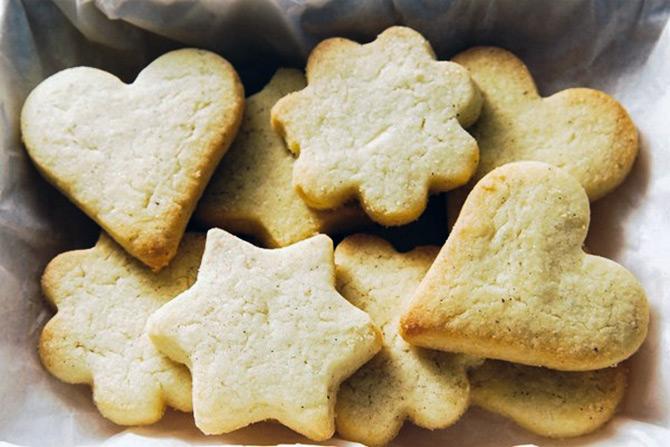 Ingredients:
75 gm butter, softened
75 gm white sugar
1 egg
5 gm vanilla extract
125 gm all-purpose flour
2.5 gm baking powder
1 gm salt
Method:
In a large bowl, cream together butter and sugar until smooth. Beat in eggs and vanilla.
Sift the flour, baking powder and salt together. Mix it with the above mixture. Cover, and chill dough for at least one hour.
Preheat oven to 200 degrees.
Roll out dough on floured surface to a 1/2 inch thickness. Cut into shapes with any Easter cookie cutter. Place cookies on parchment paper.
Bake 6 to 8 minutes in preheated oven. Cool completely.
---
Easter Carrot Cake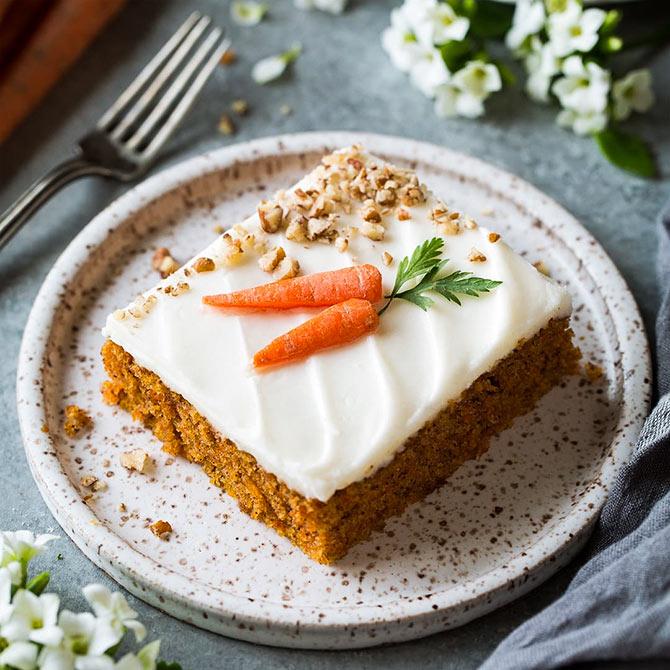 Ingredients:
250 gm butter, melted
4 eggs
1 tsp vanilla extract
225 gm light brown sugar
200 gm carrots, coarsely grated
280 gm flour
2 tsp baking powder
1 tsp cinnamon
1 tsp ground ginger
1/2 tsp nutmeg powder
For the frosting:
40 gm butter, softened
100 gm cream cheese
175 gm icing sugar
Method:
Grease and line the base of an 8 inch cake tin.
In a large bowl combine the melted butter, eggs, vanilla and brown sugar.
Stir in the grated carrot followed by the flour, baking powder and spices and mix until even.
Transfer to the prepared tin and bake in the oven for 55 minutes until springy to the touch and a skewer when inserted comes away clean.
Transfer to a wire rack and allow to cool completely.
To make the frosting beat together the butter and cream cheese, add the icing sugar and beat well. Spread over the top of the cake and scatter over the chopped pistachios.
---
Lemon Pudding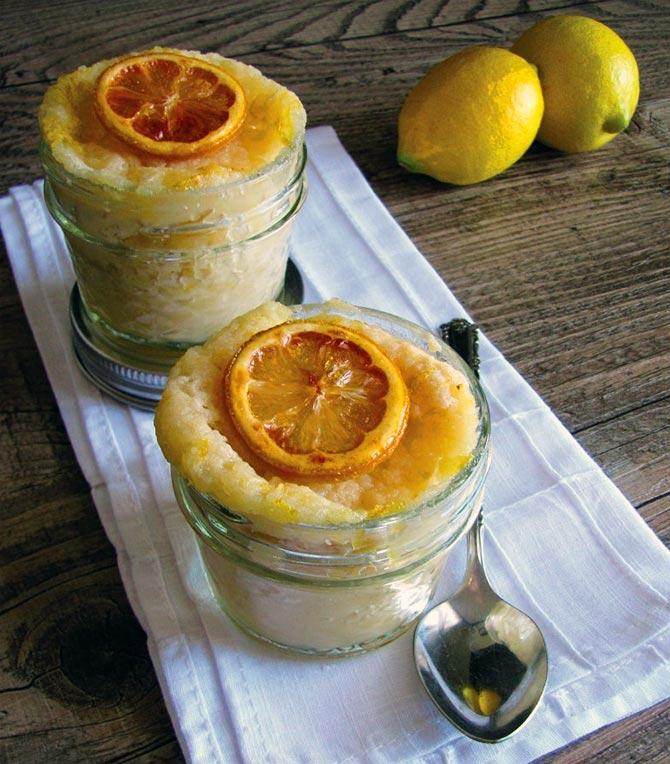 Ingredients:
50 gm unsalted butter, at room temperature
180 gm granulated sugar
3 large eggs, separated
70 gm all-purpose flour
165 gm milk
70 gm fresh lemon juice
Method:
Heat oven to 175°C and grease a 8 inch cake tin/baking dish.
Using electric mixer, beat butter, granulated sugar and egg yolks in large bowl until light and fluffy, about 3 minutes. Add flour and mix to combine.
Reduce mixer speed to low and mix in milk and lemon juice (batter may look curdled).
In second bowl, with clean beaters, beat egg whites until stiff peaks form, 3 minutes. Stir one-third of whites into lemon mixture, then fold in remaining whites until combined.
Transfer mixture to prepared baking dish and place dish in roasting pan. Add enough boiling water to roasting pan to come one-third of the way up baking dish.
Transfer roasting pan to oven and bake until light golden brown, 35 to 40 minutes.
If desired, place a bunny cutout on top of cake, then dust with confectioners' sugar. Carefully lift away template and serve.