Thanksgiving is here! If you'd like to celebrate the day with something special, Vibhav Verma, Executive Chef, Grand Mercure Bangalore has two popular recipes to share with you.
Oven-roasted Turkey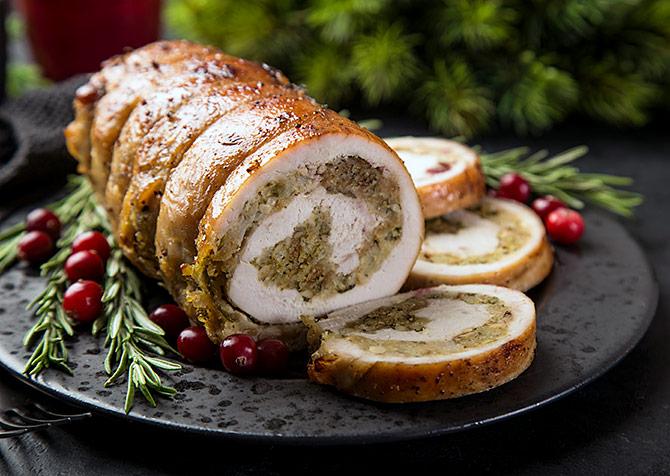 Ingredients:
Dry fruits for the stuffing:
100 gm prunes
100 gm apricot
50 gm pistachio
1 kg chicken
Salt to taste
Pepper to taste
Thyme for flavoring
For the turkey marination:
1 tbsp Dijon mustard
1 tbsp HP sauce
1 tbsp smoked paprika
1½ tsp garlic powder
1½ tsp onion powder
1 tsp dried thyme
Kosher salt and freshly ground black pepper
Whole turkey, giblets removed, washed and dried
Extra-virgin olive oil, for drizzling
Fresh thyme, for garnish
Method:
Mix the Dijon mustard, HP sauce, smoked paprika, garlic powder, onion powder, dried thyme, 1 tbsp salt and 1½ tsp black pepper in a bowl.
Sprinkle some of the spice rub inside the cavity of the turkey.
Separate the skin from the breast meat with your fingers,
Massage some of the rub onto the meat under the skin and then stuff with chicken and dry fruits mix.
Sprinkle the remaining rub on the turkey's skin. Place the turkey on a sheet tray and cover with silver foil. Refrigerate overnight or up to 24 hours so the flavors get immersed.
Tie the legs together and tuck the wing tips under. Place the turkey in a roasting pan. Drizzle the outside of the turkey with a few tbsp of olive oil and sprinkle salt and pepper.
Roast the turkey about 3 hours for 120°degrees. Transfer the turkey to a platter, cover loosely with foil and let rest 30 minutes before carving.\
---
Cranberry Tart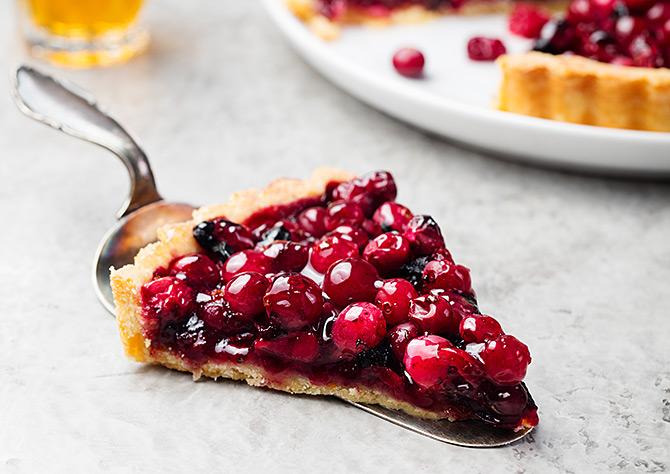 Ingredients:
For the crust:
2 tbsp butter
1 tsp pure vanilla extract
150 gm all-purpose flour
40 gm sugar
2 tsp lemon zest
1 tsp salt
For the filling:
1 leaf gelatin
400 gm fresh cranberries
100 gm castor sugar
50 gm orange marmalade
1 tsp orange zest
100 gm cream
Candied orange zest
Method:
For the crust:
Mix butter and vanilla in a bowl. Combine all-purpose flour, sugar, lemon zest and salt in a mixing bowl. Mix until well combined.
Roll out the crust dough and line the tart shell with the dough. Refrigerate for two hours.
Preheat oven to 350°F. Bake crust until golden brown for 20 to 25 minutes. Cool completely.
For the filling and assembly:
Place 1/3 cup of cold water in a bowl; sprinkle gelatin on the top. Combine cranberries, sugar, marmalade and orange zest in a medium saucepan. Cook over medium heat, stirring occasionally, until the mixture thickens slightly and the cranberries have softened and some have burst, for 8 to 9 minutes.
Stir in the gelatin mixture and cool for 2 hours. Spread the mixture on the crust. Cover and refrigerate until set, for at least 2 hours.
Whisk cream with an electric mixer on medium speed until soft peaks form. Serve tart with whipped cream and orange zest (optional).