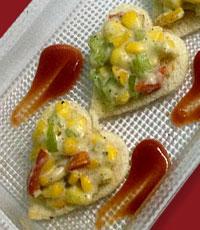 Reshma Aslam shares some quick-and-easy recipes for you to try. You can share your recipes too!
The next time you are hungry, don't order from a restaurant.
Instead, whip up a delicious meal for yourself in just five minutes.
Here are the recipes that'll save your day:
Tangy Pineapple Salad
Photograph: Kind Courtesy Reshma Aslam
Ingredients
2 cups pineapple (chopped)
1/4 cup red bell pepper
1/4 cup yellow bell pepper
1/2 cup avocado (chopped)
5 to 6 almonds (chopped)
1 tbsp lemon juice
1/2 tsp black pepper powder
1 tsp rock salt
Few mint leaves for garnish
Method
In a big mixing bowl, add chopped pineapple.
Add red and yellow bell peppers along with avocados. Mix well.
Add lemon juice, black pepper powder and chopped almonds.
Garnish with fresh chopped mint leaves.
Serve.
---
Cheese Corn Toast
Photograph: Kind Courtesy Reshma Aslam
Ingredients
1/2 cup corn kernels (boiled)
6 to 7 slices of bread
1 tbsp butter
1 tbsp all purpose flour
1/4 cup capsicum (chopped)
1/4 cup tomatoes
2 cubes of cheese (grated)
1 tsp pepper powder
1 tsp mixed herbs
1/2 cup milk
Salt to taste (optional)
Method
For white sauce
Heat butter in a frying pan.
Add all purpose flour and fry till golden brown.
Add milk and keep stirring continuously so that no lumps are formed.
When the flour gets a bit thick, add cheese. Mix well.
Add capsicum, corn and tomatoes. Turn off the gas.
Add pepper powder and salt if needed.
White sauce is ready. Keep aside.
To assemble
Place the bread slices on an oven tray. Bake for three minutes.
Put a layer of white sauce on the slices. Bake again for two to three minutes.
Once done, remove the slices from the over and sprinkle mixed herbs on it.
Serve hot.
---
Potato Wafers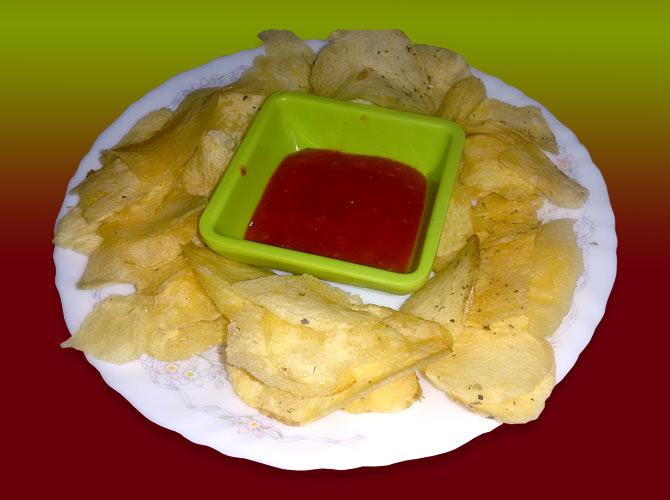 Photograph: Kind Courtesy Reshma Aslam
Ingredients
2 large potatoes
Oil for frying
Salt, pepper and mixed herbs for seasoning
Method
Peel the potatoes and slice them.
Put them in cold water. Rinse thrice and drain the water.
Place the slices on a tissue paper in order to soak the remaining water.
Heat oil in a pan, add potato slices and fry.
Remove when golden brown.
Season with salt, pepper and mixed herbs.
Serve with sauce of your choice.
---
Watermelon and Feta Cheese Salad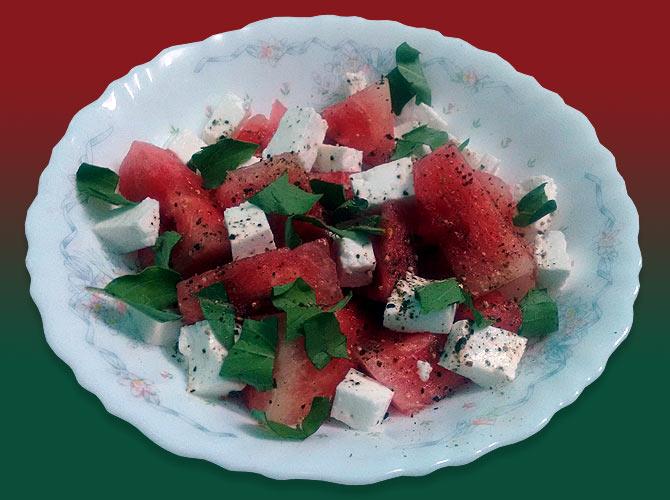 Photograph: Kind Courtesy Reshma Aslam
Ingredients
1 medium sized watermelon
2 tbsp lemon juice
2 tsp black pepper powder
1 cup feta cheese (grated)
Few fresh basil and mint leaves (chopped)
Salt as per taste
Method
Cut watermelon into small cubes.
Try and remove maximum seeds. Once done, put the pieces in a big mixing bowl.
Add lemon juice, black pepper powder and salt. Mix well.
Add basil and mint leaves along with grated feta cheese.
Serve chilled
---
Gooey Chocolate Bread Pudding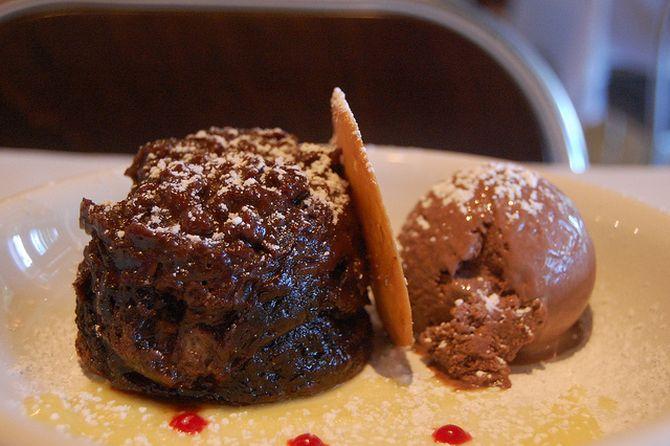 Photograph: stu_spivack/Creative Commons
Ingredients
1 slice of bread
2 tbsp sugar
1 egg
1 piece of dark chocolate (finely cut)
A bit of butter
Chocolate sauce (optional)
1 scoop of ice cream (optional)
Method
Apply butter on the bread slice and cut it into small cubes.
Take a microwave safe mug and place the bread slices in it.
Pour chocolate pieces in between wherever there are gaps in the mug.
In a separate bowl, beat egg with sugar.
Add it to the contents in the mug. Heat it for two minutes in the microwave.
Garnish with chocolate sauce.
Serve hot.
You can also serve with a scoop of any type of ice cream.
Note: When you heat all the contents -- bread slices, chocolate pieces and egg -- together in the microwave, the time may be vary according to the your microwave settings.
ALSO READ
Cooking light: Quick-n-easy chicken salad recipe
Party recipes: Quick and easy paneer starters
Click here for interesting recipes and food features
Do you have interesting summer recipes to share?
Write in to us at getahead@rediff.co.in (subject: Summer Recipe) with your name, hometown and any interesting details about the origin of the recipe, along with a photograph if possible.
We'll publish the best preparations right here on Rediff.com and in India Abroad.