These yummy recipes can satisfy your cravings between meals.
A healthy snack can help you keep your urges in check while keeping your tummy full.
It can also be a good mood lifter.
All recipes by chef Deepak Bhandari, executive chef, Elior India
Naan Veggie Pizza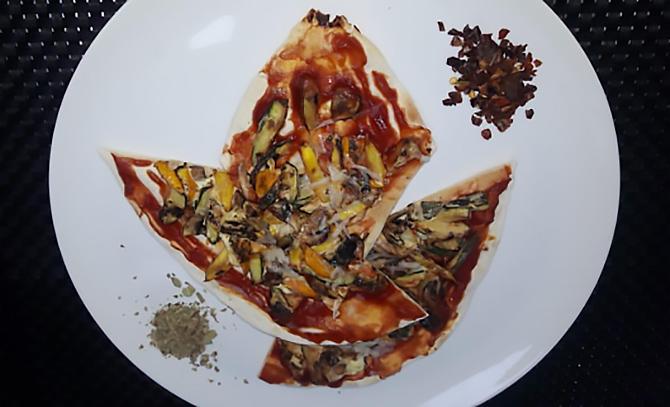 Serves: 2
Preparation time: 20 minutes
Cooking time: 15 minutes
Ingredients
2 loaves of naan bread
1/4 cup of olive oil, divided, or as needed
1 cup of fresh mushrooms, sliced
1 tomato, chopped
1 bell pepper, sliced
1 small red onion, chopped
1 tbsp chopped fresh basil, or to taste (optional)
1 tbsp chopped fresh oregano, or to taste (optional)
1/2 tsp red pepper flakes, or to taste (optional)
1 tbsp finely minced garlic
3 cups shredded mozzarella cheese
Method
Preheat oven to 375 degrees F (190 degrees C).
Place the naans on baking sheets and brush with olive oil.
Bake the naans in the preheated oven until lightly toasted for 5 to 10 minutes.
Stir the mushrooms, tomato, bell pepper, red onion, basil, oregano, and red pepper flakes together in a bowl.
Fold the garlic and add 1 tbsp olive oil into the vegetable mixture.
Spread the mozzarella cheese on each side of the naans; top with the vegetable mixture.
Bake the pizzas in the oven until the cheese is melted and vegetables are cooked through for 10 to 15 minutes.
Nutrition: (Amount per serving)
Calories: 968
Total Fat: 57.6 g
Cholesterol: 118 mg
Sodium: 1369 mg
Total Carbohydrate: 60.8 g
Protein: 54.5 g
Raw Mango Hummus with Soup Stick and Grilled Pita Bread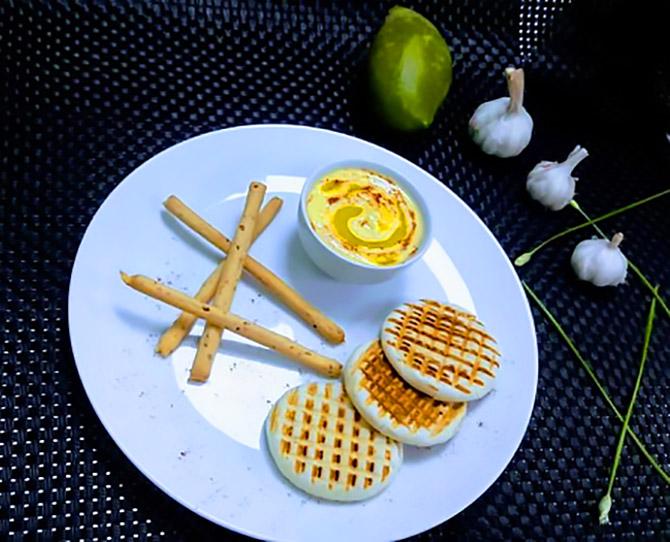 Serves: 2
Preparation time: 5 minutes
Cooking time: 10 minutes
Ingredients
3/4 cup chickpeas
1 tbsp tahini paste
1 raw mango
1/4 cup + 1 tsp olive oil
1/2 cup of water (reserved after cooking the chickpeas)
2 cloves of garlic
1 tbsp lemon juice
Salt to taste
1 tsp + 1/8 tsp of paprika or chilli powder
1 sprig of parsley
3 pita bread
4-5 soup sticks
Method
Blend the chickpeas and mango using a food processor with olive oil.
Add tahini paste, olive oil, garlic and lemon juice and blend it well until you obtain a smooth mixture.
Add some salt to taste.
Take a serving bowl and pour the mango hummus into the bowl.
Sprinkle with paprika powder and one sprig of parsley.
Garnish and serve chilled with grilled pita bread and soup sticks.
Nutrition: (Amount per serving)
Serving size - 1 big bowl
Calories - 600 cal
Fat - 252 g
Protein - 119 g
Veg Wheat Momos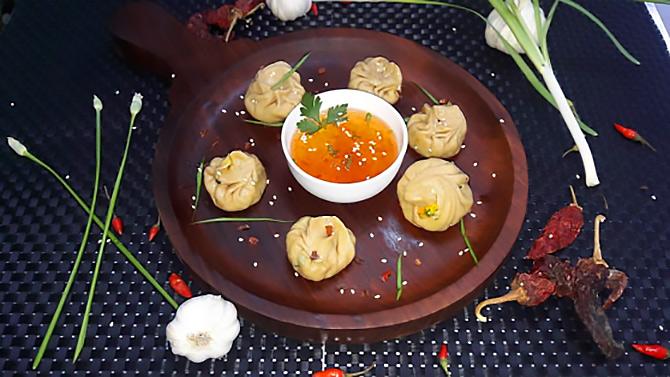 Serves: 2
Preparation time: 30 minutes
Cooking time: 30 minutes
Ingredients
2 cups of wheat flour
2 tsp oil
Salt to taste
Water as required (to knead)
2 teaspoons of oil
2 cloves of garlic (finely chopped)
1 onion (finely chopped)
2 cups of cabbage (shredded)
1 carrot (grated)
1 tbsp vinegar
½ tsp pepper (crushed)
1 tbsp soy sauce
1 tbsp chilli sauce
Salt to taste
Method
Prepare the dough and rest it for 30 minutes.
In a large kadhai, heat the oil and saute in the 2 garlic cloves.
Saute 1 onion.
Furthermore, add in 2 cups cabbage and 1 carrot, saute slightly.
Add in 1 tbsp vinegar, 1 tbsp soy sauce, 1 tbsp chilli sauce, ½ tsp pepper and salt to taste.
Mix well and the stuffing is ready.
After an hour, take the prepared momo dough and knead well again for a minute.
Pinch a small ball and flatten.
Dust with some wheat flour and start to roll using a rolling pin.
Roll to a medium thin circle, roughly 4 – 5 inches in diameter.
Place a heaped tbsp prepared stuffing in the centre.
Start pleating the dough, forming a momo.
Steam the momos for 10-12 minutes.
Serve with sauce of your choice.