Reader Tanu Pathak shares this recipe of an unusual yet very sumptuous starter or snacks for Diwali.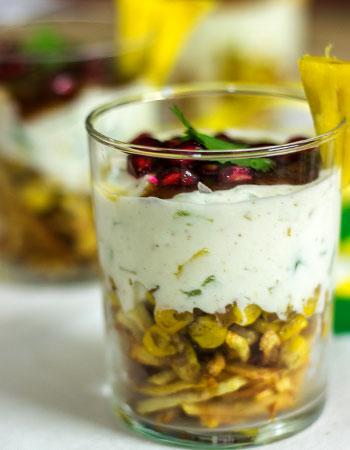 Ingredients
For Potato Crisps
3 big potatoes
Oil for Frying
For Corn Masala
100 gms sweet corn
Few sprigs of fresh coriander
2 tsp chaat masala
Black salt for taste
1 tbsp finely chopped ginger
1/4 tsp red chilli powder
1 onion (finely chopped)
Juice of lemons (adjust it as per your taste)
Oil
For Pineapple & Cucumber Dip
1 small sized cucumber (Peeled and finely cut)
3-4 slices of pineapple (cut into small sizes)
1-1/2 cup curd (not watery at all)
2 finely chopped green chillies
Finely chopped coriander leaves
2 tsp sugar
Black salt for taste
2 tsp of roasted cumin powder
6-7 fresh mint leaves (crushed in mortar & pestle)
Green Chutney
1 cup coriander leaves
1/2 cup mint leaves
2 or 3 (If you like it to be spicier, you may add more) Green chillies
1/2 tsp cumin seeds
Salt to taste
Juice of 1 lemon
Sonth (Tamarind Chutney)
2 cup tamarind pulp (soak dried tamarind overnight in water and then mash it next day and pass the fluid through a seive to get the pulp)
2 tbsp roasted cumin seeds powder
1 tsp red chili powder
1 cup sugar or as required - adjust as per your taste
Rock salt or black salt as required
1/4 cup kishmish
Handful of ginger cut into julienne
For Garnish
Pomegranate seeds
Coriander leaves
Pineapple wedge for decoration
Method
For Potato Crisps
1. Peel the potatoes and cut them lengthwise into thin rectangular stripes
2. Rinse the potato juliennes under run water very vigorously.
3. Soak them in cold water for sometime.
4. In the mean time, heat oil in a wok.
5. While the oil is getting hot, drain the potatoes and remove the excessive moisture by patting them well with a dry kitchen towel.
6. Now simmer the flame and add the potatoes in batches.
7. Keep the flame on medium now and constantly monitor the potatoes.
8. Once they appear crisp and light brown in color, with the help of a slotted spoon, seive them out of the oil and put on a napkin.
For Corn Masala
1. Place a griddle pan on a medium-high heat and add 1 tbsp oil.
2. Once hot, carefully add the ginger and saute well.
3. Now add some finely chopped onions.
NOTE: You do not have to roast ginger and onion. Just saute till the point they smell aromatic.
4. Now add corn to the mix.
5. Add chaat masala, black salt, red chill powder and toss well.
6. Lid the griddle for 2-3 minutes allowing the flavors to completely seep into corn kernels.
7. Unlid after 3 minutes and squeeze in lemon juice and stir thoroughly and add chopped coriander
8. Transfer to a bowl and allow it to cool.
For Pineapple & Cucumber Dip
1. Whisk curd in a bowl ensuring its smooth and has no lumps
2. Add chopped cucumber, chopped pineapple, green chillies, black salt, sugar, roasted cumin powder, and chopped coriander leaves.
3. Now add freshly crushed mint leaves and whisk thoroughly.
4. If you feel the dip is too thick add milk. But ensure it does not have thin consistency
5. Refrigerate for sometime.
Green Chutney
Blend all the ingredients mentioned for green chutney and squeeze in the lemon juice once all has blended well.
Sonth or Tamarind Chutney
1. Place a wok on the gas stove and let it warm up.
2. Pour in the tamarind pulp in the wok and let it come to a boil.
3. Bring down the flame to medium and now add roasted cumin seeds powder, sugar, ginger julienne, red chilli powder and kishmish and salt as per taste.
NOTE: The tamarind pulp will reduce in quantity so add the spices accordingly
4. Stir continuously and would observe the mixture would start to thicken
5. When cooled, store the saunth chutney in an air-tight dry jar or container. refrigerate and serve the sonth chutney whenever required with chaat or snacks.
Final assembling of the chaat
1. Grab a glass (small in height wold be the best, a V shaped glass or a martini glass would work wonders)
2. Place the fried potato crisps at the bottom of the glass covering 1/3 of the space.
3. To the next layer add the corn masala covering 1 inch of length.
4. Now spoon in a big dollops of cucumber pineapple dip and spread properly till the circumference covering the remaining space.
NOTE: Just ensure that you do not over load till the rim else while eating. Leave a few cm below the rim to allow you to mix while eating else it would create a mess when you dig into it.
5. To this concoction, add the the green chutney, sonth and sprinkle some pomegranate seeds.
6. Place a coriander leaf at the center and arrange a triangular shaped pineapple wedge on the rim of the glass.
Serve it immediately coz else it will become soggy.
Image courtesy: Tanu Pathak
ALSO SEE