Relish these yummilicious baby potatoes cooked in tamarind and jaggery.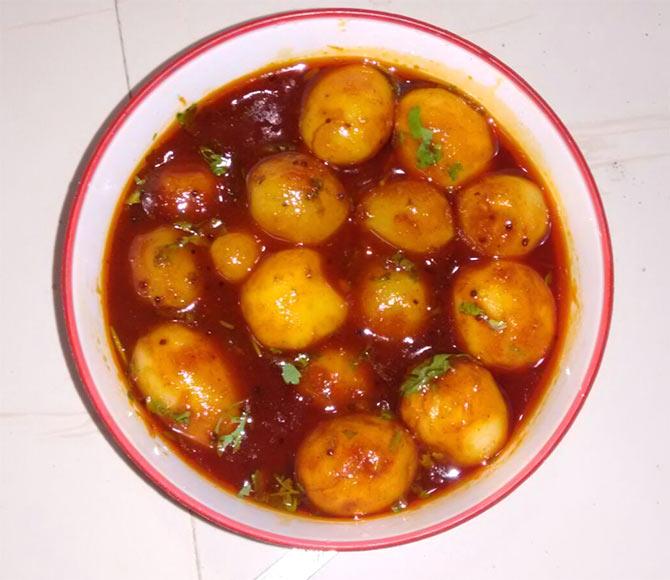 Ingredients
½ kg baby potatoes, boiled and peeled
15 gm tamarind
15 gm jaggery
2 tbsp red chilli powder
1 tsp mustard seeds
¼ cup coriander leaves, chopped
1 cup water
2 tbsp oil
Salt to taste
Method
Boil tamarind and jaggery in ½ cup water for 5 to 6 minutes.
Let it cool before grinding mixture in to a smooth pulp.
Heat oil in a kadai. Add mustard seeds.
When it starts to crackle, add tamarind and jaggery pulp. Mix well.
Add chilli powder and salt. Let it simmer for 5 minutes.
When the mixture thickens, add baby potatoes. Mix well. Cook for a few minutes.
Garnish with coriander leaves. Mix and serve hot.
Photograph: Reshma Aslam
ALSO SEE
> More recipes and food features here
Want to share your favourite recipe? Simply e-mail your recipes to getahead@rediff.co.in (subject line: My Fav Recipe) with your name, hometown and any interesting details about the origin of the recipe, along with a photograph of the recipe, if possible. We'll publish the best preparations right here on Rediff.com and India Abroad.