Mumbai-based Ramapriya Suresh shows us how to make this tempting Indian snack! You may share your recipes too!
Photograph and video: Vignesh S Moopanar/Ammu's Kitchen
Katori Chaat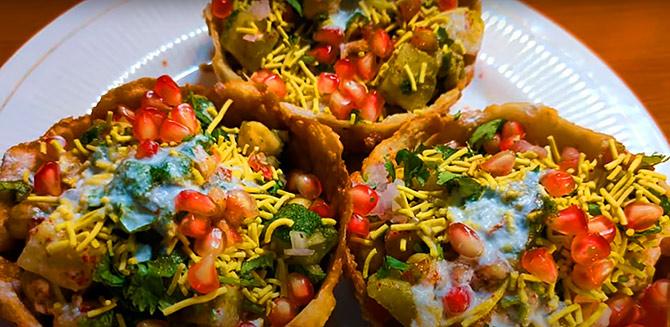 Ingredients
100 gm chikpeas (kabuli chana) soaked overnight
150 ml curd
1 cup maida
1 onion chopped
Raw mango
2 boiled potato
4 tbsp oil
Green chutney
Tamarind chutney
For garnish
1/2 cup chopped coriander
Sev
1/2 cup pomegranate
For green chutney
1 cup coriander leaves
3 to 4 green chillies
A small piece of ginger
Juice of one lemon
Salt
For tamarind chutney
1 cup tamarind pulp
20 gm jaggery
1 tsp red chilli powder
1 tsp cumin power
Method
For green chutney
Put all ingredients in a jar. Add water and blend it well.
For tamarind chutney
In a vessel, heat one cup of tamarind pulp.
Add jaggery and mix well to avoid lumps. Bring it to a boil.
Add red chilli powder and cumin powder and stir well.
Once it bubbles, turn off heat and allow it to cool.
To make katori
Mix maida, oil, salt and water to make a dough. Allow it to set for 10 minutes.
Make 3 or 4 balls from the dough.
Roll it to flatten a bit. Make some holes using a fork.
Take a small katori or cup of your choice. Apply some oil and coat it from the outside with flattened dough. Pinch off the excess.
Heat oil in a kadhai and slowly dip the katori in oil to deep fry it.
Soon, the katori will dry up, allowing you to remove the bowl. Now turn it upside down and fry it on both sides.
For stuffing
In a bowl, add chickpeas, potato, onion, tomato, chopped raw mango, coriander leaves, chilli powder, black salt, cumin powder, green and tamarind chutney.
Add some curd and mix well.
To plate katori chaat
Fill katoris with the mix, add chopped onions, tomatoes, green chutney, tamarind chutney, curd.
Garnish with fresh coriander, pomegrante and sev.
Watch the video below to see how to make Katori Chaat: