Doha-based homemaker Kajal Saini puts together an alluring dessert that both kids and adults will love.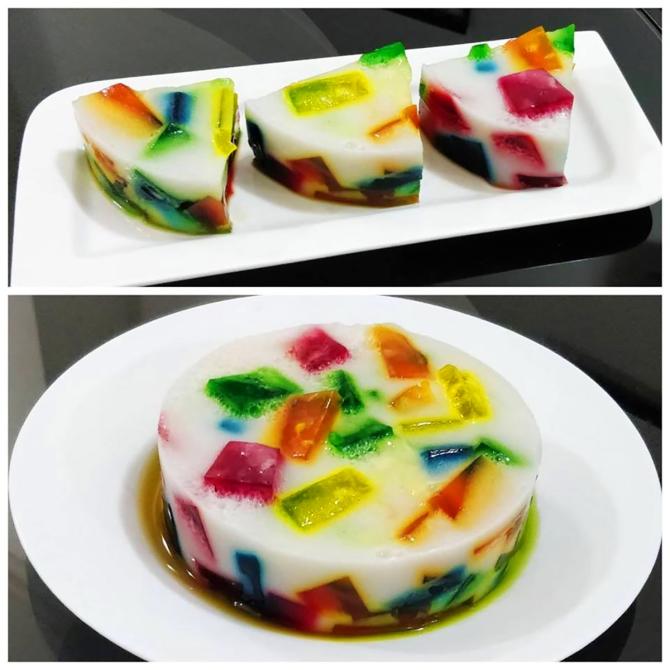 Colourful Jello Pudding
Serves: 3-4
Ingredients
For the jelly
2-3 drops of red food colour
2-3 drops of yellow food colour
2-3 drops of green food colour
6 cups water, 2 cups per colour
3 tsp flavoured gelatine, 1 tsp per colour (please see the note below)
6 tsp sugar, 3 tbsp sugar per colour
3 small plastic/glass containers to refrigerate the jellies
For the pudding
3 cups water
1 cup sweetened condensed milk
1 cup heavy or full-cream milk
2 tbsp or 6 tsp gelatine powder (please see the note below)
1 large jello mould
Method
To make the jellies
Boil 2 cups water in a pan.
Add 1 tsp of the gelatine, yellow food colouring, 2-3 tbsp sugar.
Mix well.
When the sugar dissolves, take off heat.
Allow the mixture to cool a bit before pouring into one of the plastic/glass containers.
Repeat for the red and green-coloured jellies and refrigerate all three containers for 2-4 hours until the jellies sets.
Take the jellies out from the containers and, using a knife, cut small squares, hearts, or any shape preferred.
Set aside.
To make the pudding
In a pan, heat the 3 cups of water.
Add the condensed milk, gelatine powder and keep stirring for 3-5 minutes until well-combined.
Cool the pudding.
Assembly
In the large jello mould, place a few pieces of cut jellies.
Pour a small layer of the pudding over the cut jellies.
Repeat the process with the remaining jellies and pudding.
Try and place the jellies towards the edge of the mould or on top so they are instantly visible when plating.
Refrigerate for 2-4 hours.
To plate, place a tray on top of the mould and turn it over.
Gently tap and slowly take off the mould.
Serve chilled.
Note: Vegetarians can use a gelatine substitute like agar-agar. Each gm or tsp of gelatine can be substituted for an equivalent amount of agar agar -- substitution is in a 1:1 ratio.