Celebrity chef Rakhee Vaswani shares an easy-to-make appetiser recipe.
Here's a creamy, tasty dish with mushrooms that you must try.
Take a look!
Makai Saag Baked Mushroom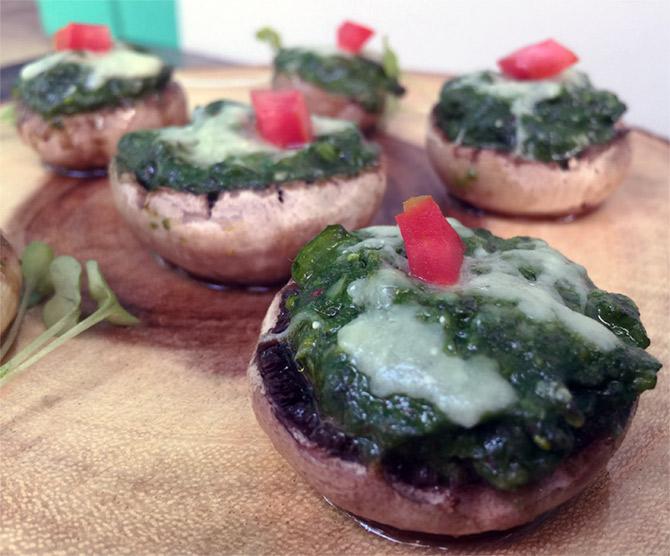 IMAGE: Makai Saag baked Mushroom by chef Rakhee Vaswani.
Photograph: Kind courtesy Palate Culinary Studio
Ingredients
4 to 5 palak leaves
2 to 3 bhatua leaves
5 to 6 sarson leaves
1/2 tsp garlic, minced
1/2 tsp ginger, minced
1 tbsp onion, minced
1 tbsp tomato, chopped
1 green chilli, minced
2 to 3 tbsp butter
2 tbsp maize flour
1/4 cup milk
1/2 tsp red chilli powder
A pinch of turmeric powder
1 tsp coriander powder
5 to 6 mushrooms
10 gm white cheddar cheese
Method
Blanch all the three leafy vegetables and keep in cold water. Blend into a puree.
Heat oil in a pan. Saute butter and garlic.
Add onions and saute until they turn golden.
Add minced ginger, green chilli, maize flour, season with salt, red chilli powder, turmeric and coriander powder. Stir for a minute.
Add some milk followed by the vegetable puree. Cook for a minute.
Once done, set aside the prepared saag.
Clean the mushrooms, remove the stem, brush with butter inside out and fill them with the saag.
Top it with white cheddar cheese.
Gratinate in the oven for 5 to 10 minutes in a preheated oven at 180 degree Celcius.
Dear readers, you can send us your favourite recipes too.
Write in to us at getahead@rediff.co.in (subject: Recipe) with your name, hometown and any interesting details about the origin of the recipe, along with a photograph if possible.
We'll publish the best preparations right here on Rediff.com.