A Bihari-style unusual Lauki Raita from Rediff.com reader Arpna Anand.
This hot weather cooler is mildly spiced with chillies and flavoured with ginger, black salt and roasted cumin powder.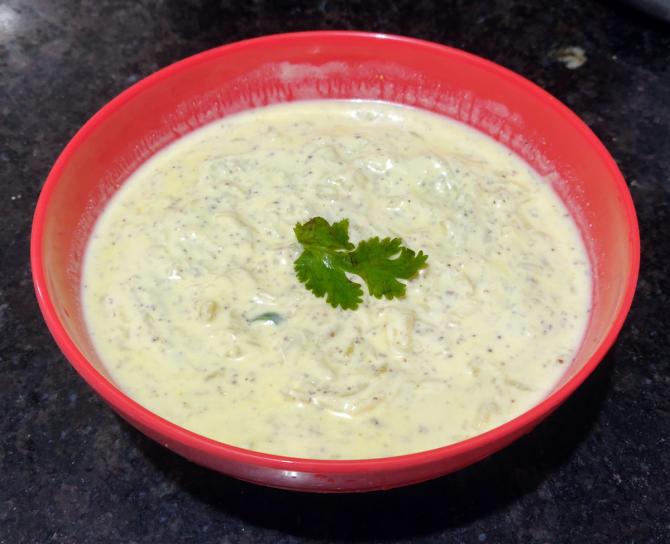 Lauki Raita
Serves: 4-5
Ingredients
1 small lauki or bottle gourd
3-4 cups hung curd or yoghurt
2-3 tsp kachhi ghani or mustard oil
½ tsp black salt
½ tsp bhuna or roasted jeera or cumin powder
½ tsp haldi or turmeric powder
Salt as per taste
2 tsp black rai or mustard seeds, made into a paste (please see the note below)
2 -3 green chillies, grated
1 tsp grated ginger
A few leaves green dhania or coriander or cilantro for garnish
Method
Wash, peel and grate the bottle gourd.
You can discard the seeds and the too spongy flesh in the centre attached to the seeds.
Use a thicker blade for grating.
Boil the grated bottle gourd in a little water in a heavy-bottomed saucepan over medium heat for 5-10 minutes.
Once it boils, take off heat and cool.
Squeeze the excess water from the cooked bottle gourd and transfer into a bowl.
Add the hung curd and whisk.
Add the mustard oil, black salt, regular salt, jeera powder, turmeric, grated green chillies, ginger, mustard seed paste and mix well.
Add a little water if required.
Refrigerate for at least for 30 minutes and serve chilled, garnished with a few leaves of dhania, with rice, roti and dal.
NOTE: Grind mustard seeds with a little water to make a smooth and thick paste.
Do you have the recipe for a dish from any part of India to share?
Please mail your recipes to getahead@rediff.co.in with the subject line 'Indian recipes'.
And don't forget to add your name, location, and photos, if possible, of you as also the recipe.
We'll publish the best ones on Rediff.com