Food blogger and Rediff reader Meera S shares this recipe of Kaju ni Puri.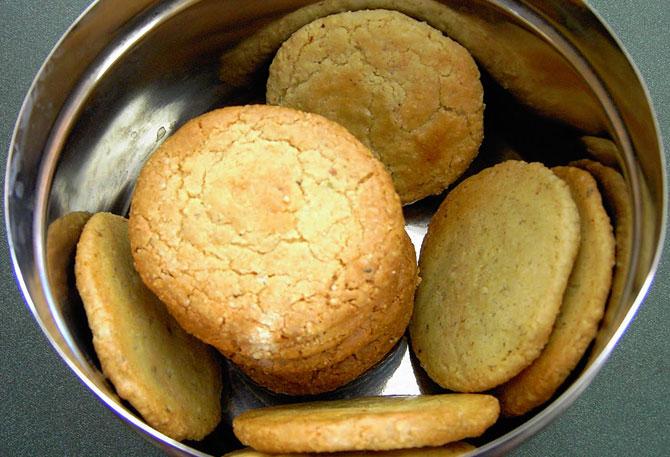 Kaju ni Puri - (18 pieces)
Butterless, Flourless Cashew Cookies
Ingredients
2 cups raw, unsalted cashews, powdered
1 cup powdered sugar
5 cardamoms, peeled & powdered
1/4 tsp saffron threads
3 tbsp milk (use as needed)
Method
1. Preheat oven 350 F
2. Powder the cashews without turning them into butter.
3. Take the cashew powder in a deep, big plate. Add sugar, cardamom powder, saffron threads. Using milk as needed - just a spoonful at a time, knead to a dough.
4. Make 18 or so balls. Flatten them with your hand like small puries as shown below
5. Bake on a cookie sheet for 15 minutes.
6. Let the cookies cool down. Store in an airtight container.
Note -
1. Since cashews or all nuts have oil, it helps to bind the dough. So use milk very carefully.
2. Use a nonstick aluminum foil for baking.
3. Depending on the size of the puris, the count will vary. I got 18 puris or cookies from this recipe. Remember to make small puris as they expand after baking.
4. You can crush the cardamom seeds coarsely instead of powdering.
Image courtesy: Meera S
ALSO SEE