Food blogger Koushik Maji sent us this detailed recipe for egg biryani.
You can share your recipes and videos too!
Egg Biryani
Recipe and photograph: Courtesy Koushik Maji/Recipes of Home
We all know biryani is every Indian's favourite dish.
But few people know how to cook it well at home.
I am sharing this simple and super delicious biryani recipe for beginners.
Preparation Time: 15 minutes
Cook Time: 1 hour 10 minutes
Serves: 4
Ingredients
For egg masala
5 to 6 boiled eggs
4 to 5 tbsp oil
3 to 4 medium-size sliced onions
2 to 3 medium-size chopped tomatoes
1 bay leaf
2 to 3 green cardamom
3 to 4 cloves
2-inch cinnamon
1 black cardamom
2 tsp cumin seed
1 tbsp ginger garlic paste
1/4 tsp turmeric powder
1 tsp Kashmiri red chili powder
2 tsp biryani masala
4 to 5 tbsp curd (sweet one)
Salt to taste
3 to 4 tbsp coriander
2 to 3 tbsp mint leaves
For cooking rice
400 gm basmati rice
2 litres water
2 tbsp salt
4-5 green cardamom
3 to 4 cloves
1 black cardamom
2-inch cinnamon
1 tbsp cumin seed
1 mace
1 tbsp rose water (optional)
1 tbsp kewra water (optional)

For cooking biryani
3 to 4 tbsp oil or desi ghee
50 ml hot milk
8 to 10 saffron or Kesar
1 tbsp rose water
1 tbsp kewra water
Method
Wash and soak rice for up to 30 minutes.
Boil eggs and potatoes. Alongside, make saffron milk by adding 50 ml hot milk with 8 to 10 strands of saffron. Set aside until milk turns white to yellow.
Pour oil in a pan and add sliced onions.
Fry them in medium flame till they turn completely golden brown. Remove and drain the excess oil in kitchen tissue.
To make egg masala add 5 to 6 tbsp oil in a pan.
Add whole spices and saute on medium flame.
Add 1 tbsp ginger-garlic paste and saute in medium flame until raw smell completely disappears.
Add 2-3 chopped tomatoes, turmeric, salt, Kashmiri red chili powder and cook until tomatoes become translucent.
Add 4 to 5 tbsp hung curd and mix with the gravy.
Add a little water, coriander leaves, 2 tsp biryani masala powder to this gravy.
Add boiled eggs, potatoes, fried onions, and gently mix.
For cooking rice for biryani in a deep pan pour water and add 2 tbsp salt, 4 cloves, 3 green cardamom, 1 black cardamom,1 mace, 1 tsp cumin seed, oil, rose water and kewra water.
When water starts boiling add soaked rice and cook rice up to 60% to 70%.
Drain the excess water from rice and let it cool. (The rice stock can be stored to be used later.)
For layering egg biryani grease 4 to 5 tbsp oil or ghee to the bottom of handi.
Add the first layer of boiled biryani rice at the bottom of the handi.
Next, make a layer of egg masala gravy over it and sprinkle some chopped coriander and mint leaves over it.
Spread the second layer of rice over it.
Pour kesar milk, 2 cups of rice stock, 1 tbsp rose water, 1 tbsp kewra water and 3 tbsp desi ghee over it. You may also add the oil used for frying onions instead of desi ghee.
Finally, seal the handi with foil paper or wheat dough and let it sit 2-3 minutes on high flame and 15 minutes on low flame.
To avoid direct heat, you can place handi over tawa.
After you switch off the flame, don't open the handi for another 20 minutes.
Before serving, carefully open the lid and fluff the rice from one side with a sharp spatula.
Serve hot with some salad, raita or any meat gravy.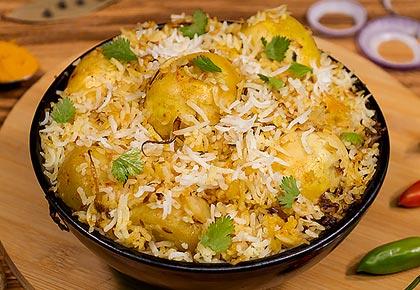 ---
Have an interesting recipe or cooking video that you'd like to share?
Simply write to getahead@rediff.co.in (subject: My favourite recipe) and we'll feature the best ones right here on Rediff.com.