Rediff reader and food blogger Debjani Chatterjee tells you how to make Patishapta, a traditional pancake.
You can share your favourite recipes too!
Patishapta is a sweet dish prepared during the winters in West Bengal and Bangladesh.
Here's the recipe: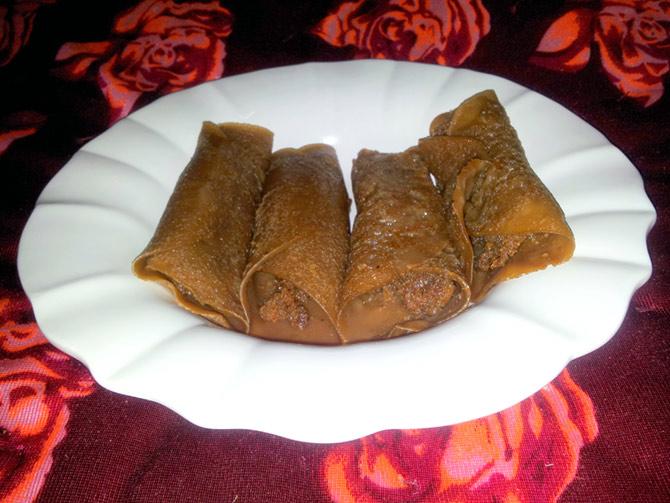 Serves: 12
Ingredients

For the crepe batter
1 cup rice flour
2 cup all purpose flour
2 tbsp semolina
25 gm patali gur or date palm jaggery (this can be substituted with same amount of Sugar)
1 1/2 cup water
1/2 cup milk (optional)
For the stuffing
1 1/2 cup grated coconut
1 1/2 cup khoya/ mawa/ dried whole milk
100 gm patali gur or date palm jaggery (this can be substituted with same amount of sugar)
1 tbsp ghee for frying

Method
In a pan, heat date palm jaggery along with 1 and 1/2 cup water. Cook on medium flame to dissolve the jaggery completely.
Switch off the flame and strain the jaggery water and keep it aside.
Sieve rice flour, all purpose flour and mix semolina in a deep bowl.
Add previously prepared jaggery water to the flour mixture to make a lump-free, thick paste. If required, you may also add milk to the mixture. I used approximately 1 and 1/2 cup of jaggery water and 1/2 cup milk to prepare the batter.
Cover the batter and allow it to set for 30 minutes.
For the filling, make small pieces of jaggery and khoya and keep them aside.
In a non-stick frying pan, take freshly grated coconut and cook on a medium flame for about five minutes or till the water content of grated coconut is reduced.
Add chunks of jaggery and cook for about five minutes or till it dissolves completely.
Add khoya to the mixture and cook on a low flame. Mix well.
Continue cooking on a medium flame for around 5 minutes to get a thick mixture. Stir continuously.
Switch off the flame and transfer the filling on a plate and allow it to cool.
To make the crepes, take a spoon and stir the batter well.
Heat a non-stick pan and grease it with ghee.
Take one ladle full of batter and pour it in the centre of the pan. Using the backside of the ladle, spread the batter to prepare a circular disc, much like a dosa.
Cover the pan with a lid and cook on a low flame for around 30-40 seconds or till the crepe turns golden brown in colour. Do not cook the crepe from the other side.
While it is still on the pan, place 2 tbsp of the filling at one side of the crepe lengthwise and start folding it from the same side to roll it completely .
Remove the roll from the pan and following the same process prepare rest of the Patishapta.
Serve hot.
Photo: kitchenofdebjani.com
ALSO SEE
Want to share your favourite recipe? Simply e-mail your recipes to getahead@rediff.co.in (subject line: My Fav Recipe) with your name, hometown and any interesting details about the origin of the recipe, along with a photograph of the recipe, if possible. We'll publish the best preparations right here on Rediff.com and India Abroad.
Loved this recipe? Click here for more interesting recipes and food features!