A delicious snack for your mid-meal hunger pangs.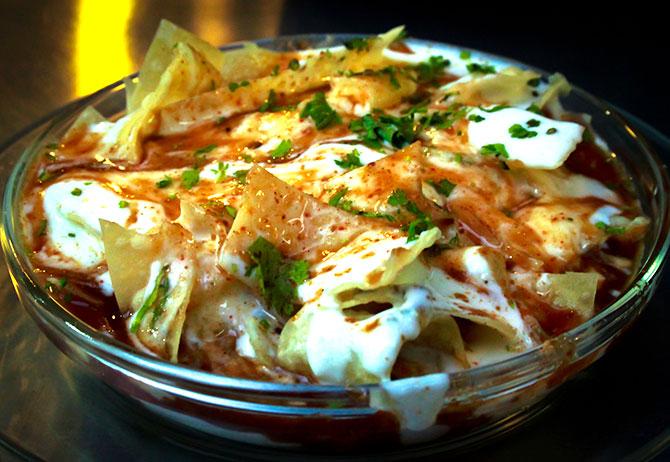 Ingredients
30 to 35 small flat puris (available at any farsan shop)
4 potatoes, boiled, peeled and diced
2 cups thick sweetened yogurt
Juice of 2 lemons
3 tsp chaat masala powder
2 tsp roasted cumin powder
2 tsp red chilli powder
Salt as per taste
1 onion, chopped
1 cup sev
½ cup fresh coriander, chopped
1 cup salted boondi (soaked in water for half an hour)
¼ cup tamarind chutney
¼ cup green chutney
How to make Tamarind Chutney
Ingredients
50 gm tamarind
200 gm jaggery
1 ½ cup hot water
1 tsp salt
1 tsp rock salt
½ tsp chilly powder
1 tsp cumin powder
A pinch of fennel seeds
Method
Soak the tamarind and jaggery in hot water for an hour.
Grind and sieve it
Add salt, rock salt, chilli powder and cumin powder and cook for 5 minutes.
Add fennel seeds and turn off flame.
When cool, put in airtight jar and store in refrigerator for future use.
How to make Green Chutney
Ingredients
1 cup fresh coriander leaves
½ cup mint leaves
8 green chillies
1 tbsp daliya (available in general stores)
1 tsp salt
1 tsp cumin seeds
1 tsp sugar
1 tbsp lemon juice
½ cup water
Method
Put all the ingredients in a mixie and grind it till it turns into a fine paste. Remove it and keep it in the fridge
Assembling Papdi Chaat
Take a large mixing bowl.
Arrange few puris nicely in the bowl, say around 10 puris
Now add diced potatoes over the puris.
Add the soaked boondis also over it (drain the boondis well before adding)
Now add the yogurt on the top
Add little tamarind chutney and green chutney on each puri
Sprinkle little lime juice and add sev and chaat masala, red chilli powder, cumin powder on each puri. Add chopped onions also.
Again repeat the same procedure and make one more layer of the above puris and ingredients on top.
Papdi Chaat is ready to to be served.
Photograph: Dhinal Chheda/Creative Commons
Click here for interesting recipes and food features
You can share your favourite recipes too.
Write in to us at getahead@rediff.co.in (subject: My Fav Recipes) with your name, hometown and any interesting details about the origin of the recipe, along with a photograph if possible.
We'll publish the best preparations right here on Rediff.com and in India Abroad