Your guests will end up licking their fingers eating it!
Give a fun twist to the good old pav bhaji with this recipe by Reshma Aslam.
Here's the recipe.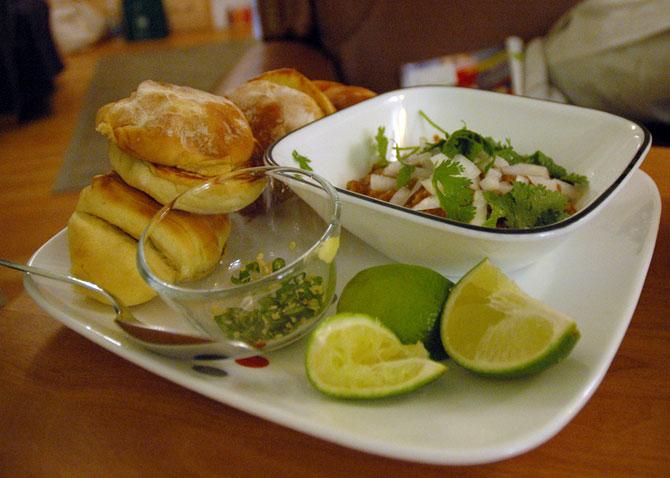 Photograph: Courtesy proccers/Creative Commons
Paneer Pav Bhaji
Ingredients
¼ kg cauliflower (flowerette boiled)
¼ kg boiled potatoes
1 cup paneer
¼ kg boiled peas
2 large onions (chopped)
300 gm tomatoes
200 gm butter
Few coriander leaves
1 tblsp chilli powder
1 tblspn garam masala powder
1 lime
Salt to taste
2 pav or breads
For the red chutney
6 flakes garlic
12 red chillies
1 tblsp jeera (cumin seeds)
1 tblsp vinegar
1 small piece of ginger
Method
For the pav
In a pan heat some butter. Cut 2 pavs from the center and place them on the melted butter.
The butter will get absorbed by the pavs. Fry for a minute. If you want it to be more crispy, fry it for some more time.
For the bhaji
First grind all the ingredients mentioned above for the red chutney.
Now take all the boiled vegetables in one vessel and mash them with the back of the spoon or a ladle.
Add butter in a pan. Let it become semi-hot as butter burns very fast. Add half of the chopped onions in it and fry.
When transparent, add chopped tomatoes and cook till they become soft and mushy.
Add all the boiled vegetables in it and mix well.
Add garam masala, chilli powder and mix well. Let it cook for some time.
Heat some more butter in a small pan and add the remaining chopped onions.
When the onions turn pink, add the red chutney and mix well.
Immediately add this to the prepared vegetables. Mix well and let it cook for some time.
You can add the paneer and let it simmer for some more time.
Your bhaji is ready to be served hot with pav. You can also garnish the bhaji with grated paneer.
It can be served with chopped onions and lime too.
You can send us your favourite recipes too. Write in to us at getahead@rediff.co.in (subject: Favourite recipes) with your name, hometown and any interesting details about the origin of the recipe, along with a photograph if possible. We'll publish the best preparations right here on Rediff.com and in India Abroad.